Beverly Hills Dentist On Minimally-Invasive Cosmetic Dentistry and Preserving Healthy Teeth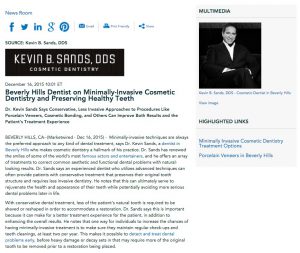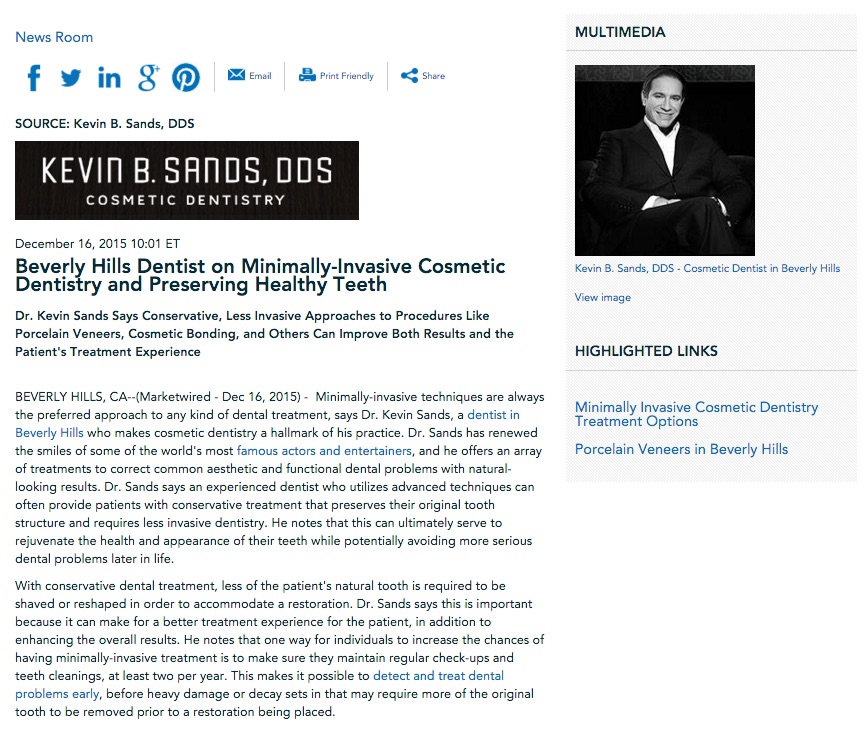 Dr. Kevin Sands says conservative, less invasive approaches to procedures like porcelain veneers, cosmetic bonding, and others can improve both results and the patient's treatment experience.
Beverly Hills, CA – Minimally-invasive techniques are always the preferred approach to any kind of dental treatment, says Dr. Kevin Sands, a dentist in Beverly Hills who makes cosmetic dentistry a hallmark of his practice. Dr. Sands has renewed the smiles of some of the world's most famous actors and entertainers, and he offers an array of treatments to correct common aesthetic and functional dental problems with natural-looking results. Dr. Sands says an experienced dentist who utilizes advanced techniques can often provide patients with conservative treatment that preserves their original tooth structure and requires less invasive dentistry. He notes that this can ultimately serve to rejuvenate the health and appearance of their teeth while potentially avoiding more serious dental problems later in life.
With conservative dental treatment, less of the patient's natural tooth is required to be shaved or reshaped in order to accommodate a restoration. Dr. Sands says this is important because it can make for a better treatment experience for the patient, in addition to enhancing the overall results. He notes that one way for individuals to increase the chances of having minimally-invasive treatment is to make sure they maintain regular check-ups and teeth cleanings, at least two per year. This makes it possible to detect and treat dental problems early, before heavy damage or decay sets in that may require more of the original tooth to be removed prior to a restoration being placed.
Dr. Sands says minimally-invasive dentistry approaches can be taken in procedures ranging from porcelain veneers and prepless veneers to cosmetic bonding and dental inlays and onlays. While some patients may have teeth that are too damaged or worn down for a more conservative technique to be effective, Dr. Sands says advances in the field of cosmetic dentistry allow the preservation of much of the original affected tooth whenever possible. He notes that conservative techniques ultimately lead to less invasive treatment, which can also be very important to patients who have dental anxiety and want to achieve great results while spending a minimal amount of time in the dentist's chair.
About Kevin B. Sands, DDS
Dr. Kevin Sands offers a comprehensive range of restorative and cosmetic dentistry procedures at his practice in Beverly Hills, including teeth whitening, porcelain veneers, full smile makeovers, dental implants, and other options. He is a member of the American Academy of Cosmetic Dentistry, the California State Dental Association, the American Dental Association, and other major organizations. Dr. Sands earned his dental degree from the University of Southern California School of Dentistry, and continued his education at the renowned Las Vegas Institute for Advanced Dental Studies, studying Advanced Anterior Aesthetic Dentistry. He has been a featured expert in programs on The Learning Channel, E!, the Style Network, and many other media outlets. Dr. Sands is available for interview upon request.
For more information about Dr. Sands and his practice, visit beverlyhillscosmeticdentist.com and facebook.com/cosmeticdentistbeverlyhills.
Contact:
Dr. Kevin B. Sands
414 North Camden Drive
Suite 940
Beverly Hills, CA 90210
(310) 273-0111
Rosemont Media
(858) 200-0044
www.rosemontmedia.com
Previous Post
Next Post