Conquering the Fear of Dental Treatment – Beverly Hills Dentist On the Benefits of Sedation Dentistry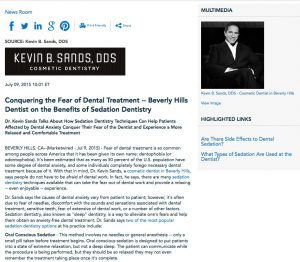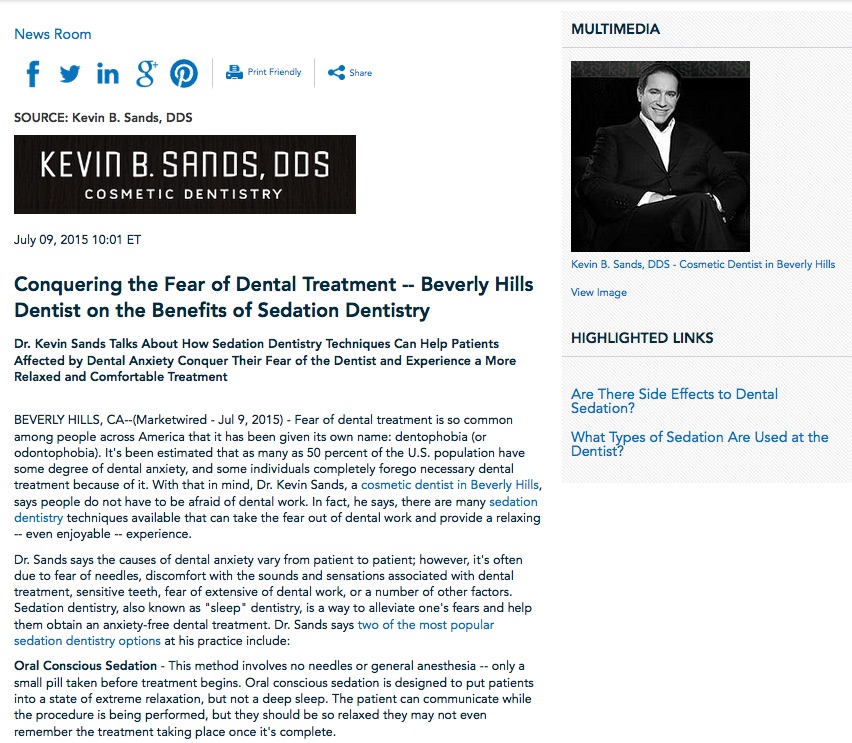 Dr. Kevin Sands talks about how sedation dentistry techniques can help patients affected by dental anxiety conquer their fear of the dentist and experience a more relaxed and comfortable treatment.
Beverly Hills, CA – Fear of dental treatment is so common among people across America that it has been given its own name: dentophobia (or odontophobia). It's been estimated that as many as 50 percent of the U.S. population have some degree of dental anxiety, and some individuals completely forego necessary dental treatment because of it. With that in mind, Dr. Kevin Sands, a cosmetic dentist in Beverly Hills, says people do not have to be afraid of dental work. In fact, he says, there are many sedation dentistry techniques available that can take the fear out of dental work and provide a relaxing – even enjoyable – experience.
Dr. Sands says the causes of dental anxiety vary from patient to patient; however, it's often due to fear of needles, discomfort with the sounds and sensations associated with dental treatment, sensitive teeth, fear of extensive of dental work, or a number of other factors. Sedation dentistry, also known as "sleep" dentistry, is a way to alleviate one's fears and help them obtain an anxiety-free dental treatment. Dr. Sands says two of the most popular sedation dentistry options at his practice include:
Oral Conscious Sedation – This method involves no needles or general anesthesia – only a small pill taken before treatment begins. Oral conscious sedation is designed to put patients into a state of extreme relaxation, but not a deep sleep. The patient can communicate while the procedure is being performed, but they should be so relaxed they may not even remember the treatment taking place once it's complete.
IV Sedation – The IV sedation technique is a liquid sedative given to patients intravenously.Dr. Sands says IV sedation can be beneficial for patients who have extreme levels of anxiety and those who are undergoing a longer, more complex treatment.
Dr. Sands notes that patients who are under sedation during treatment are continuously monitored throughout the procedure. He says there are few side effects that are typically associated with either oral conscious sedation or IV sedation; however, patients will feel tired and groggy after treatment, which makes it important that they have someone to drive them to and from the office on the day of their appointment.
With sedation dentistry, Dr. Sands says patients can conquer their fear of the dentist and reduce the risk of pain, tooth loss, or even overall health consequences due to lack of proper dental care. He believes these techniques can help many patients enjoy a more relaxed and comfortable trip to the dentist and emerge with a healthy, beautiful smile.
About Kevin B. Sands, DDS
Dr. Kevin Sands earned his Doctor of Dental Surgery degree from the University of Southern California School of Dentistry. He later pursued continuing education in Advanced Anterior Aesthetic Dentistry at the world-renowned Las Vegas Institute for Advanced Dental Studies. Dr. Sands is a member of the American Academy of Cosmetic Dentistry, the American Dental Association, the California State Dental Association, and other organizations. Dr. Sands offers a full selection of general, cosmetic, and restorative dentistry options at his practice in Beverly Hills, including porcelain veneers, dental implants, teeth whitening and other procedures. He has served as a featured expert on television programs such as The Learning Channel's 10 Years Younger and E!'s Dr. 90210. Dr. Sands is available for interview upon request.
For more information about Dr. Sands and his practice, visit beverlyhillscosmeticdentist.com and facebook.com/cosmeticdentistbeverlyhills.
Contact:
Dr. Kevin B. Sands
414 North Camden Drive
Suite 940
Beverly Hills, CA 90210
(310) 273-0111
Rosemont Media
(858) 200-0044
www.rosemontmedia.com
Previous Post
Next Post