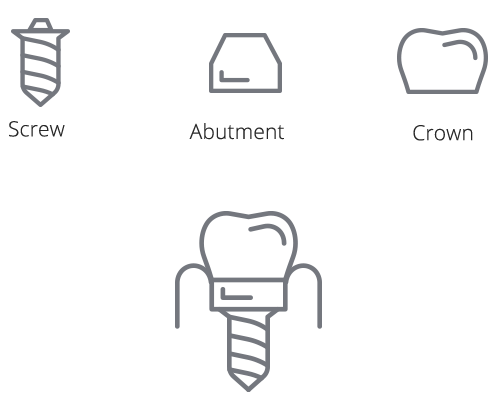 What Happens During the Dental Implant Procedure?
During the consultation process, Dr. Kevin Sands will perform an oral examination and discuss your dental implant goals. Using our advanced Planmeca ProMax® 3D imaging technology, he can capture dynamic images of your mouth to facilitate doctor-patient communication and begin the planning process for the dental implant procedure. These images offer a comprehensive view of the mouth that allows you to thoroughly understand the treatment approach and results you can expect.
The dental implant procedure is designed to improve the appearance of your smile and restore full function of your bite. Typically, the process takes place in two stages, the surgical procedure followed by placement of the finished restoration. First, a thin titanium rod is carefully inserted and anchored into the jawbone in the area of the missing tooth. This implanted rod serves as an artificial root for the replacement tooth, keeping the crown securely in place. In order for this stage to be successful, patients must possess adequate jawbone density and normal healing capabilities. For patients with minimal jawbone density, a bone graft may be performed prior to the implant stage to provide a more stable foundation.
Around three to six months after implantation, the titanium rod should fuse with the jaw and become a permanent part of your mouth. During this healing period, a temporary crown can be worn to fill the space of the missing tooth. When the rod is determined to be anchored and healed, Dr. Sands can attach a custom restoration that is designed to blend naturally with your surrounding teeth. These crowns are created using digital imprints from the Planmeca ProMax® 3D system for a precise, comfortable fit.
When the dental implants you want are not a possibility due to health complications, bone density concerns, or other compromising conditions, Dr. Sands can help you explore the next available options for completing your smile.
Additional Frequently Asked Questions About Dental Implants
Q: Why are dental implants better than traditional dentures?
A: Although traditional dentures have certain benefits, those who have them can sometimes experience slippage, maintenance issues, and other problems. Dental implants are considered an improvement upon traditional dentures because of the flexibility and durability they offer. They are anchored into the jawbone, making them permanent replacements for missing teeth that act as though they are your own. They are custom-designed for the most accurate fit, and they become an actual part of your mouth, just like a natural tooth. This can improve chewing, speaking, and the overall appearance of your teeth. Ultimately, the overall functionality of dental implants is a significant upgrade from dentures.
Q: Are dental implants safe?
A: Dental implants are considered to be a safe procedure among dentists around the world. When being performed by an experienced cosmetic dentist like Dr. Sands, any potential risks can be mitigated. While patients will experience some form of soreness following their procedure, any minor side effects should subside within days or weeks of the treatment.
Q: Do dental implants hurt?
A: Patients will likely undergo some form of anesthesia and should not feel any pain during the procedure. Following the dental implant procedure, patients often experience some form of discomfort. Oftentimes, patients are prescribed medication to aid in recovery and reduce any soreness and pain. As mentioned above, potential discomfort is not permanent and should fade over time.
Q: How do I clean my dental implants?
A: Dental implants are fairly easy to clean, as they mimic the structure of your original teeth. Therefore, the cleaning method for them will mirror your regular routine. Brushing, flossing, and maintaining regular check-ups with your dentist for cleanings will be key in extending the longevity of your dental implants.
Q: How successful are dental implants?
A: Dr. Sands is highly trained and experienced in producing optimal and successful results for patients who undergo dental implant treatment. Generally, the overall success rate of dental implants is extremely high when the procedure is performed by a qualified oral surgeon or dentist. Embracing new and innovative techniques and technology, our practice is able to provide the best possible materials, care, and treatment for our patients. To further ensure the lifetime of dental implants, it is important for patients to continue with checkups and proper oral hygiene.
If you would like to schedule a consultation for dental implants at our Beverly Hills practice, please contact Kevin B. Sands, DDS today!