What Are the Benefits of Dental Implants?
Dental implants are a restorative solution that can repair the appearance and functionality of a patient's teeth. The durable and secure implants are built to act as long-lasting, natural-looking replacements for missing teeth. Additionally, by preserving jawbone integrity, dental implants can contribute to strong overall oral health.
Potential benefits also include:
Improved ability to bite and chew
No additional maintenance beyond regular brushing and flossing
Lowered risk of additional oral complications caused by missing teeth
Customized fit
No movement along the gums
Reduction in loss of soft tissue
Helps stabilize adjacent teeth
Natural look for an aesthetically-pleasing smile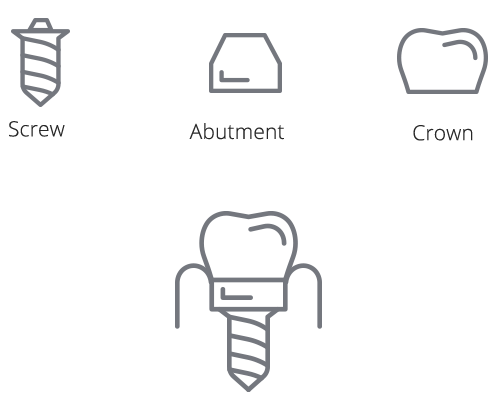 What Happens During the Dental Implant Procedure?
During the consultation process, Dr. Kevin Sands will perform an oral examination and discuss your dental implant goals. Using our advanced Planmeca ProMax® 3D imaging technology, he can capture dynamic images of your mouth to facilitate doctor-patient communication and begin the planning process for the dental implant procedure. These images offer a comprehensive view of the mouth that allows you to thoroughly understand the treatment approach and results you can expect.
The dental implant procedure is designed to improve the appearance of your smile and restore full function of your bite. Typically, the process takes place in two stages, the surgical procedure followed by placement of the finished restoration. First, a thin titanium rod is carefully inserted and anchored into the jawbone in the area of the missing tooth. This implanted rod serves as an artificial root for the replacement tooth, keeping the dental crown securely in place. In order for this stage to be successful, patients must possess adequate jawbone density and normal healing capabilities. For patients with minimal jawbone density, a bone graft may be performed prior to the implant stage to provide a more stable foundation.
Around three to six months after implantation, the titanium rod should fuse with the jaw and become a permanent part of your mouth. During this healing period, a temporary crown can be worn to fill the space of the missing tooth. When the rod is determined to be anchored and healed, Dr. Sands can attach a custom restoration that is designed to blend naturally with your surrounding teeth. These crowns are created using digital imprints from the Planmeca ProMax® 3D system for a precise, comfortable fit.
When the dental implants you want are not a possibility due to health complications, bone density concerns, or other compromising conditions, Dr. Sands can help you explore the next available options for completing your smile.
Dental Implants vs. Dentures
Dentures are a customized restorative dental treatment that can address multiple missing teeth, or even a full row of missing teeth. Typically a little more cost-effective than dental implants, dentures are positioned comfortably on top of the gums. While many have pursued dentures to fix oral problems, there are drawbacks to this method that do not apply to dental implants. For example, if dentures do not fit properly, a dental paste or adhesive is needed to keep them in place. Patients may also need to watch what they eat, as certain foods may dislodge traditional dentures. Dental implants, on the other hand, are a more innovative approach to missing teeth. The treatment offers added tooth replacement security because of the anchoring technique and can preserve the jawbone's integrity. Choosing between the two options is usually just a matter of personal preference and individual needs.
Dental Implants vs. Bridges
Dental bridges can fill the gap(s) left by a missing tooth or multiple teeth. Much like a structural bridge, the method connects the new tooth to the adjacent teeth for a secure fit. Dental bridges can be implemented without surgery and may be a good short-term solution for tooth replacement. While dental implants do require surgery, they are known to be a little more durable than other restorative processes and don't require the surrounding teeth to be modified. Additionally, some types of dental bridges can move slightly when you chew, while implants are designed to remain more securely in place.
Are Dental Implants Covered by Insurance?
Dental implants may or may not be covered by insurance. While the treatment is often considered an elective procedure, some plans may offer at least partial coverage due to its restorative nature. Our friendly staff can help you navigate your benefits package and complete any necessary paperwork. Dental implants are a worthy investment that can give you a lifetime of healthy, beautiful smiles.
Additional Frequently Asked Questions About Dental Implants
Q: Why are dental implants better than traditional dentures?
A: Although traditional dentures have certain benefits, those who have them can sometimes experience slippage, maintenance issues, and other problems. Dental implants are considered an improvement upon traditional dentures because of the flexibility and durability they offer. They are anchored into the jawbone, making them permanent replacements for missing teeth that act as though they are your own. They are custom-designed for the most accurate fit, and they become an actual part of your mouth, just like a natural tooth. This can improve chewing, speaking, and the overall appearance of your teeth. Ultimately, the overall functionality of dental implants is a significant upgrade from dentures.
Q: Are dental implants safe?
A: Dental implants are considered to be a safe procedure among dentists around the world. When being performed by an experienced cosmetic dentist like Dr. Sands, any potential risks can be mitigated. While patients will experience some form of soreness following their procedure, any minor side effects should subside within days or weeks of the treatment.
Q: How long does dental implant surgery take?
A: The duration of the surgical portion of the dental implant process can vary depending on several factors, including the number of implants being placed, the complexity of the case, and the patient's overall oral health. On average, a single dental implant surgery can take approximately one to two hours. This includes the preparation of the site, the placement of the implant, and any necessary suturing. If multiple implants are being placed or additional procedures (e.g., bone grafting) are required, the surgery time may be longer.
Q: How long does recovery from dental implant surgery take?
A: The recovery time after dental implant surgery depends on individual factors and the extent of the procedure. The initial healing phase lasts about one to two weeks, while it can take three to six months for the implant to fuse with your jawbone. Throughout your entire recovery, it is imperative that you closely follow Dr. Sands' aftercare instructions.
Q: Do dental implants hurt?
A: Patients will likely undergo some form of anesthesia and should not feel any pain during the procedure. Following the dental implant procedure, patients often experience some form of discomfort. Oftentimes, patients are prescribed medication to aid in recovery and reduce any soreness and pain. As mentioned above, potential discomfort is not permanent and should fade over time.
Q: How do I clean my dental implants?
A: Dental implants are fairly easy to clean, as they mimic the structure of your original teeth. Therefore, the cleaning method for them will mirror your regular routine. Brushing, flossing, and maintaining regular check-ups with your dentist for cleanings will be key in extending the longevity of your dental implants.
Q: What should I eat after getting dental implants?
A: To increase chances of proper recovery, it is important to follow a soft and nutritious diet during the initial healing phase after getting your implants. Safe foods for this time include bananas, oatmeal, yogurt, and steamed or boiled vegetables. If you are unsure which foods to incorporate into your post-operative diet, feel free to get in touch with Dr. Sands.
Q: Can I smoke after getting dental implants?
A: To optimize the success and longevity of your dental implants, Dr. Sands strongly advises you to refrain from smoking or using any tobacco products, as smoking can significantly impair the healing process and increase the risk of complications. Tobacco smoke contains harmful chemicals that can interfere with blood flow, delay the healing of tissues, and impair the integration of the implant with the jawbone. Smoking can also increase the likelihood of infection and implant failure. If you are a smoker, this may be an excellent opportunity to consider quitting for the sake of your oral and overall health.
Q: Can dental implants fail?
A: Generally, the overall success rate of dental implants is extremely high when the procedure is performed by a qualified oral surgeon or dentist. That said, there is always a small possibility of implant failure. Factors that can contribute to implant failure include poor oral hygiene, certain medical conditions, insufficient bone density, complications during the healing process, and – as mentioned above – smoking. Regular check-ups and proper oral care can help minimize the risk of implant failure.
Q: How successful are dental implants?
A: Dr. Sands is highly trained and experienced in producing optimal and successful results for patients who undergo dental implant treatment. Generally, the overall success rate of dental implants is extremely high when the procedure is performed by a qualified oral surgeon or dentist. Embracing new and innovative techniques and technology, our practice is able to provide the best possible materials, care, and treatment for our patients. To further ensure the lifetime of dental implants, it is important for patients to continue with checkups and proper oral hygiene.
If you would like to schedule a consultation for dental implants at our Beverly Hills practice, please contact Kevin B. Sands, DDS today!