Top Cosmetic Dentist in Beverly Hills Details Process for Creating Celebrity Smiles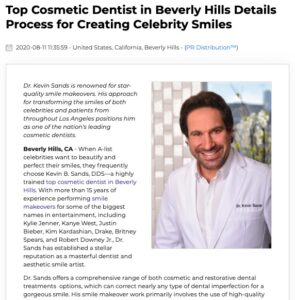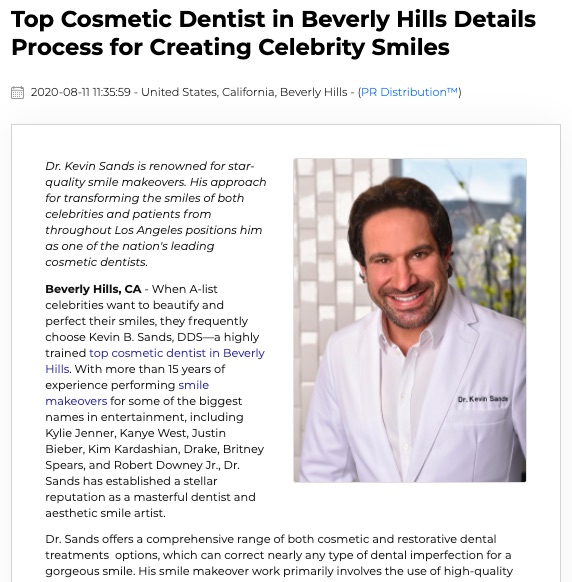 Dr. Kevin Sands is renowned for star-quality smile makeovers. His approach for transforming the smiles of both celebrities and patients from throughout Los Angeles positions him as one of the nation's leading cosmetic dentists.
Beverly Hills, CA – When A-list celebrities want to beautify and perfect their smiles, they frequently choose Kevin B. Sands, DDS—a highly trained top cosmetic dentist in Beverly Hills. With more than 15 years of experience performing smile makeovers for some of the biggest names in entertainment, including Kylie Jenner, Kanye West, Justin Bieber, Kim Kardashian, Drake, Britney Spears, and Robert Downey Jr., Dr. Sands has established a stellar reputation as a masterful dentist and aesthetic smile artist.
Dr. Sands offers a comprehensive range of both cosmetic and restorative dental treatments options, which can correct nearly any type of dental imperfection for a gorgeous smile. His smile makeover work primarily involves the use of high-quality porcelain veneers, porcelain crowns, and dental implants, often in combination with general and advanced dental services aimed at improving oral health along with the appearance of the smile.
Porcelain veneers are among the most versatile and conservative options available to Dr. Sands' patients. These ultra-thin shells of artfully crafted porcelain ceramic material can easily conceal an impressive array of perceived flaws—including dental stains/discoloration, gaps between teeth, misalignment, and dental wear/damage. Veneers are often an ideal choice for creating natural-looking, beautifully white teeth that can transform the smile into an aesthetically gratifying masterpiece.
"In order to maintain the essence of an individual's unique look—which is especially important for my famous celebrity patients who often make a living based on their recognizable appearance—every smile design is customized to enhance the attractive qualities of their natural smile and facial features. This creates a harmonizing result that looks incredible," Dr. Sands explains. "I've spent many years refining my smile transformation process. By relying on my experience and extensive training, combined with the latest smile design technology and the work of a skilled master ceramist, I am able to deliver results that often exceed my patients' expectations," he says.
To maintain superior results, Dr. Sands uses the highest-quality ceramic porcelain material to fabricate his patients' veneers and other restorations. According to Dr. Sands, "These materials offer not only the most natural-looking aesthetics, they also provide unparalleled durability and strength for long-lasting results." Additionally, patients can rely on the craftsmanship of Dr. Sands' trusted ceramist. Each veneer, crown, and implant restoration is artfully hand-crafted in accordance with Dr. Sands' specifications. The color, shape, luster, and size of every restoration must be exact to create a cosmetically flawless finished look. "My meticulous attention to detail helps to ensure that every smile achieves perfection—the fit, feel, and appearance of every restoration has to be just right in order to create the signature results I am known for, " Dr. Sands says.
Beyond Dr. Sands' dental expertise, his office provides every patient with star-quality service. "Every patient who steps into my office is given the VIP treatment. Our goal as a team is to make each individual feel valued and comfortable, while giving them the best dental experience they have ever had. My work is about creating beautiful smiles and trusting relationships that last a lifetime."
About Dr. Kevin B. Sands
Dr. Kevin B. Sands is known as one of the top cosmetic dentists in Beverly Hills. His clientele includes numerous celebrities and his practice caters to patients from throughout Los Angeles and around the world who are interested in high-quality cosmetic dentistry. Dr. Sands received his doctor of dental surgery (DDS) degree from the prestigious USC School of Dentistry and has completed advanced training in aesthetic and restorative dentistry techniques from the renowned Las Vegas Institute for Advanced Dental Studies. At his practice, Dr. Sands offers a wide array of cosmetic and restorative dentistry options, including porcelain veneers, dental implants, porcelain crowns, and smile makeovers. He is also an active member of several notable professional organizations, such as the American Academy of Cosmetic Dentistry, the American Dental Association, and the California State Dental Association. Dr. Sands is available for interview upon request.
For more information about Dr. Sands, please visit beverlyhillscosmeticdentist.com, porcelainveneersinbeverlyhills.com, and facebook.com/cosmeticdentistbeverlyhills.
Contact:
Kevin B. Sands, DDS
414 North Camden Drive, Suite #940
Beverly Hills, CA 90210
(310) 273-0111
Rosemont Media
(858) 200-0044
www.rosemontmedia.com
Previous Post
Next Post