Share This Page
Porcelain Crowns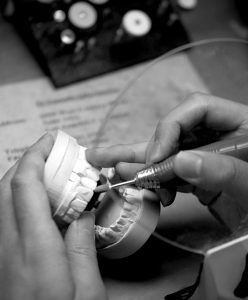 A severely damaged or decayed tooth may create cosmetic imperfections, become a source of sensitivity, or lead to significant pain. Porcelain crowns are designed to reinforce and restore the structural integrity of a tooth, while preserving as much of the natural tooth structure as possible. With this procedure, Beverly Hills cosmetic dentist Kevin Sands, DDS can often prevent the need for a tooth extraction. When a root canal is necessary to improve the health of the tooth, a porcelain crown can be used to strengthen the tooth structure, while also rejuvenating its appearance. A porcelain crown may be the ideal solution for patients who seek to restore both the function and aesthetics of a damaged or decayed tooth.

I was playing football with my friends, and caught ball in my face, knocking our one of my teeth. I looked like one of those people in cartoons. I made an appointment with Dr. Sands, and he said he could replace it with an implant crown. I was worried it might not look like the rest of my teeth and I end up looking ridiculous since it was one of my front teeth that was lost, but I was worrying for nothing. The implant crown looks just the rest of my teeth, in shape and color. Dr. Sands is great and does excellent work.

Dani L

June 05, 2017

12345
Benefits of Porcelain Crowns
A porcelain crown offers the dual advantages of supporting a compromised tooth and enhancing the beauty of the smile. Additional benefits of quality porcelain dental crowns can include:
Improved structural integrity, strength, and durability
Protection from further damage or decay
Restored shape
Improved cosmetic appearance
Natural looking results
Porcelain Crowns Procedure
During the consultation process, Dr. Sands will perform an oral examination, review your goals, and determine if a porcelain crown is best suited for your unique situation. Each porcelain crown is custom-made to deliver maximum function, an optimal appearance, and comfort. After creating a mold of the affected tooth, Dr. Sands will order your custom crown from a dental restoration laboratory. The color of the crown can be made to match the shade of your surrounding teeth for a natural appearance. When he receives the crown from the lab, you will return to our office where Dr. Sands can cement the final crown into place. Once the crown is bonded to the affected tooth, the form and function of the tooth will be fully restored.
Contact Dr. Kevin Sands
If you are suffering from a damaged or decayed tooth, or would like to learn more information about porcelain crowns, please contact Dr. Kevin Sands today.