Implant Dentures
What Are Implant Dentures?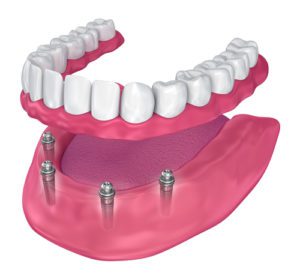 Implant dentures are full arches of replacement teeth that are secured in the mouth with dental implants. The dental implants are surgically placed in the jawbone, where they heal and fuse with the bone tissue to provide strong stabilizing anchors for the dentures. Unlike removable dentures, which can shift and slide along the gums, implant dentures stay locked in place and can allow you to speak, smile, laugh, and chew your favorite foods without worry or discomfort.
What Are the Pros of Implant Dentures?
Added confidence for denture wearers
Natural-looking and long-lasting replacements for full arches of missing teeth
Eliminate concerns about denture movement while eating and speaking
Dental implants help prevent jawbone loss
Require less jawbone density than single-crown dental implants
Dentures lock firmly in place, but can be removed for cleaning
Dentures are fully customized and crafted using durable, high-quality materials
No food restrictions
What Are My Implant Denture Options?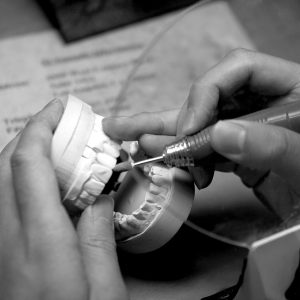 There are many effective techniques that Beverly Hills cosmetic dentist Kevin Sands, DDS may recommend for your implant denture procedure. Ultimately, he and your dental implant specialist will determine the most appropriate approach given the condition of your jawbone, the results you desire, your priorities, and your budget. The options explained below give a general outline of some common implant denture treatment plans:
All-on-4®
All-on-4 is a popular implant denture procedure you may have heard of. This technique utilizes four strategically placed dental implants, in either the upper or lower jawbone, to secure one full-arch denture. Typically, two dental implants are placed toward the front of the mouth, while the other two are placed at an angle in the back.
What Are the Benefits of All-on-4?
The All-on-4 procedure is often suitable for patients who want secured dentures, but have limited jawbone density. With this innovative method, only four implants need to be supported in the jaw to attach a full arch of replacement teeth (while other techniques may require five or more per arch). Choosing All-on-4 may prevent the need for bone grafting procedures that can increase overall cost, prolong healing, and extend treatment time.
Is All-on-4 the Same as "Teeth-in-a-Day"?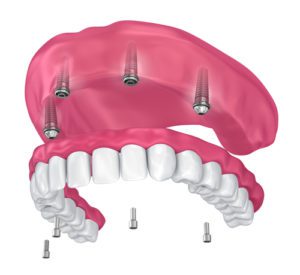 Some dentists may refer to the All-on-4 approach as "Teeth-in-a-Day", which is a label that invokes the relative ease and often more rapid treatment timeline this procedure can be known for. In the majority of cases, however, Dr. Sands and his implant specialists do not promise same-day results with All-on-4, as this would be a very misleading guarantee. Rather, they tend to opt for a more conservative and customized approach planned in phases, in order to deliver higher-quality results with greater consistency.
Who is a Candidate for All-on-4?
Not all patients who want implant dentures are good candidates for the All-on-4 method, which is why it is important to undergo a comprehensive consultation and dental evaluation with Dr. Sands. With the help of his expertise, it is possible to determine the ideal approach for replacing your teeth with results that look beautiful, feel natural, and function optimally.
How Much Does All-on-4 Cost?
The average price for All-on-4 (which includes the cost for implant surgery and the custom denture) can start at $20,000 (per jaw) at our practice; however, the specific price for your unique treatment plan may be higher or lower than this estimate. As with any procedure Dr. Sands performs, personal price quotes must be determined after a consultation is performed and a detailed treatment plan is developed.
A-List Quality Smiles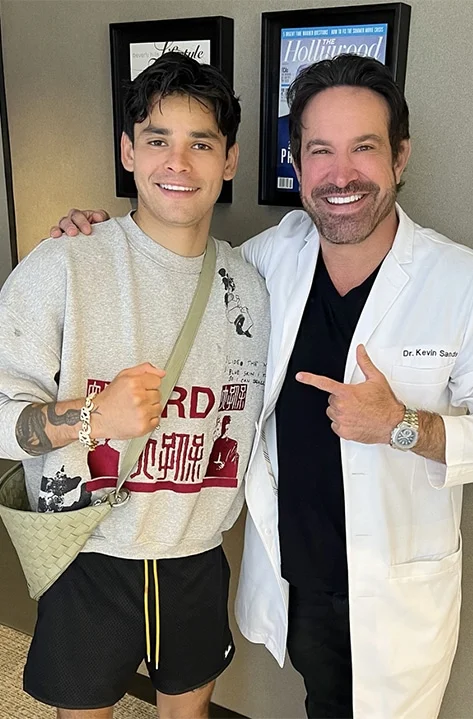 Ryan Garcia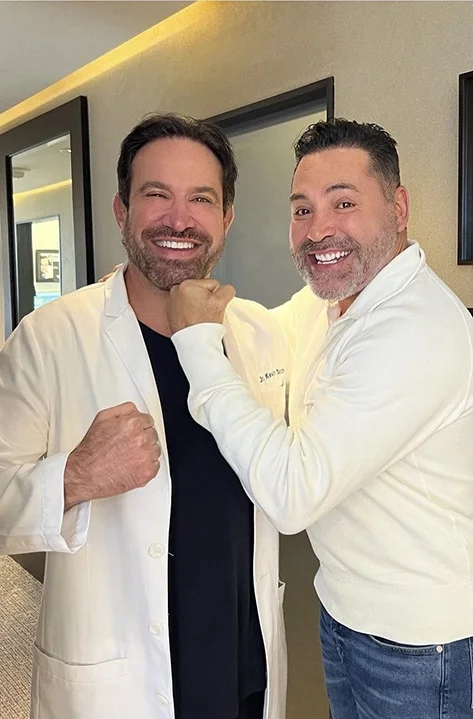 Oscar De La Hoya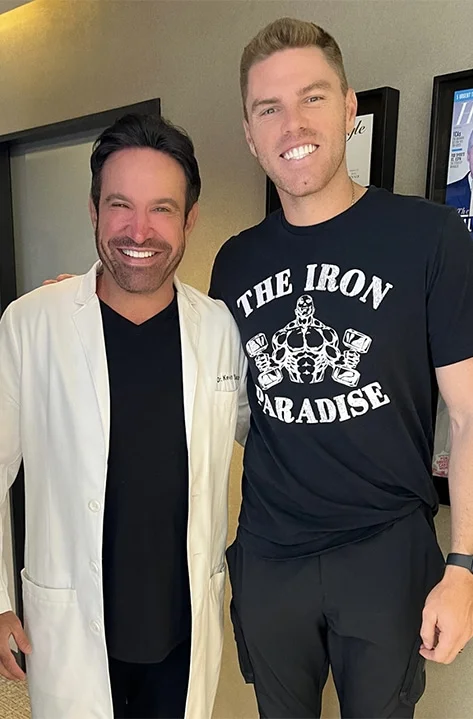 Freddie Freeman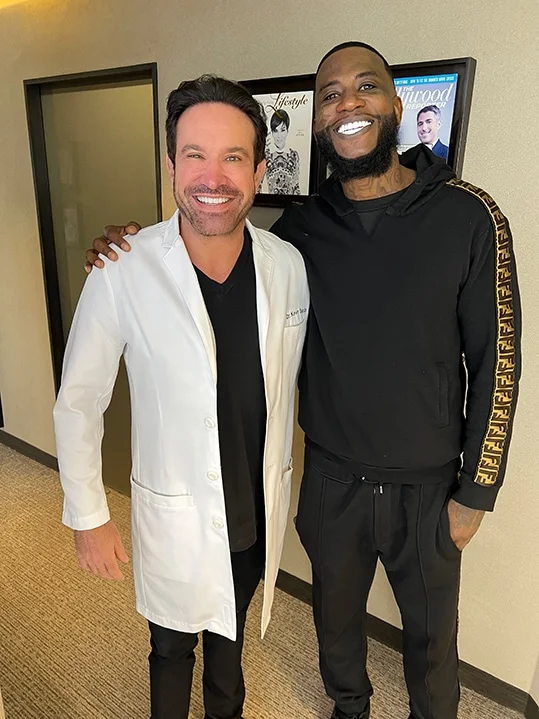 Gucci Mane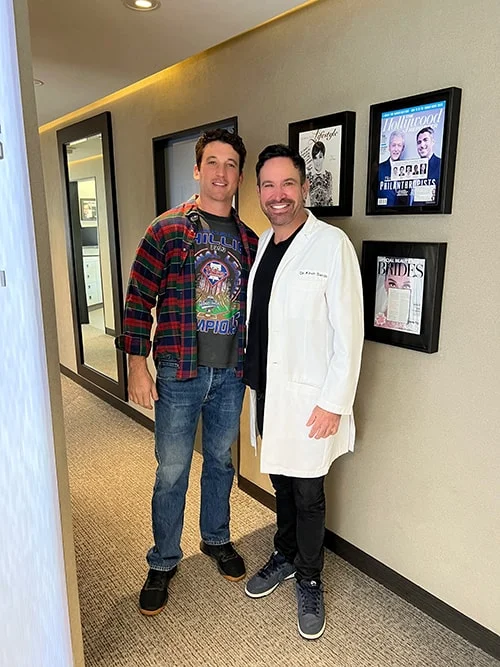 Miles Teller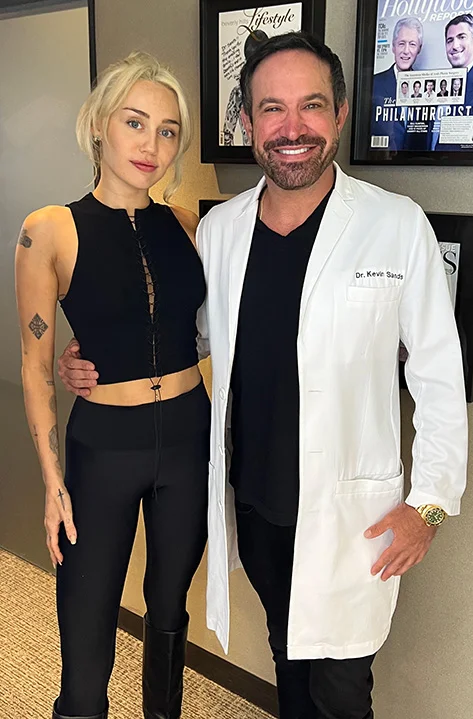 Miley Cyrus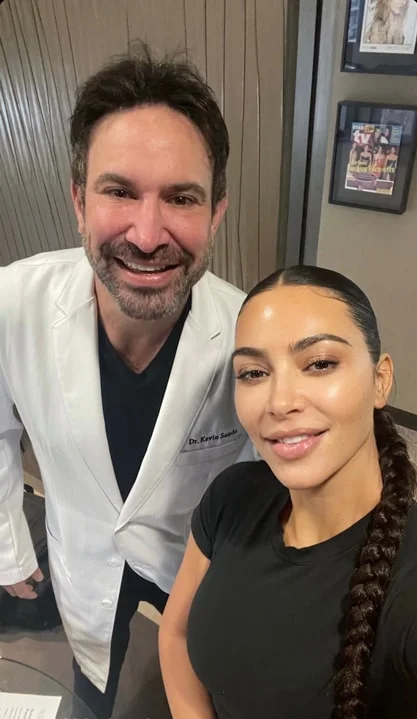 Kim K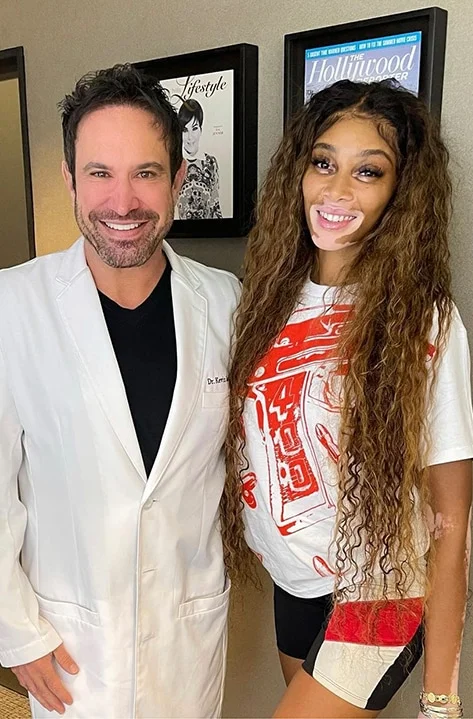 Winnie Harlow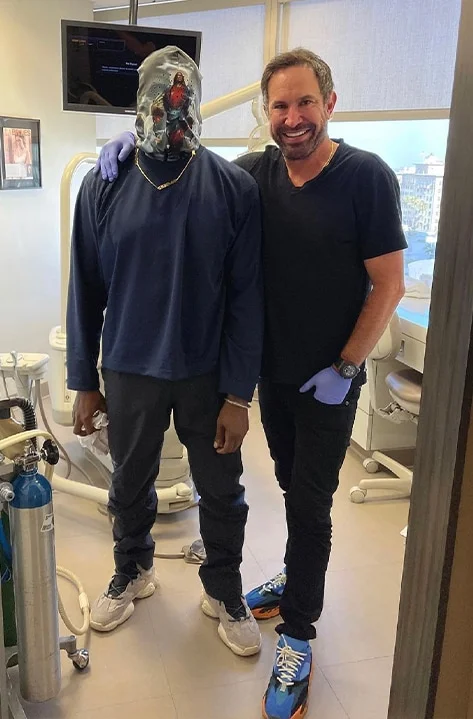 Kanye West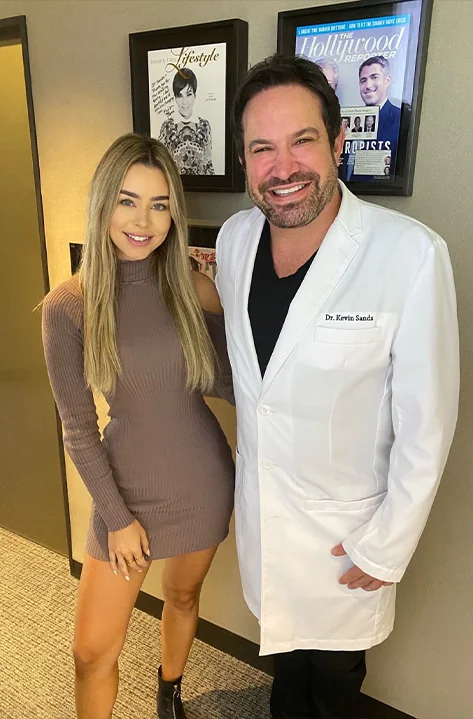 Sierra Furtado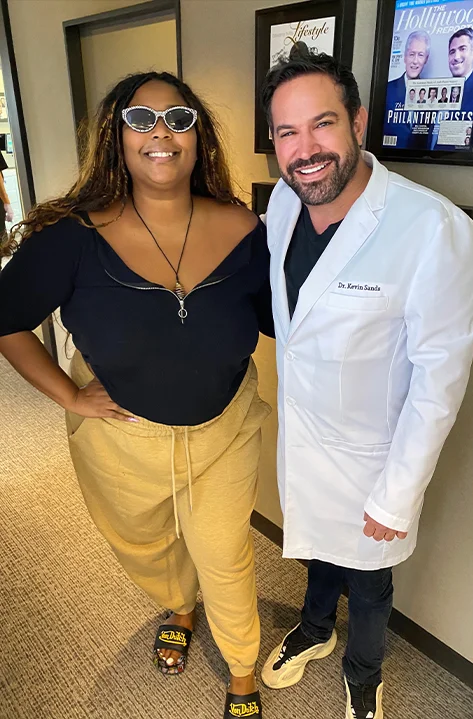 Lizzo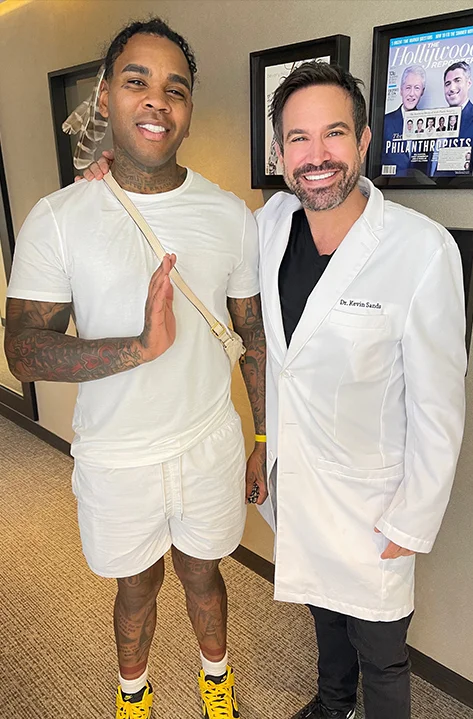 Kevin Gates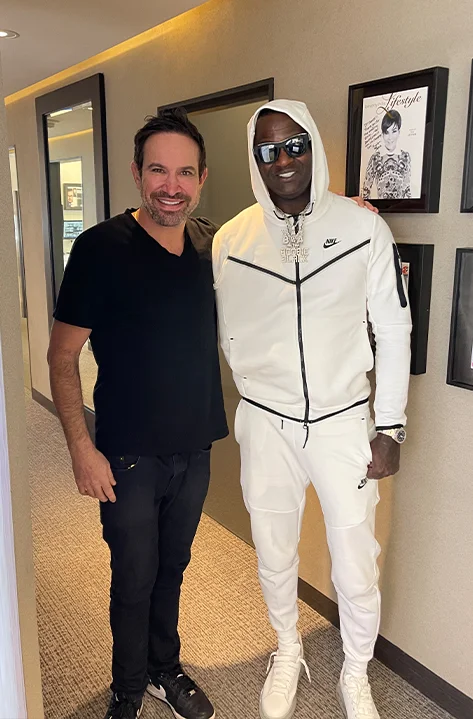 OG Boobie Black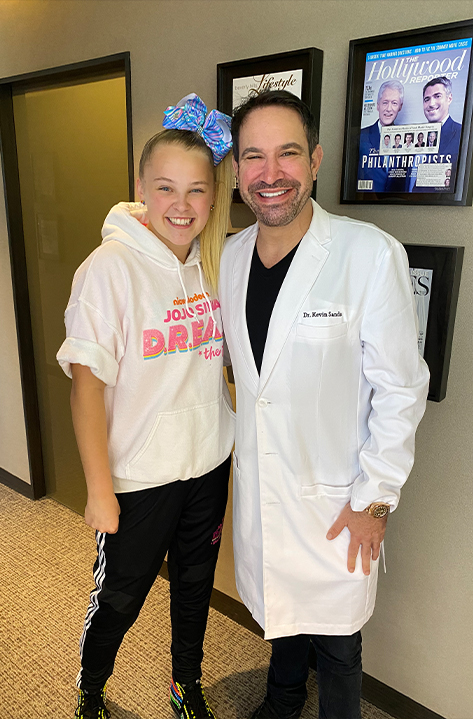 Jojo Siwa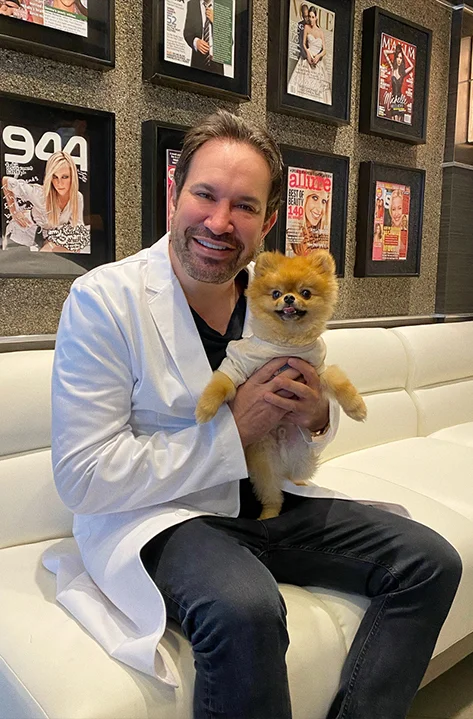 Jeff Pom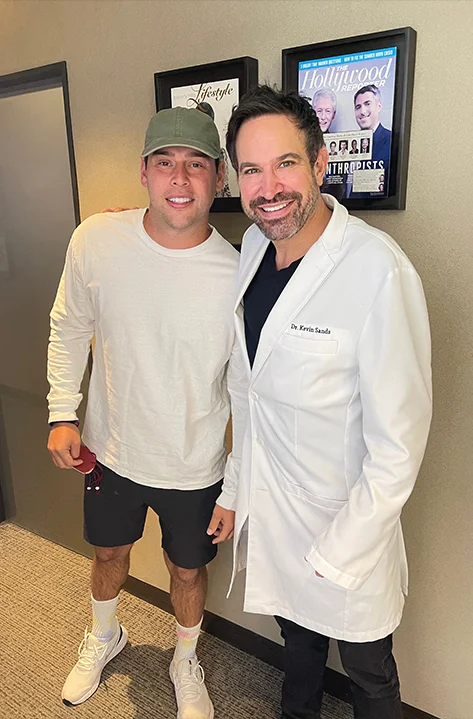 Scooter Braun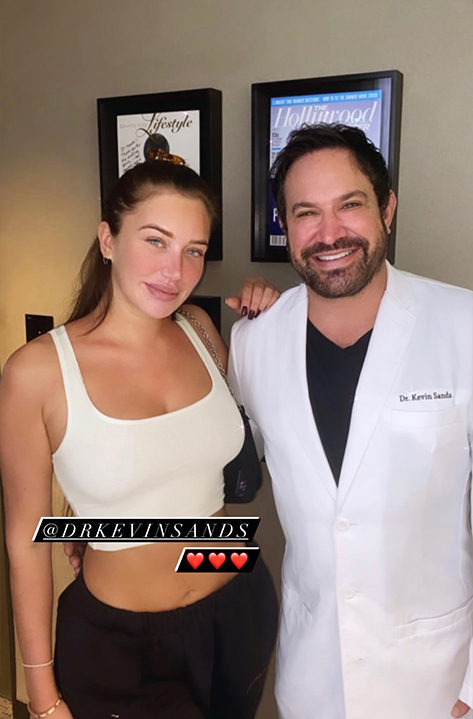 Stassie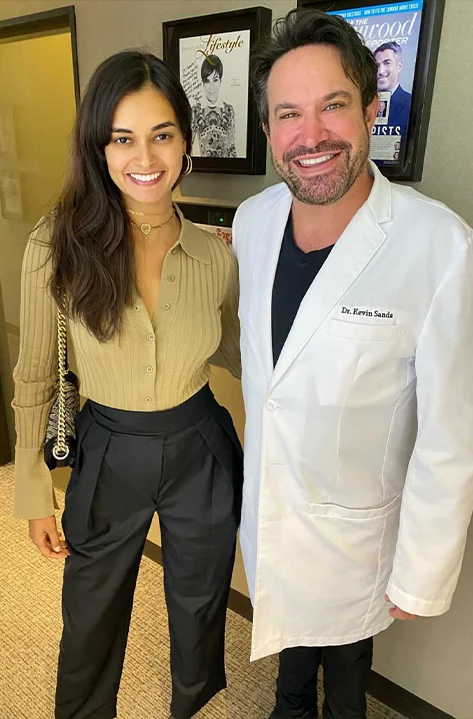 Gizele Oliveira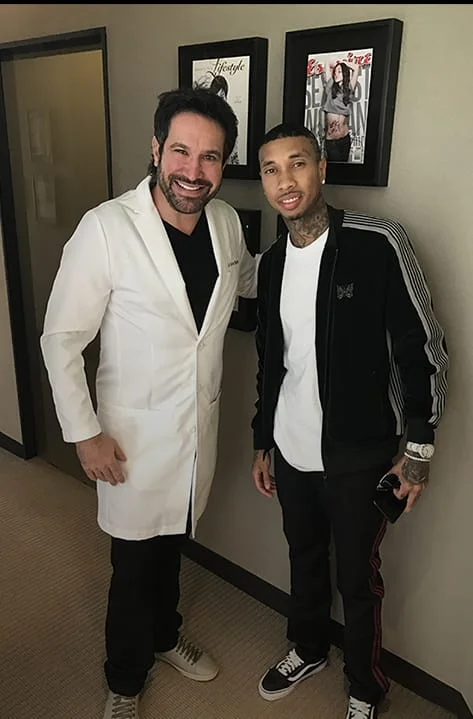 Tyga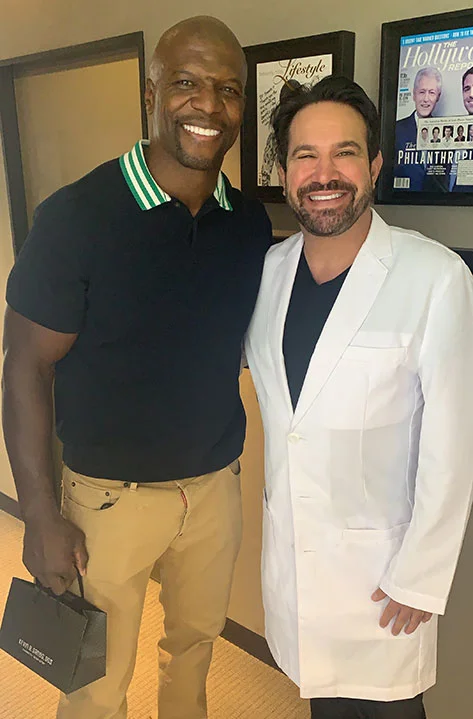 Terry Crews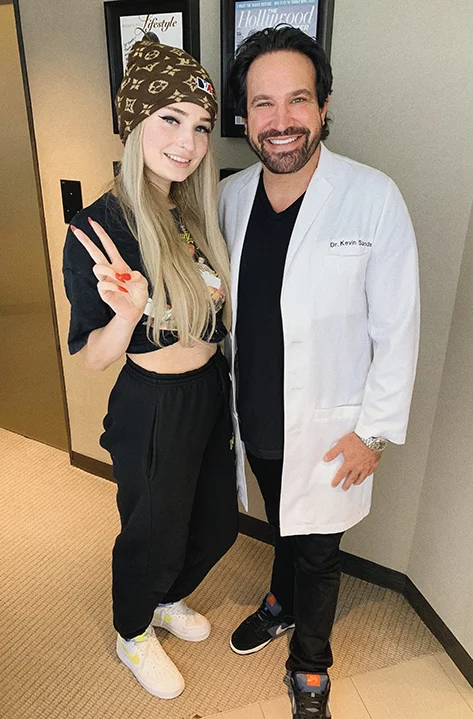 Kim Petras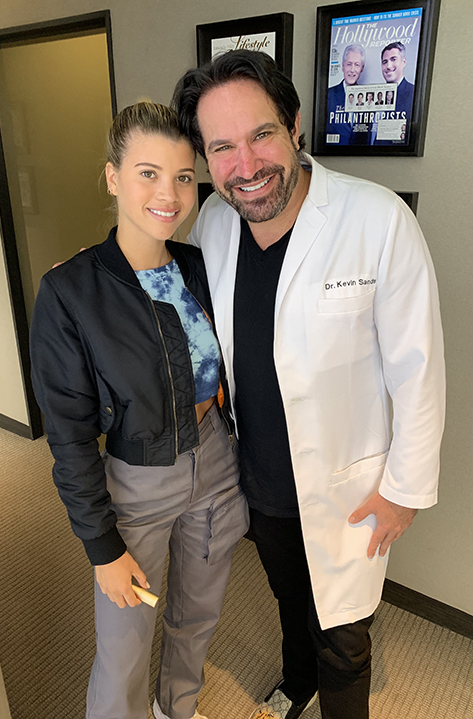 Sofia Richie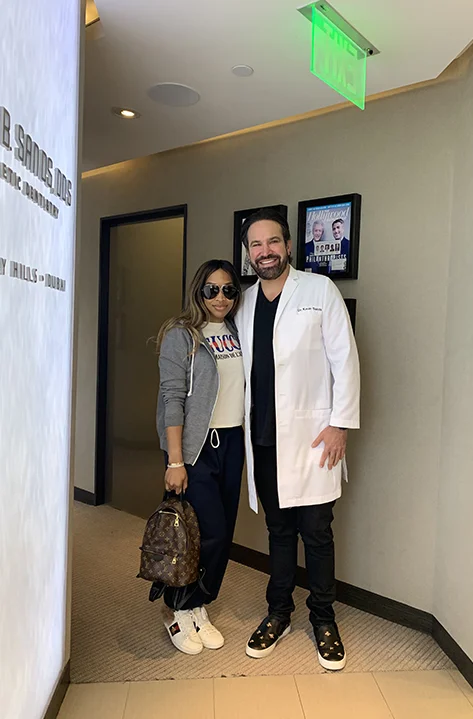 Malika Haqq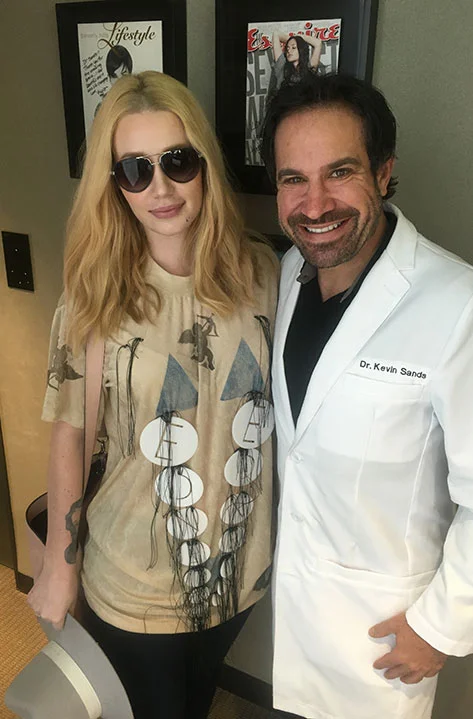 Iggy Azalea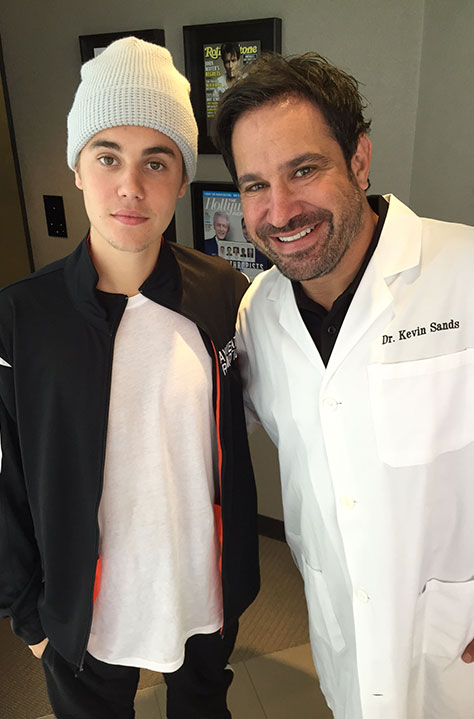 Justin Bieber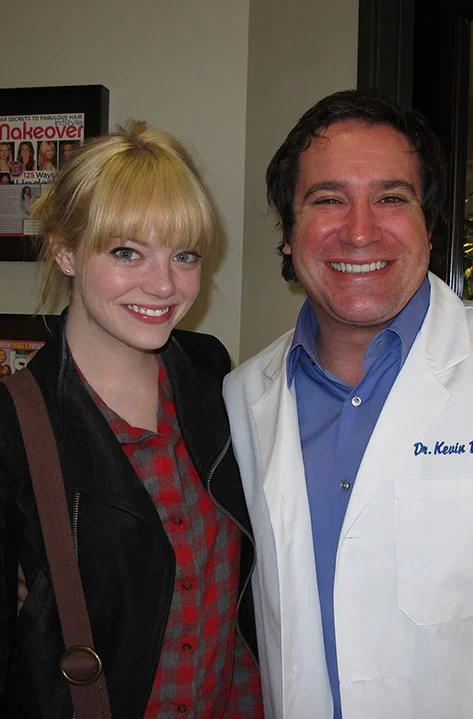 Emma Stone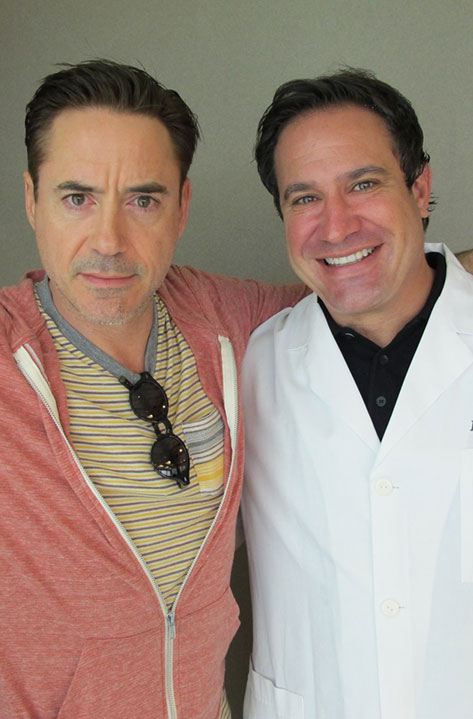 Robert Downey Jr.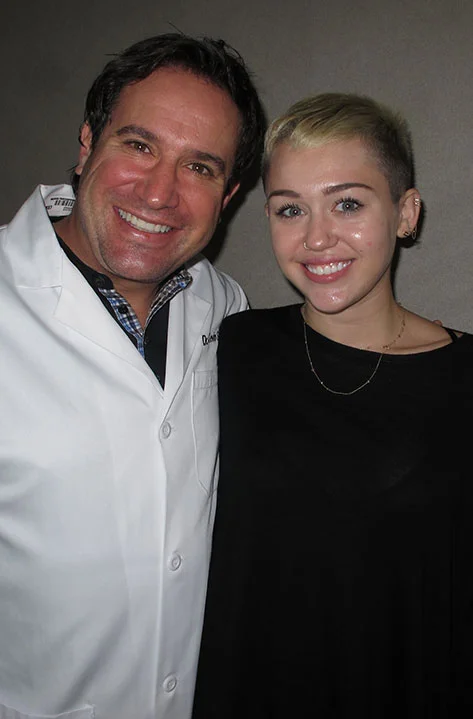 Miley Cyrus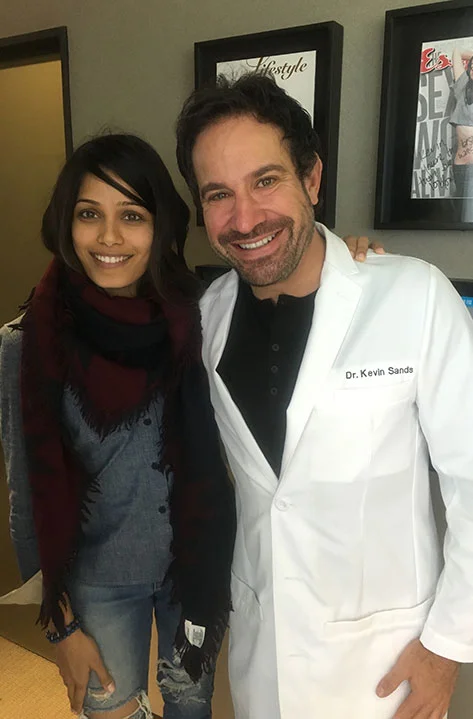 Freida Pinto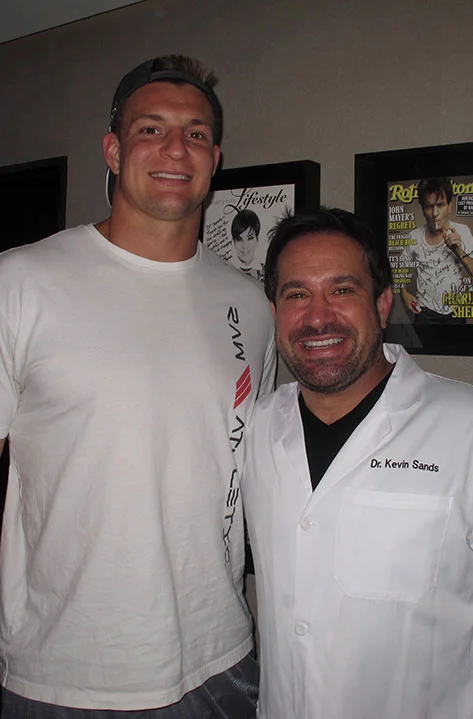 Robert "Gronk" Gronkowski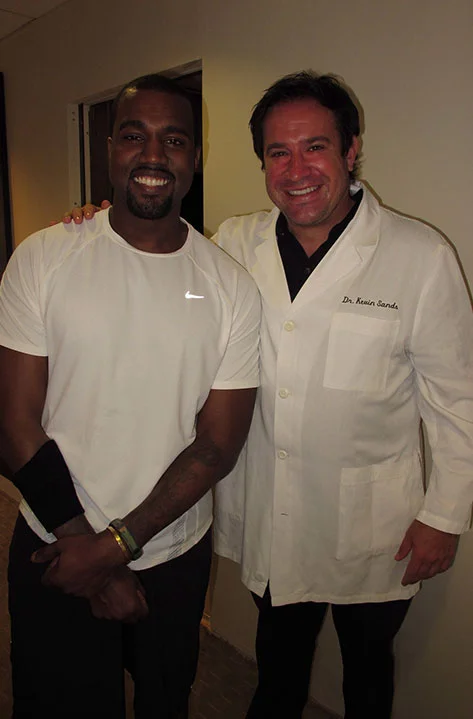 Kanye West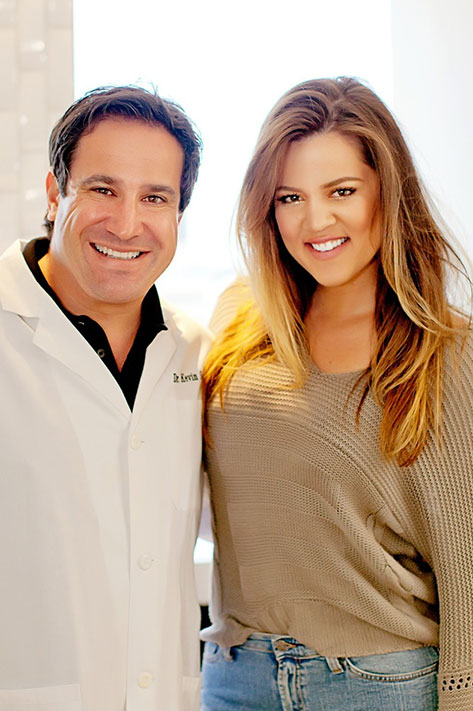 Khloe Kardashian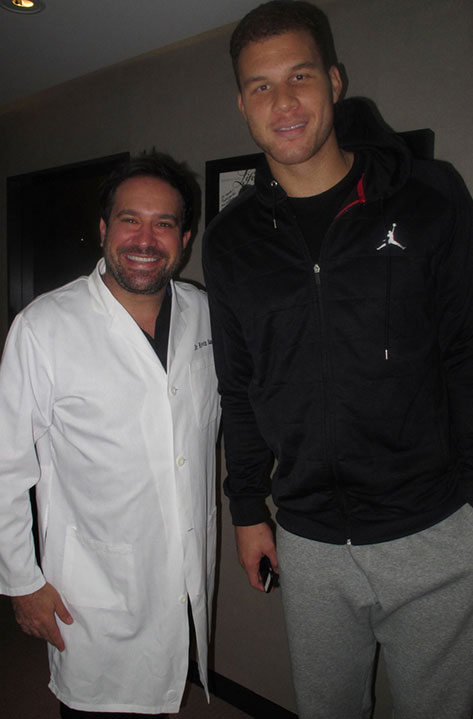 Blake Griffin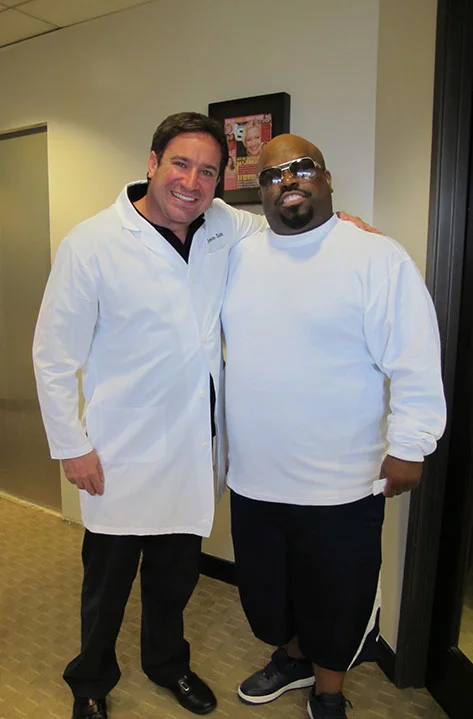 Cee Lo Green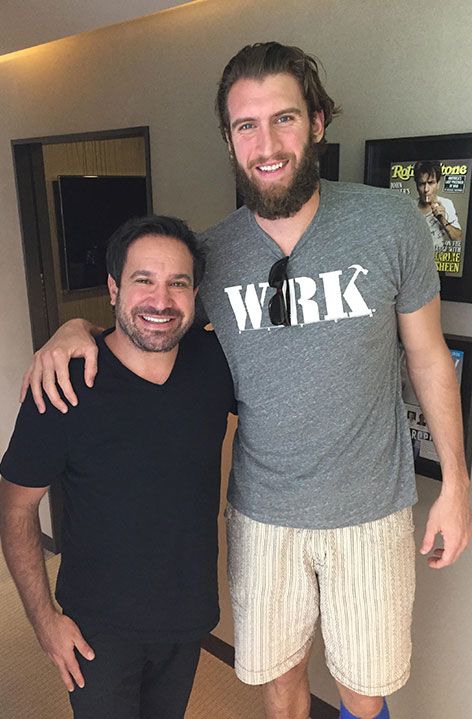 Spencer Hawes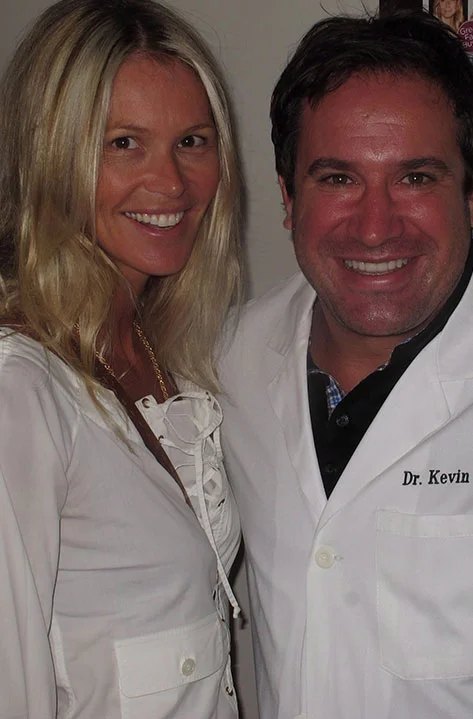 Elle Macpherson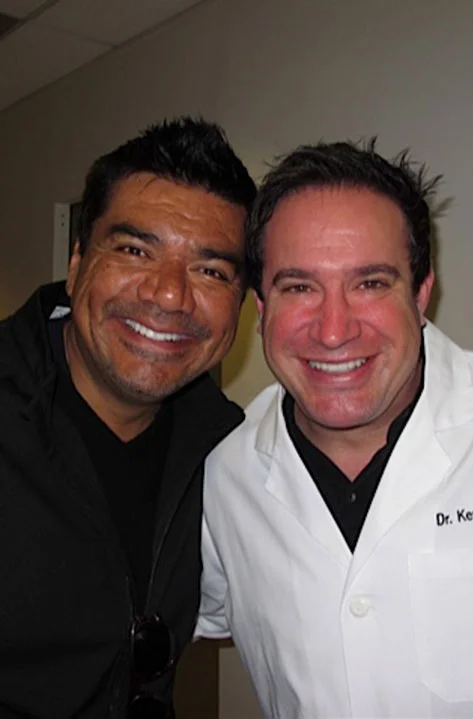 George Lopez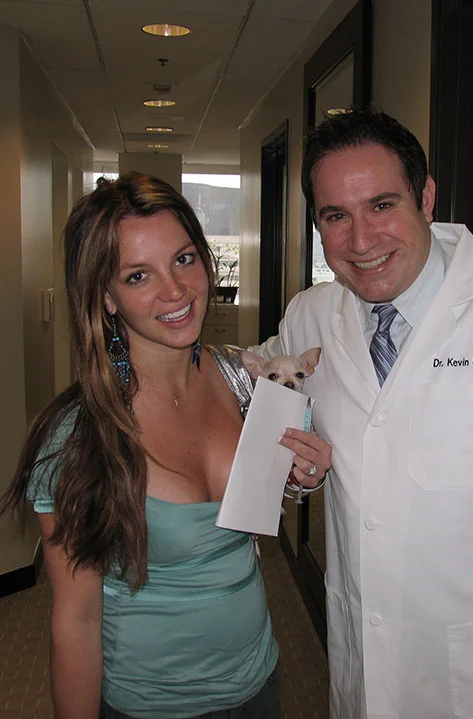 Britney Spears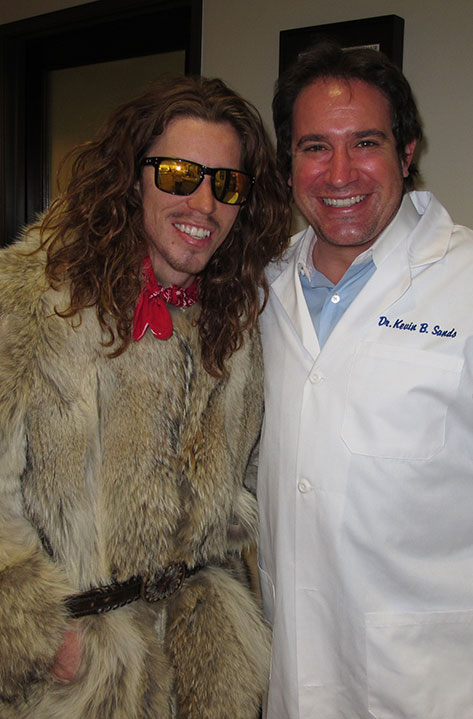 Shaun White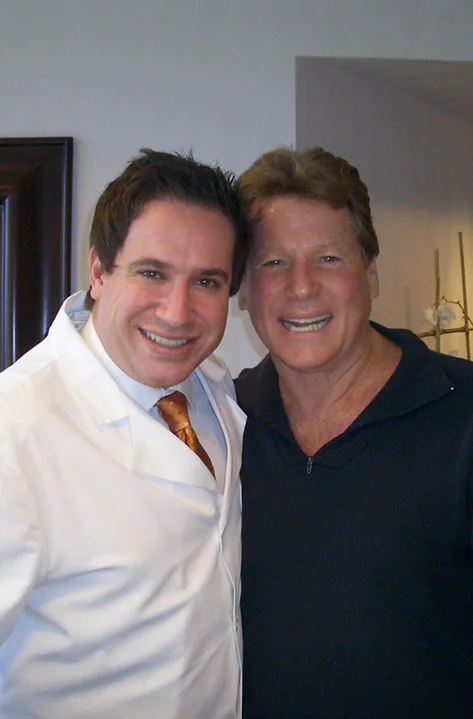 Ryan O'Neal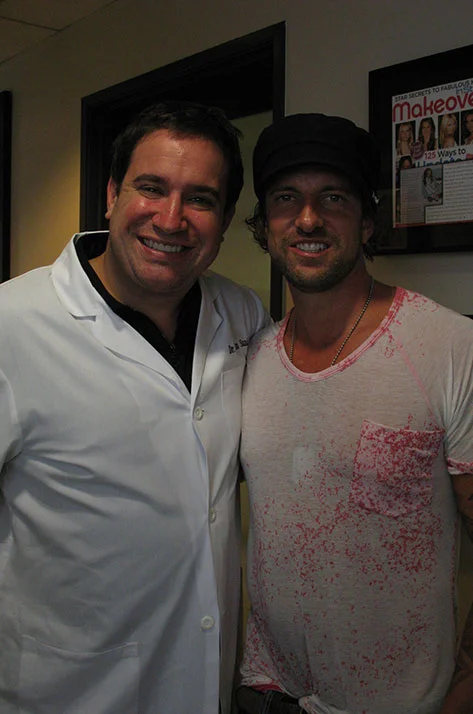 Daniel Powter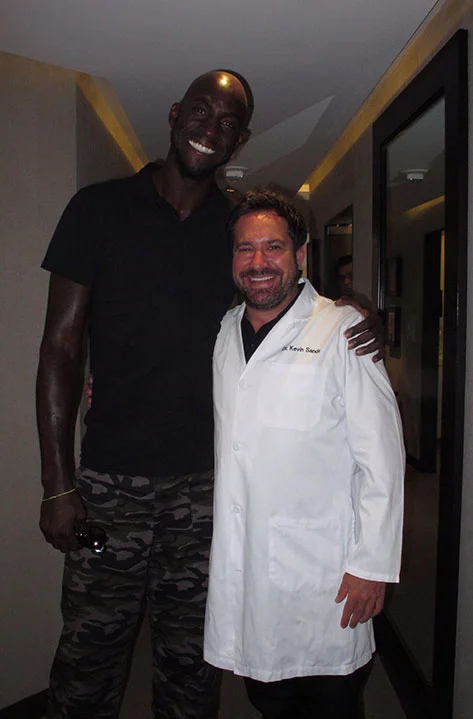 Kevin Garnett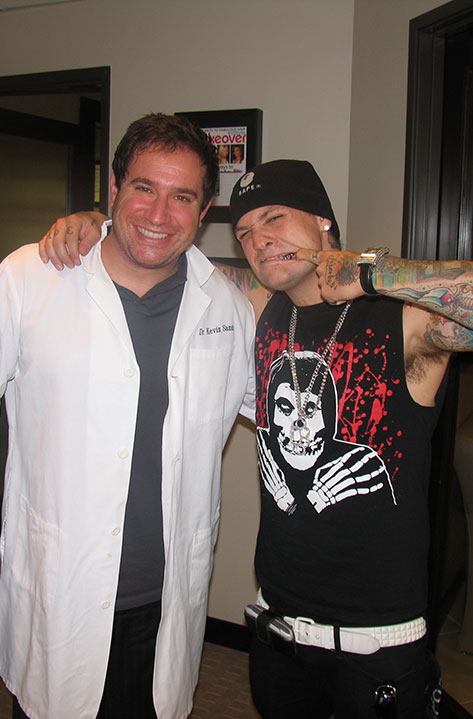 Benji Madden of Good Charlotte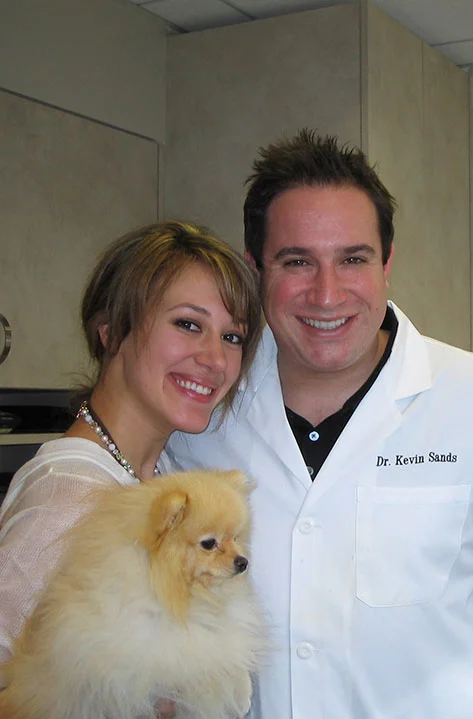 Haylie Duff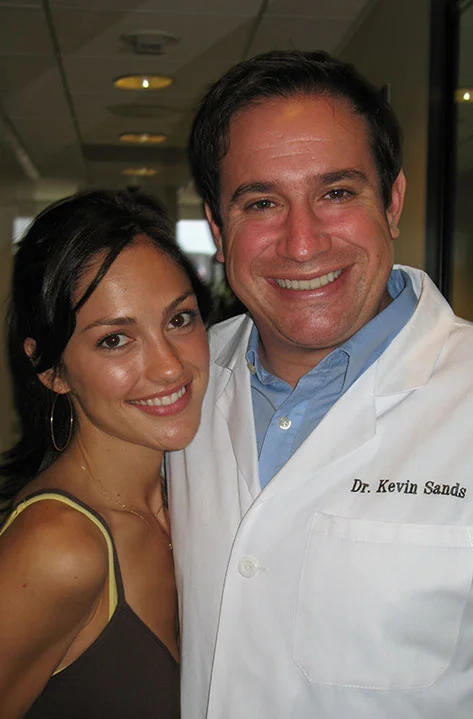 Minka Kelly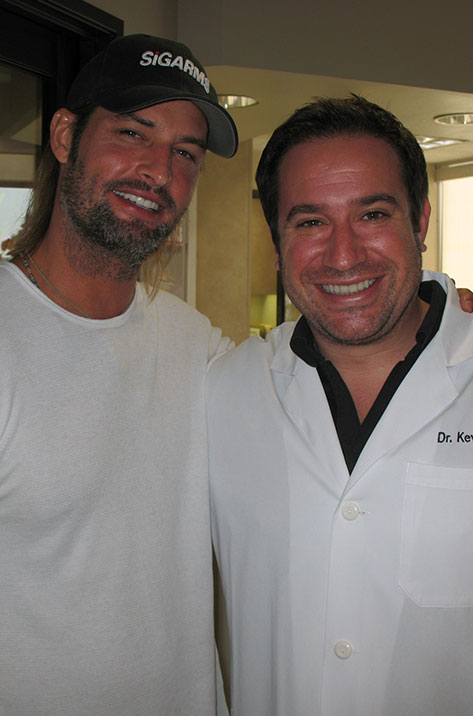 Josh Holloway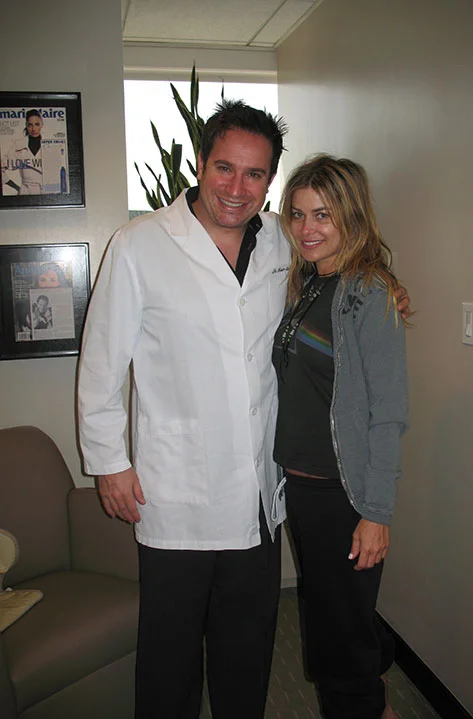 Carmen Electra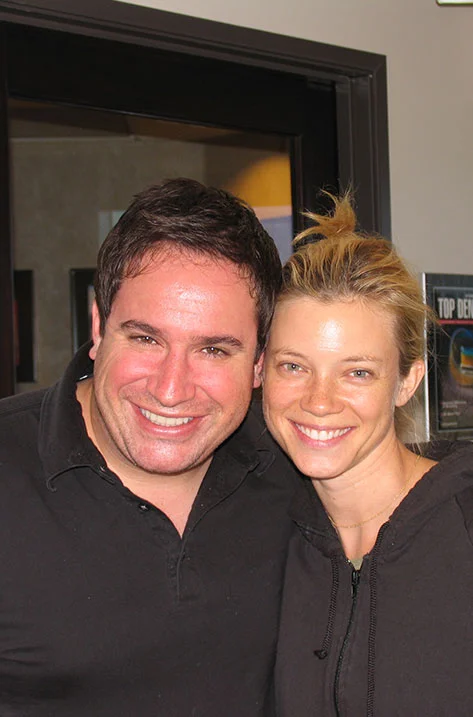 Amy Smart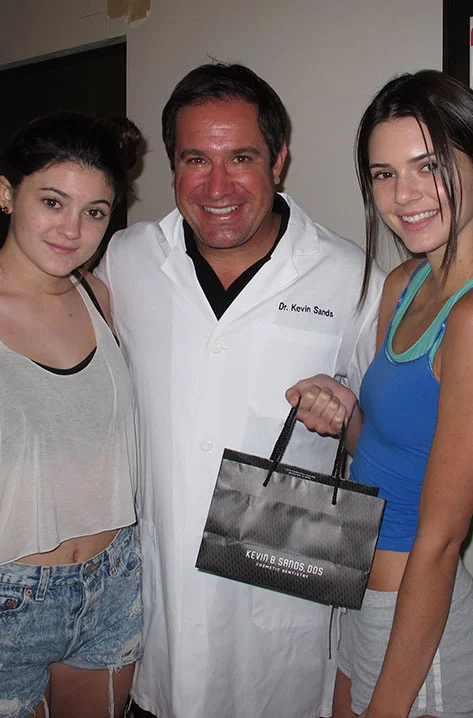 Kylie and Kendall Jenner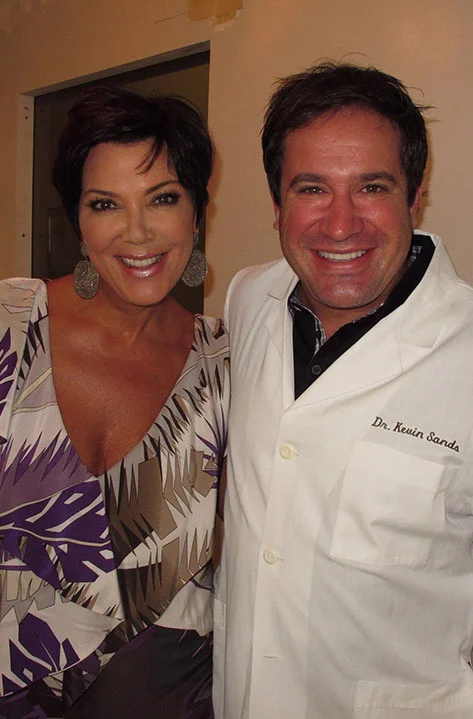 Kris Jenner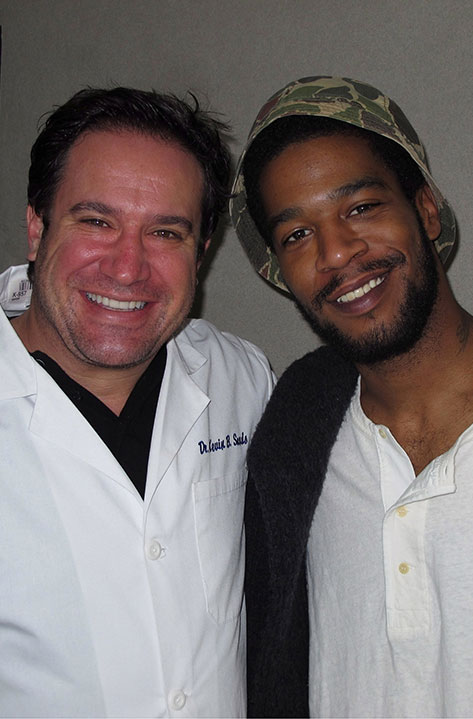 Kid Cudi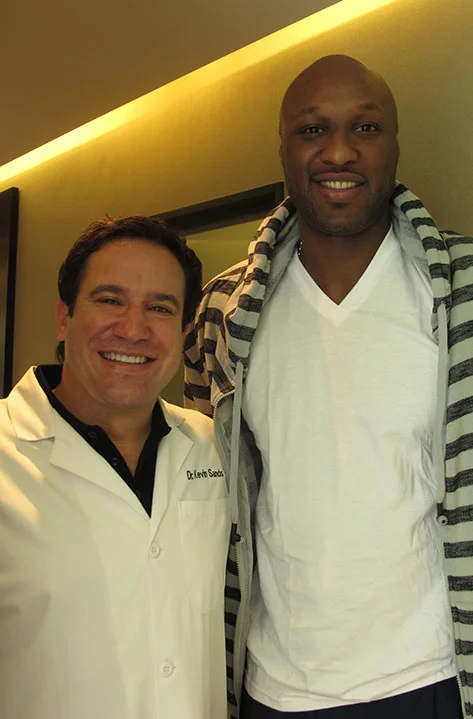 Lamar Odom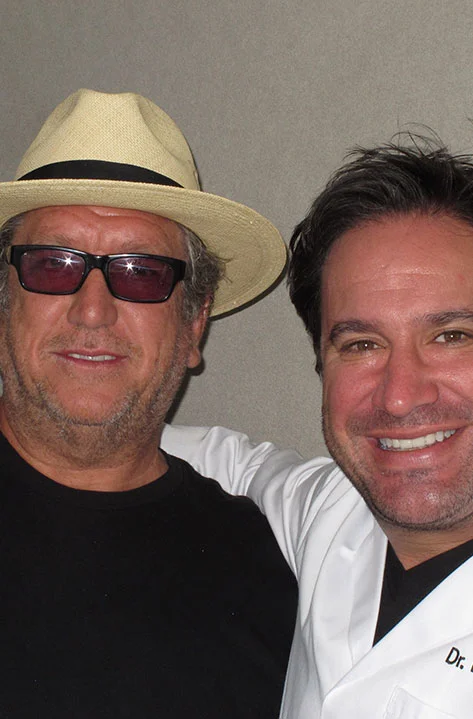 Steve Jones (Sex Pistols)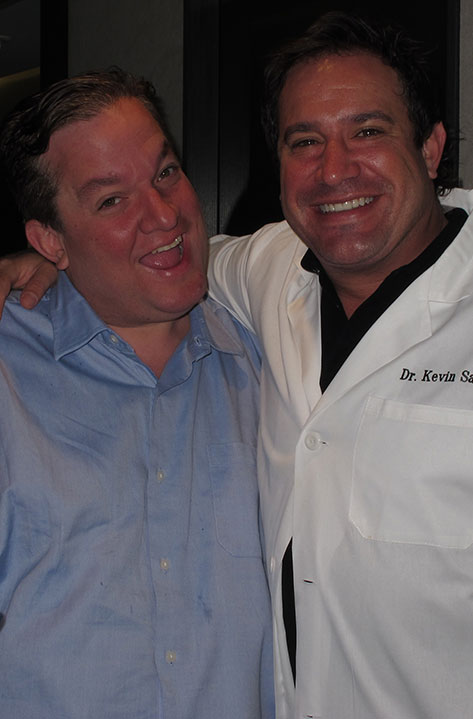 Jeff Beacher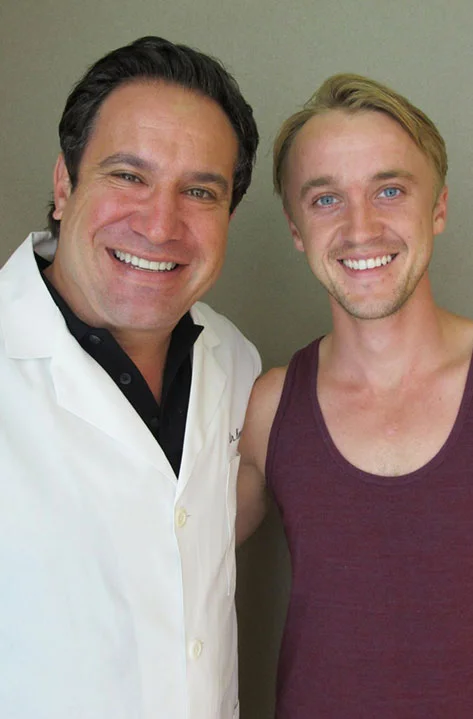 Tom Felton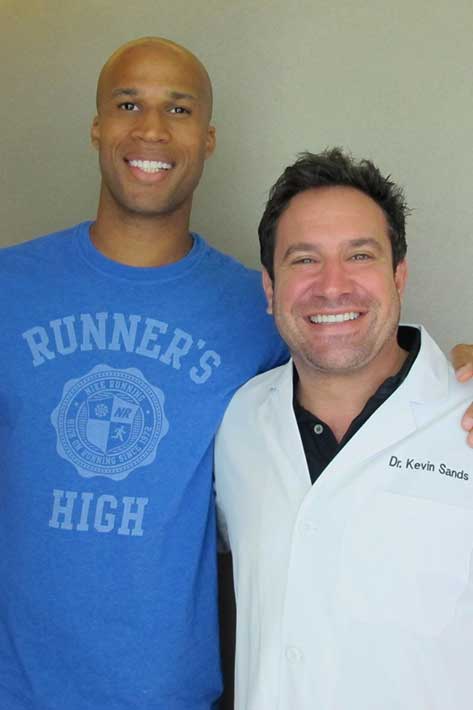 Richard Jefferson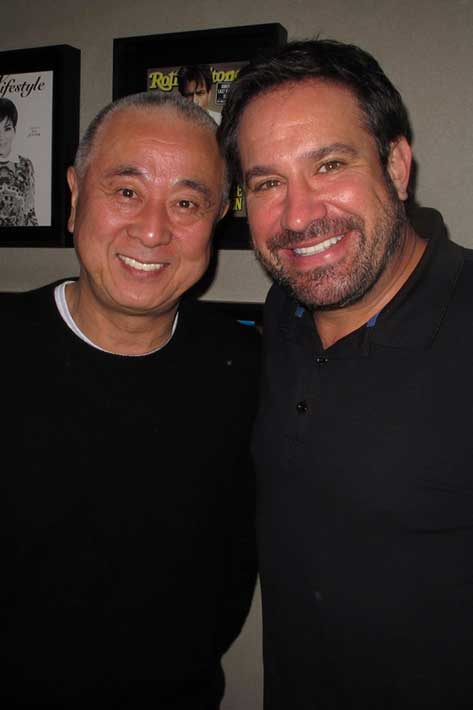 Chef Nobu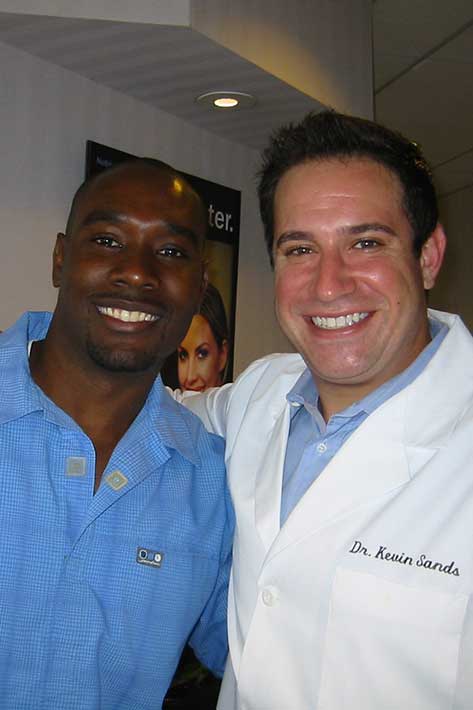 Morris Chestnut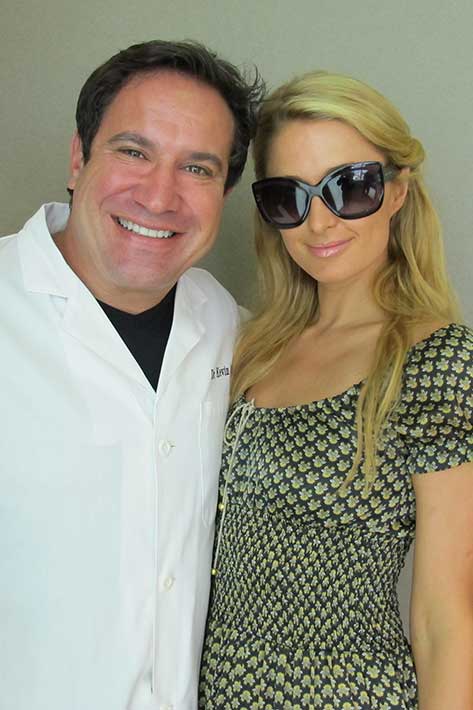 Paris Hilton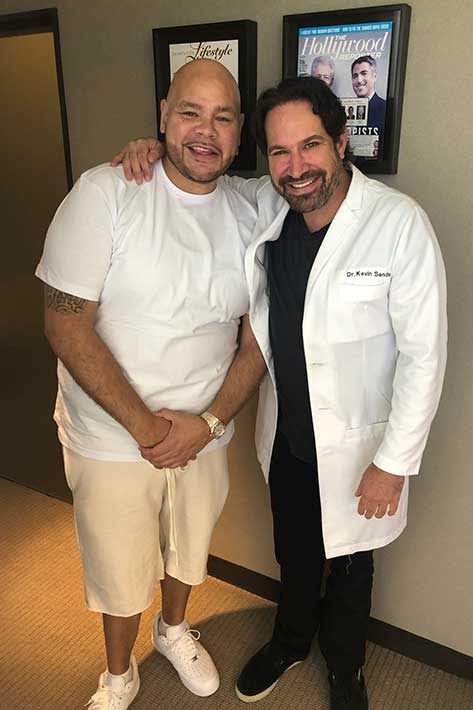 Fat Joe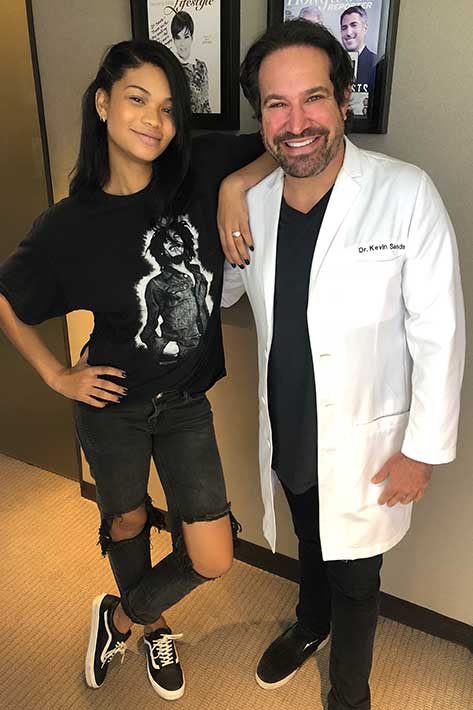 Chanel Iman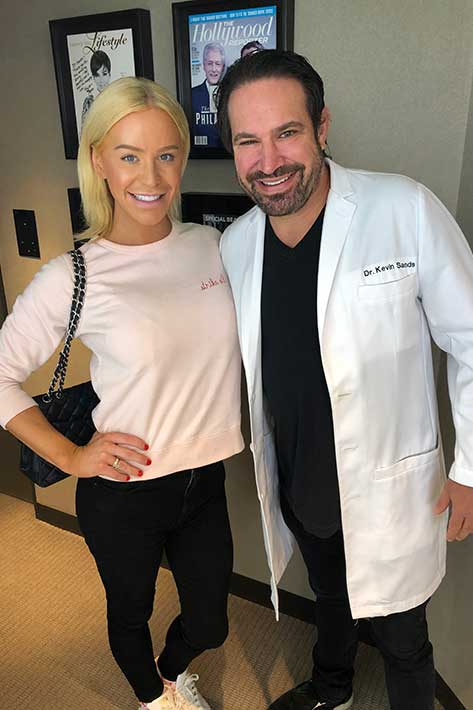 Gigi Gorgeous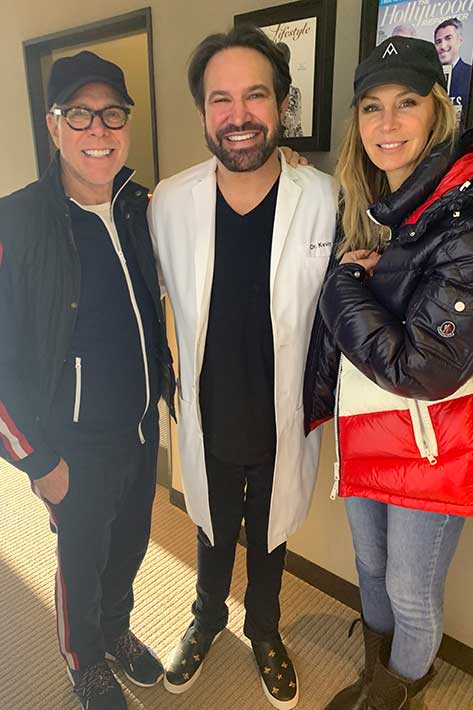 Tommy Hilfiger & Wife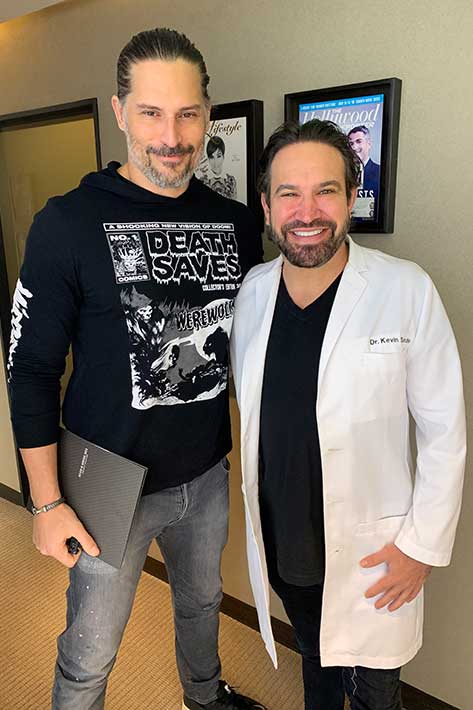 Joe Manganiello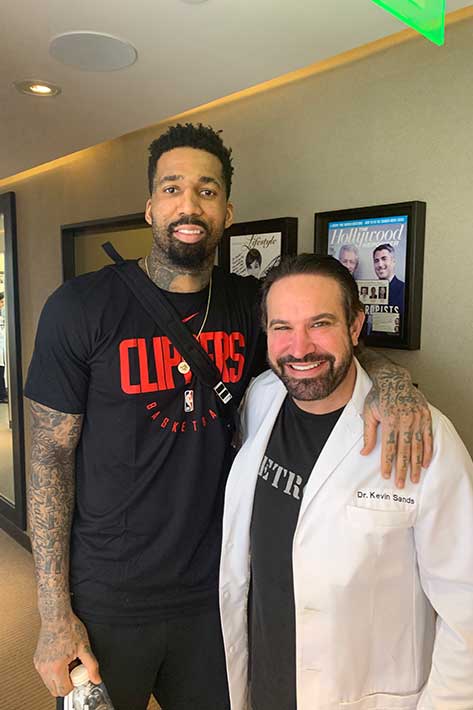 Wilson Chandler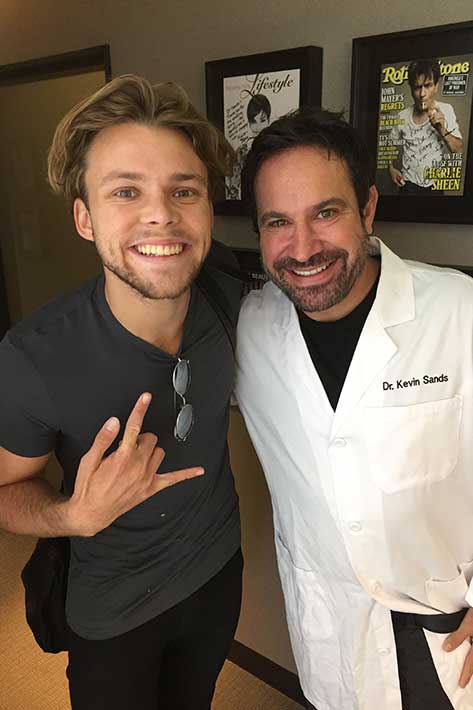 Ashton Irwin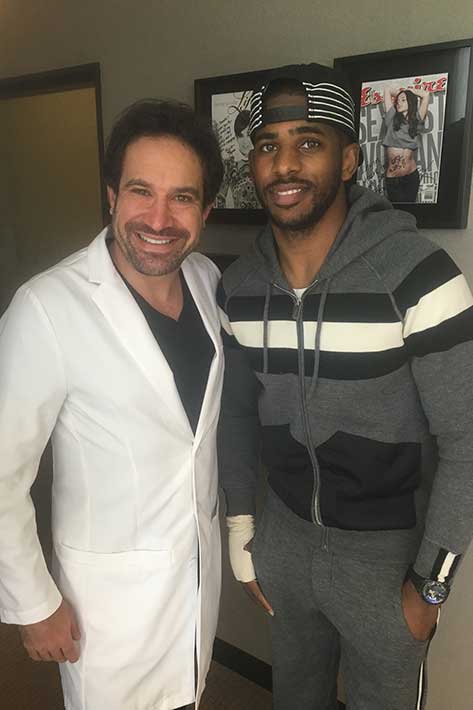 Chris Paul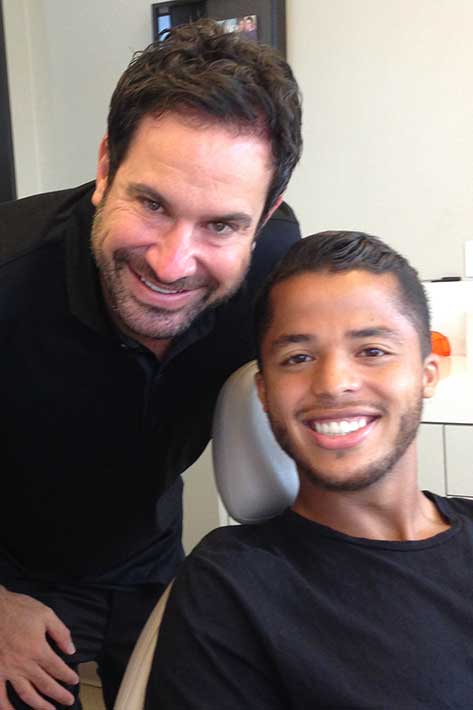 Giovani Dos Santos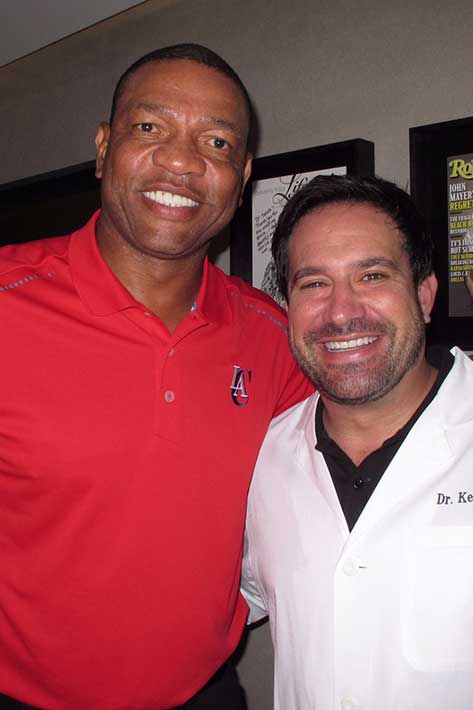 Doc Rivers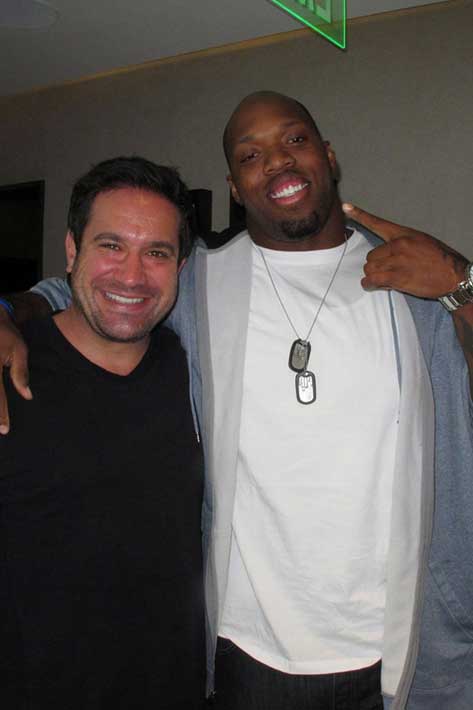 Terrell Suggs of the Baltimore Ravens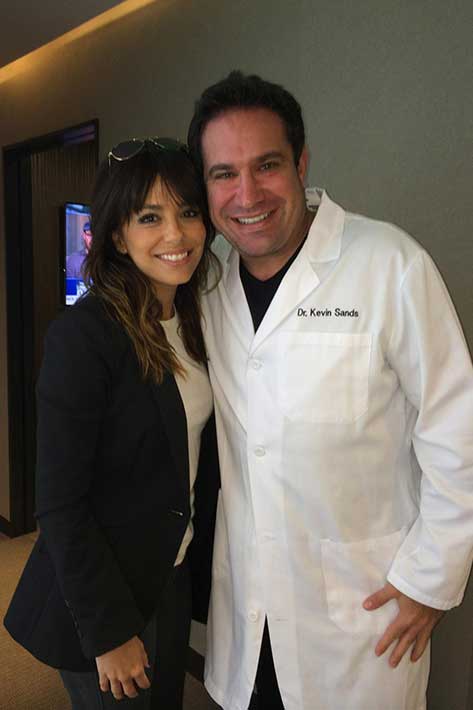 Eva Longoria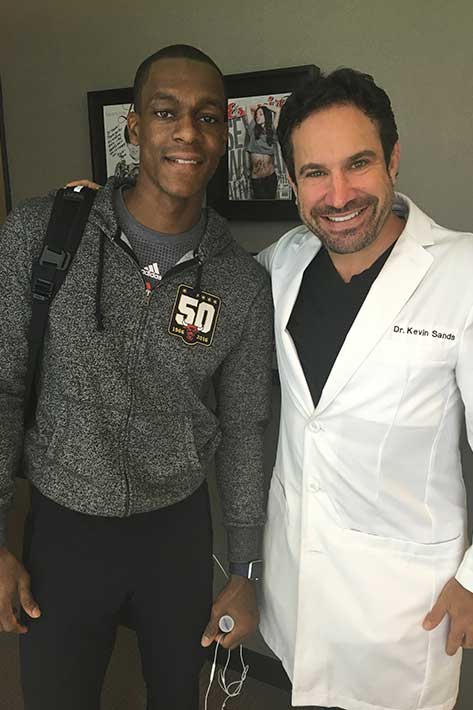 Rajon Rondo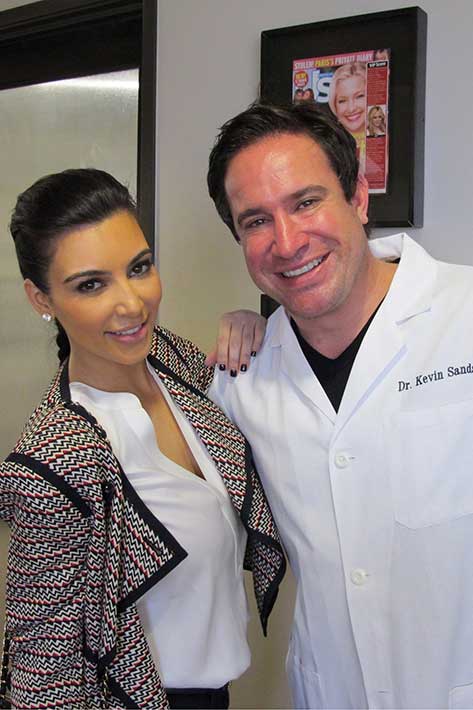 Kim Kardashian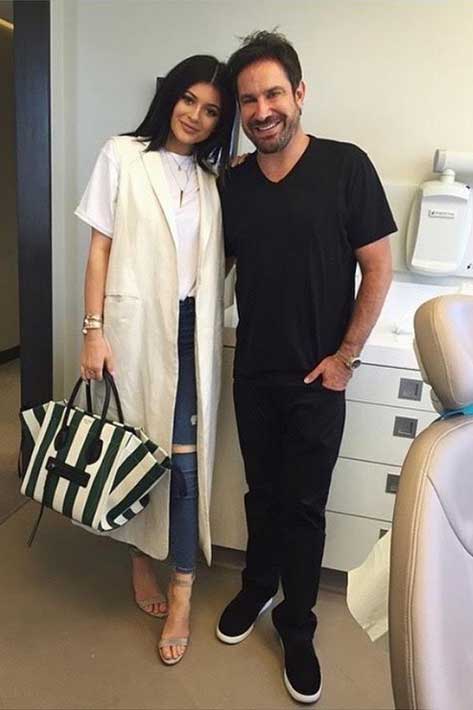 Kylie Jenner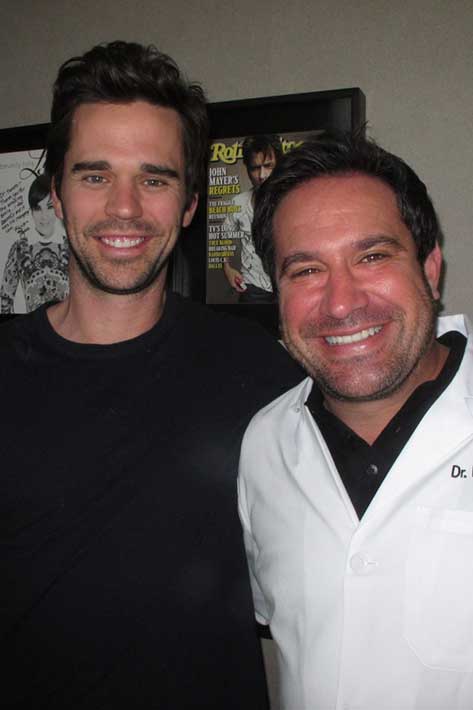 David Walton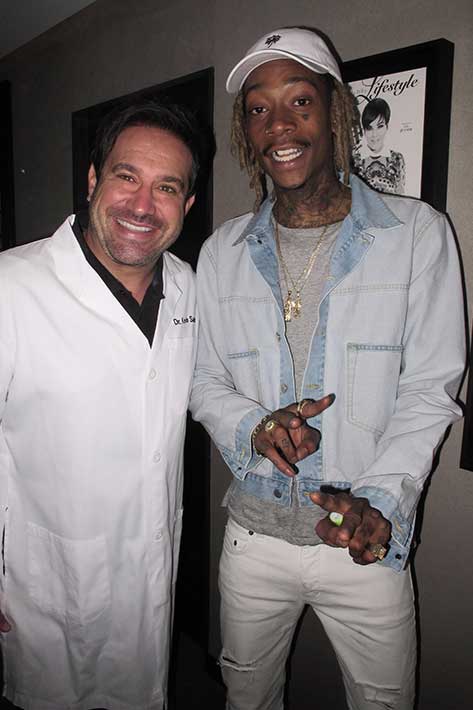 Wiz Khalifa
All-on-6
The All-on-6 technique uses six dental implants to secure each full-arch denture in the upper or lower jaw. Compared to the All-on-4 approach, All-on-6 provides additional stability and stimulates a greater portion of the jawbone to prevent atrophy. Depending on the unique needs of the patient and the density of his or her jawbone, Dr. Sands and his implant specialists may recommend more or less than six dental implants. For patients who may not have adequate jawbone density for six implants, a bone graft procedure may be possible to build up the jawbone to successfully support more implants.
Full Mouth Restoration
When all of the upper and lower teeth are replaced with two full arches of implant dentures, the procedure is often referred to as a full mouth restoration. Depending on the condition of the patient's dental health, tooth extractions and other preparatory procedures may be necessary before placement of the implants. In some cases, individuals with removable dentures decide to upgrade to implant dentures, and this may also be called a full mouth restoration.
While the procedures above are presented as an introduction to some basic implant denture techniques, it's important to emphasize that Dr. Sands and the implant specialists he collaborates with never use one-size-fits-all solutions for their patients. Each patient receives a highly customized dental implant treatment plan that is optimized to suit his or her unique oral anatomy for a superior outcome. The focus is always on creating implant dentures that are as secure, comfortable, natural-looking, and long-lasting as possible.
How Is the Implant Dentures Procedure Performed?
Dr. Sands works together with implant specialists who plan and perform the implant procedure, while he custom-designs, fits, and places the full-arch implant dentures. Prior to surgical placement of the dental implants, any necessary tooth extractions, periodontal treatments, and bone grafts must be completed and healed. Dental implant placement is generally performed with local anesthetic and sedation to provide comfort and relaxation during the procedure. The implant dentist closely follows the treatment plan and places the implant posts into their designated positions in the jawbone. Following surgery, the posts are allowed to heal and fuse with the surrounding bone. Using detailed impressions of the gums and implant posts, Dr. Sands designs beautiful full-arch dentures that suit your appearance and align with your aesthetic goals. Once the dentures return from the dental lab, Dr. Sands checks their appearance and fit and then snaps them into place over the implants to complete your smile.
How Much Do Implant Dentures Cost?
On average, high-quality implant dentures can cost between $20,000 to $40,000 per jaw. It is important to note, these prices can be affected by several factors, which is why we recommend scheduling a consultation with Dr. Sands to receive an accurate estimate for your custom implant denture treatment plan. Your quote could be higher or lower than the averages we've presented, depending on:
The number of dental implants you require
The type of dental implants chosen
Any dental treatments needed prior to implant placement
The material(s) the denture is crafted from
The technique(s) used to fabricate the denture
Anesthesiology fees
While low-cost implant dentures that are "placed in a day" can sound enticing, the reality is that bargain dental implants and restorations can often lead to disappointment. Dr. Sands and his implant specialists may require more of an investment, but they have the valuable experience, expertise, and credentials necessary to provide you with top-quality implant surgery and implant dentures that feature superior strength, comfort, and aesthetics.
If you are considering implant dentures and desire long-lasting, natural-looking results, we welcome you to contact our practice to schedule a consultation with Dr. Sands.