Share This Page
Porcelain Veneers
Porcelain dental veneers are thin, ceramic shells that are placed over a damaged, misaligned, or stained tooth to conceal cosmetic issues and create a new appearance. They are one of the most effective and aesthetically gratifying remedies for teeth that are chipped, cracked, gapped, stained, misshaped, or even misaligned—often being incorporated in smile makeovers to create gorgeous smile transformations.
Renowned Beverly Hills cosmetic dentist Kevin Sands, DDS can correct a range of dental issues with porcelain veneers and achieve a natural-looking solution to common problems affecting the appearance and function of your teeth. During the consultation process, Dr. Sands will review your personal cosmetic goals and recommend a treatment plan that can address your needs. With our innovative Planmeca ProMax® 3D imaging technology, each patient can view a dynamic digital image of their teeth and gums, allowing a comprehensive understanding of the treatment approach. This technology also facilitates doctor-patient communication and can ultimately lead to well-informed treatment decisions and a more satisfying final outcome.
Fix chips, gaps & spaces
Mask stains and discoloration
Transform short/worn teeth
No downtime after treatment
What Happens During the Porcelain Veneers Procedure?
Treatment with porcelain dental veneers begins with a digital impression of your teeth taken with our Planmeca ProMax® 3D system. This impression will allow porcelain veneers to be custom-made for the affected teeth, ensuring a comfortable fit. After the veneer is designed, it is color-tinted to match the surrounding teeth—or to your aesthetic preference—and attached to the tooth with a durable cement. Depending upon the type of veneer you choose, you may be given temporary veneers while you wait approximately 7-10 days for the permanent veneers to be returned from the ceramist. The damaged tooth can then be concealed with a healthy-looking porcelain veneer and a rejuvenated appearance.
Dr. Sands uses his experience, as well as his aesthetic sensibilities, to design veneers that look both beautiful and natural. The color of porcelain veneers will not change over time, so your teeth can remain bright and vibrant.
Porcelain dental veneers can be an excellent way of addressing common problems with your teeth and creating a beautiful new smile with results that look and feel natural.
Do Porcelain Veneers Hurt?
No, the porcelain veneers procedure is not considered painful. Patients may experience some sensitivity when the tooth is being prepared, but porcelain dental veneers can be applied with a local anesthetic or sedation dentistry techniques at our practice in Beverly Hills for a painless experience. Dr. Sands utilizes his considerable skill and experience to give patients the most relaxing, comfortable office visit possible.
How Long Do Porcelain Veneers Last?
When properly cared for, porcelain veneers can last for years, even decades. They are made with durable, stain-resistant material, which makes them strong, prevents them from changing color, and keeps your smile looking youthful. Practicing good daily oral hygiene and scheduling routine oral exams is the best way to maintain your results long-term. Patients who frequently clench their jaw or grind their teeth at night may consider a small oral appliance to protect the veneers during sleep.
We've transformed the smiles of countless patients, including many familiar celebrity faces.

Veneers were used to close gaps, straighten and brighten this patient's smile.

Smile Makeover achieved with Zoom! Teeth Whitening and porcelain dental veneers at Kevin Sands DDS office Beverly Hills, CA.
How Much Do Porcelain Veneers Cost?
Porcelain veneers from Dr. Sands typically cost anywhere between $2,000 and $5,000 per tooth, on average. Since each porcelain veneers procedure is customized to meet the unique needs of the patient, the price varies from case to case. The final expense is calculated using a number of variables, including the number of veneers, type of veneers, and veneer placement. During the consultation process, Dr. Sands will perform an oral exam, discuss your cosmetic goals, design a custom treatment plan, and provide you with a precise quote for the procedure. Good candidates for porcelain veneers have healthy teeth and gums, and Dr. Sands may recommend a procedure to improve dental health beforehand, if necessary.
Though you may be able to find a cosmetic dentist who will perform the porcelain veneers procedure at a reduced cost, choosing a less experienced dentist can lead to poor results or costly complications in the future. With his artistic eye and scientific experience, Dr. Sands has worked with many entertainment stars over the years who have trusted him with their smiles.
Most of our patients consider porcelain veneers an investment in their oral health and beauty, and our office offers a number of payment options that can offer low monthly payments with low to no interest financing. Partner companies such as CareCredit® and Enhance Patient Financing can help patients find a financing option that fits comfortably within their budget. We also accept all major credit cards at our office for your convenience.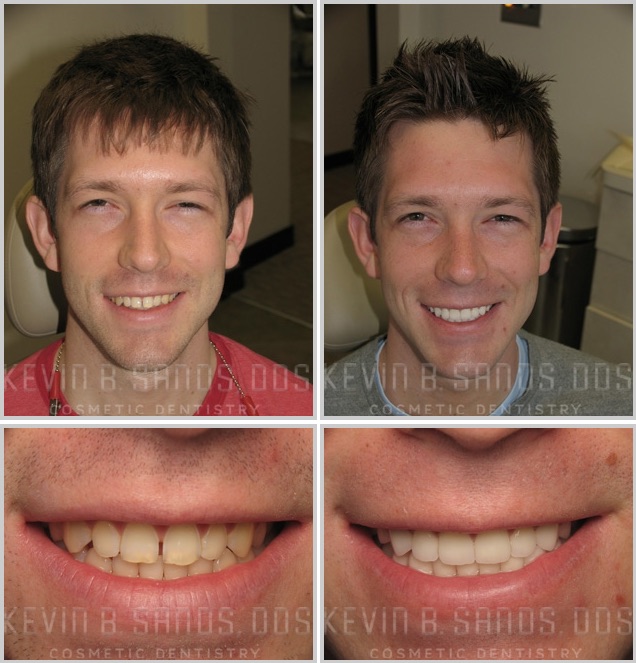 Patients desired smile accomplished by Kevin Sands DDS utilizing porcelain veneers at his Beverly Hills dental practice.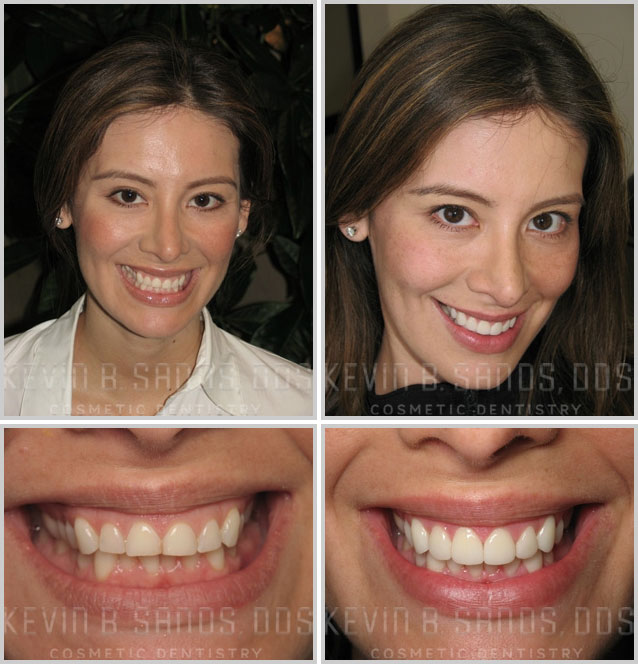 Teeth worn down from excessive grinding. Dr. Kevin Sands was able to lengthen teeth and remedy patients smile using porcelain veneers at his Beverly Hills office in Los Angeles.
Why Should I Choose Dr. Sands for Porcelain Veneers?
Dr. Kevin Sands has earned a stellar reputation for the exquisite, world-class results he creates with porcelain veneers. He has extensive experience in all aspects of cosmetic dentistry, with proven expertise in the design and placement of high-quality veneers.
In addition to having credentials and achievements that position him at the very top of his field, Dr. Sands is a member of the American Academy of Cosmetic Dentistry—an elite professional organization that drives innovation in aesthetic and restorative dentistry, upholds high standards of excellence for its members, and provides cutting-edge educational opportunities. As the trusted designer and caretaker behind many of the world's most famous smiles, Dr. Sands' skill, artistry, and personality have helped him become a favorite choice among individuals who desire a star-quality smile and the best in patient care.
During a consultation, you will have the opportunity to meet Dr. Sands, discuss your concerns, ask any questions you have, and learn about the best approach for achieving your smile goals. If you are considering a new smile with porcelain veneers, we encourage you to schedule an appointment with Dr. Sands to find out if he is the right cosmetic dentist for you!
Are There Any Alternatives to Porcelain Veneers?
If you are not a good candidate for treatment with all porcelain veneers—due to some badly damaged, severely misshapen, decayed, or otherwise problematic teeth—Dr. Sands may recommend custom porcelain crowns to improve the health, strength, and appearance of each affected tooth. Instead of covering just the visible front surface of the tooth, like a thin veneer, a dental crown fits over the vulnerable body of the treated tooth like a cap to restore proper form and function while creating a more ideal appearance that blends with the surrounding teeth.
For individuals who do not want veneers but are interested in making minor, purely cosmetic improvements, cosmetic bonding may provide a suitable solution. Tooth-colored composite resin is incredibly versatile; however, this method does not yield results that are as long-lasting or shade-stable as porcelain veneers.
Ultimately, the ideal treatment option for you will depend on a variety of factors that you and Dr. Sands can discuss during your consultation. He will take the time to understand your dental needs and explain all of the options he offers that can achieve your goals.
For more information regarding porcelain veneers, please contact our practice to schedule a consultation with Dr. Sands.
What Our Patients Are Saying

After 2 decades of searching, I discovered Thin Dental Veneers and more importantly, Dr. Sands and their staff. They took their time to explain all of the options and how everything worked. Their attention to detail was more than I could dream of. People no longer ask me what is wrong with my teeth, but rather "What did you do to make them so perfect!". Dr. Sands and his team not only gave me a complete smile makeover, but also put a smile on my face.
Mica JM

Dr. Sands and his entire office staff are above and beyond with their friendliness, professionalism and quality work they produce. Both my husband and I got 10 porcelaian veneers each and the experience was awesome and result AMAZING! I get compliments constantly. I can't say enough about Dr. Sands. I have also had my teeth cleaned there and the hygenist is top-notch! THANK YOU ALL there for being as as completely AWESOME as you are!!!!!
Yvette B

You'll never dread a dental appointment again! The whole staff is amazing…all so pleasant and accommodating…making you feel like their only patient. The practice is spotless and comfortable with tons of natural light. I gladly make the commute from Valencia and wouldn't consider going anywhere else
Ready for a Stunning New Smile?

Call: 310-273-0111