Share This Page
Dr. Kevin Sands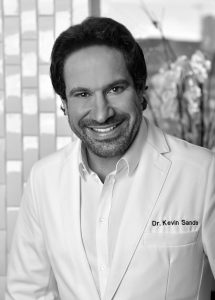 Dr. Kevin Sands has been the dentist of choice for some of the biggest names in entertainment for more than 15 years. An experienced cosmetic dentist with offices in Beverly Hills and Dubai, Dr. Sands combines his talents with the work of a skilled dental restoration artist to create porcelain veneers and other advanced treatments that take the field of cosmetic dentistry to the next level. Each and every treatment here at the practice of Dr. Kevin Sands is custom-tailored to the individual patient for results that work for his or her unique needs. After all, no two smiles are alike, and therefore there are no one-size-fits-all procedures. This important commitment to providing personalized treatment in order to create the best possible outcome has made Dr. Sands one of the most popular dentists among celebrities who depend upon a picture-perfect smile, as well as patients from across the globe who fly in to see Dr. Sands for their dental needs.
Kevin does amazing work and all of the staff are amazing. They provide an esquisite enviornment paired with top notch service which will get you excited to…

T C.

May 27, 2017

12345
Dr. Sands' practice offers a comprehensive array of treatment options, including general, cosmetic, and restorative dental care procedures, to help you maintain both the health and appearance of your teeth and gums. His offices are designed with your comfort in mind, and numerous amenities are available, including sedation dentistry techniques, to help you relax during your visit. Ultimately, Dr. Sands is committed to giving you a bright and beautiful smile that is a reflection of your own unique personality – a smile that enhances your teeth as well as your self-confidence.
Feel free to view our smile gallery and celebrity gallery to see some of the results experienced by patients of Dr. Sands.
Education and Memberships
Dr. Sands earned his degree from the world-renowned USC School of Dentistry and completed continuing dental education courses in Advanced Anterior Aesthetic Dentistry at the prestigious Las Vegas Institute for Advanced Dental Studies. He is a member of the American Academy of Cosmetic Dentistry, the American Dental Association, and the California State Dental Association.
Media Appearances
Dr. Sands has been featured in a number of major publications, including U.S. News & World Report, Vogue, The Hollywood Reporter, Cosmopolitan, and Us Weekly. He has also appeared in television programs such as Good Day LA, E! News, and Keeping Up with the Kardashians, among others.
Dr. Sands looks forward to helping you renew your smile with beautiful results. If you have questions, or if you would like to schedule a consultation, please contact us today.