Cosmetic Dentist Kevin B. Sands, DDS
Meet Dr. Sands
Featured as Beverly Hills' leading cosmetic dentist to the stars in prominent magazines, television shows, and news programs.
Completed extensive training in aesthetic dentistry techniques at the prestigious Las Vegas Institute for Advanced Dental Studies.
Performs highly personalized smile makeovers using the latest technology and high-quality porcelain veneers.
Offers complex full mouth restoration and dental implant procedures to rebuild healthy, beautiful smiles.
Member of the American Academy of Cosmetic Dentistry (AACD).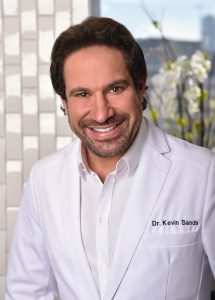 Dr. Kevin Sands has been the top cosmetic dentist of choice for some of the biggest names in entertainment for more than 15 years. An experienced cosmetic dentist with offices in Beverly Hills and Dubai, Dr. Sands combines his talents with the work of a skilled dental restoration artist to create porcelain veneers and other advanced treatments that take the field of cosmetic dentistry to the next level. Each and every treatment here at the practice of Dr. Kevin Sands is custom-tailored to the individual patient for results that work for his or her unique needs. After all, no two smiles are alike, and therefore there are no one-size-fits-all procedures. This important commitment to providing personalized treatment in order to create the best possible outcome has made Dr. Sands one of the most popular dentists among celebrities who depend upon a picture-perfect smile, as well as patients from across the globe who fly in to see Dr. Sands for their dental needs.
Dr. Sands' practice offers a comprehensive array of treatment options, including general, cosmetic, and restorative dental care procedures, to help you maintain both the health and appearance of your teeth and gums. His offices are designed with your comfort in mind, and numerous amenities are available, including sedation dentistry techniques, to help you relax during your visit. Ultimately, Dr. Sands is committed to giving you a bright and beautiful smile that is a reflection of your own unique personality – a smile that enhances your teeth as well as your self-confidence.
Feel free to view our smile gallery and celebrity gallery to see some of the results experienced by patients of Dr. Sands.
Video Image Placeholder
Education and Memberships
Dr. Sands earned his degree from the world-renowned USC School of Dentistry and completed continuing dental education courses in Advanced Anterior Aesthetic Dentistry at the prestigious Las Vegas Institute for Advanced Dental Studies. He is a member of the American Academy of Cosmetic Dentistry, the American Dental Association, and the California State Dental Association.
Media Appearances
Dr. Sands has been featured in a number of major publications, including U.S. News & World Report, Vogue, The Hollywood Reporter, Cosmopolitan, and Us Weekly. He has also appeared in television programs such as Good Day LA, E! News, and Keeping Up with the Kardashians, among others.
Read more about Dr. Sands in the Media
Dr. Sands looks forward to helping you renew your smile with beautiful results. If you have questions, or if you would like to schedule a consultation, please contact us today.
What is a Cosmetic Dentist?
A cosmetic dentist is a dentist who has undergone additional training in techniques that improve the appearance of the teeth and the entire smile. The focus of a cosmetic dentist's practice is primarily on aesthetic and restorative procedures, such as custom porcelain veneers, dental crowns, and dental implants, which can correct cosmetic imperfections and fix dental damage with beautiful results.
How to Choose the Best Cosmetic Dentist for You
Selecting the best cosmetic dentist for your needs is a big decision that should not be made lightly. To help you along in the process, we have some tips that can make your online search a bit easier:
Evaluate their credentials, education, and experience – Checking out a dentist's bio page on their website can usually provide you with much of the information you'd need to learn about his or her professional and educational background. Focus on how many years of experience he or she has, any advanced areas of study, continuing education coursework completed, memberships in professional associations, and certifications. Professional achievements and awards may also provide insight.
Look at before-and-after-photos of their work – Many cosmetic dentists offer an online photo gallery that displays examples of their work. Often, there are cosmetic dentistry before-and-after images for each treatment option offered at the practice. Check out the results that may be possible for the dental procedure you are considering. You might also be able to request additional photos during a consultation.
Find out what dental technology they offer – Advanced technology in the dental office can offer many positive treatment benefits. While 3D imaging technology can create digital impressions of the teeth for custom restorations and aid in precision treatment planning, dental lasers can make gum treatment and contouring easier and more comfortable than ever. Look into the dental technology your prospective dentist offers and learn about how they can improve your experience and results.
Examine online ratings and reviews from actual patients – Patient reviews and testimonials can give you a glimpse of many important aspects of a cosmetic dentist, including the quality of care they provide, patient satisfaction, and the way they run their practice.
Meet your potential cosmetic dentist in person – Schedule a consultation with your prospective dentist to determine your comfort level, ask questions, find out more about your treatment options, and learn about how he or she plans to approach your dental concerns. It is important that the dentist you choose listens attentively and develops a customized treatment plan based on your needs and goals. If you are unsure, continue to visit with other cosmetic dentists and compare your experiences.
This was my first visit to Dr. Kevin, I was looking for a regular doctor to see for my dental health. I had a wonderful experience from A to Z.
The office was clean and beautiful and the staff is efficient and friendly. I was taken in on time and Dr. Kevin advised me on my options for a cracked tooth and I had a routine cleaning done. It's safe to say I found my regular doctor. I am a happy girl with a healthy smile.
Thank you, Dr. Kevin!

Bentley Stingley

March 10, 2020

12345
More Reviews
Questions to Ask Your Cosmetic Dentist
When attending a consultation with a cosmetic dentist, communicating what you want and asking the right questions can help you get the most out of your one-on-one experience. To get outstanding results from your cosmetic dentist you want to be sure he or she is well-trained in the latest techniques, utilizes advanced technology to improve the treatment process, works with a reputable and reliable dental lab, and offers custom restorations made with only high-quality materials. Ensuring your dentist is a member of the prestigious American Academy of Cosmetic Dentistry (AACD) is a great way to know that he or she upholds the highest standards in patient care and cosmetic dentistry excellence.
Attending your appointment with some prepared questions is often the best way to make sure you remember everything you'd like to say. To assist you, we have provided some important questions you may want to include:
Do you participate in continuing education coursework to remain current in the latest cosmetic dentistry techniques?
Which professional associations are you most proud to be a member of? Are you a member of the AACD?
What process will you use to develop my treatment plan?
Which procedure or procedures would you recommend for achieving the look that I want?
Where are your restorations made and what materials are available?
Do you have before-and-after pictures of patients who have undergone the treatments I am considering?
Will I require any treatments to improve my dental health?
Approximately how long will it take to improve my smile?
How long will my results last?
Will my new smile require special care?
Will I feel any discomfort? Do you offer sedation options during treatment?
Contact Dr. Kevin Sands for a Consultation
If you want a stunning smile created by one of the best cosmetic dentists in Beverly Hills, we encourage you to contact Dr. Kevin Sands to schedule a consultation. His stellar reputation, extraordinary skill, caring disposition, and consistently outstanding results make him a great choice for your smile makeover and cosmetic dentistry needs.