Implant Dentist Ashraf Ghoneim, DDS
Meet Dr. Ghoneim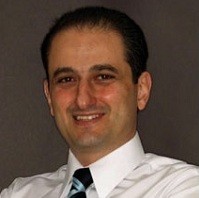 With a passion for dentistry and meeting his patients' dental needs, Dr. Ashraf Ghoneim enjoys carrying out his prosthodontist duties as an associate implant dentist at the practice of Kevin B. Sands, DDS. Dr. Ghoneim primarily focuses on providing full mouth rehabilitation and dental implants while also treating his patients for partial and complete dentures and bite adjustments. He is also experienced in providing multidisciplinary treatment that sees the collective work of dental and medical professionals collaborating to meet the needs of patients.
Dr. Ghoneim's educational background is extensive, attending Alexandria University in Egypt where he received his degree in general dentistry. Upon immigrating to the United States, he was then able to attend the State University of New York at Buffalo to pursue his Master's degree in oral science and a certificate in prosthodontics. Dr. Ghoneim also received additional education from Ohio State University in Columbus. Adding to his strong educational background and qualifications, he received certification in implant prosthodontics while there. He continues to seek out educational opportunities to better his craft by learning innovative techniques and methods in the dental field.
For more information about Dr. Ghoneim or to schedule a consultation, please contact us today!