Early Detection of Dental Problems can Mean Less Invasive Treatment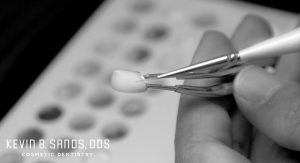 One of the best things about today's cosmetic dentistry options is that many treatments can be performed without the need to change much of your original tooth structure. Conservative dentistry, or minimally-invasive cosmetic dentistry, is very important to Dr. Kevin Sands. When a tooth has been heavily damaged by decay, normal wear-and-tear, or other causes, parts of it may need to be removed in order to accommodate a natural-looking, customized restoration. A conservative approach utilizing advanced treatment techniques allows Dr. Sands to help you maintain as much of your natural teeth as possible, even while performing procedures that have traditionally required the grinding down or alteration of the tooth being treated – and early detection of dental problems can go a long way toward ensuring that a conservative treatment approach can still be applied.
Minimally-invasive dentistry not only makes it possible for Dr. Sands to preserve much of your natural tooth structure – it also means that you'll ultimately need less treatment to restore and rejuvenate the affected tooth. By coming in for regular dental exams and cleanings (at least two per year is recommended), problems can be identified quickly. Decay, cavities, teeth that have become worn down, and many other issues can be addressed before they get much worse. Once heavy damage has set in, it reduces the chance that minimally-invasive treatment can be performed, and makes it more likely that larger portions of the original tooth will need to be removed to accommodate a restoration that will improve its strength and appearance.
Dr. Sands focuses on providing patients with minimally-invasive treatment techniques as much as possible – even with cosmetic treatments such as porcelain veneers, cosmetic bonding, and many others. Remember, early detection is vital to preserve the health and durability of your original teeth and allow Dr. Sands to renew your smile with conservative dental treatment and results that look and feel natural!
Be sure to check out the next blog in our series on minimally-invasive cosmetic dentistry. We'll be talking about some of the conservative treatment options that can fix common dental imperfections and beautifully rejuvenate the appearance of your teeth.
Contact Dr. Kevin Sands
If you would like more information on minimally-invasive cosmetic dentistry options, or if you would like to schedule a consultation, please contact Dr. Kevin Sands today.
Previous Post
Next Post