What's the Difference Between Lumineers® and Veneers?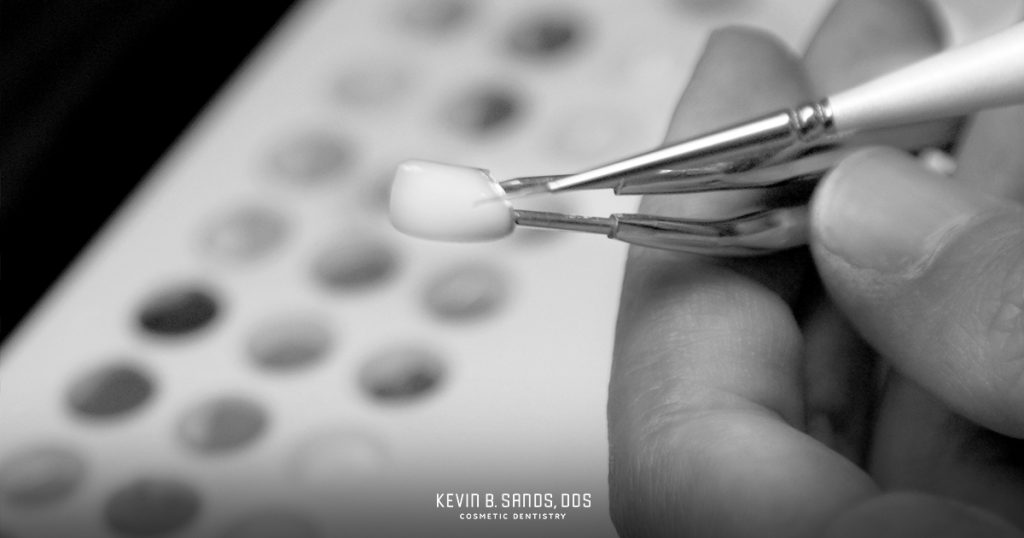 Dental veneers can rejuvenate your smile by covering and concealing a wide array of cosmetic concerns. Whether you have cracks, chips, stains, gaps, or mild tooth misalignment, Dr. Kevin Sands offers a variety of dental veneer options that can give you a more vibrant and youthful smile. Since there are so many types of veneers to choose from, Dr. Sands uses the initial consultation process as a time to help you explore your options and make a well-informed decision.
For example, porcelain veneers and Lumineers® seem very similar, but there are a few key differences:
Porcelain Veneers: Standard porcelain veneers are a durable tooth restoration that can conceal tooth imperfections while simultaneously giving you a natural-looking smile. Composed of a high-quality ceramic and hand-layered porcelain, each veneer is custom-made to match the shape and shade of the surrounding teeth. Porcelain veneers often require only minimal preparation for the tooth so that the majority of your tooth's natural structure can be preserved.
Lumineers®: A Lumineer® is a particular brand of porcelain veneer that has a couple of unique advantages. With all the same benefits as standard porcelain veneers, Lumineers® often require zero tooth preparation, preserving the entirety of your natural tooth. In addition, Lumineers® are composed of Cerinate® ceramic, which is an even thinner material that can eliminate the need for drilling or injections – all without compromising the durability of your restoration.
View our before-and-after smile gallery and find answers to frequently asked questions about porcelain veneers here.
If you have been searching for a fast and easy way to elevate the appearance of your smile, dental veneers are one of our most popular cosmetic dentistry procedures for tooth enhancement. Dr. Sands will examine your teeth, listen carefully to your aesthetic goals, and help you choose which type of veneer can meet your expectations. With dental veneers, you can enjoy a more youthful and beautiful smile!
To learn more, or to schedule an appointment with Dr. Kevin Sands, please contact our office today.
Previous Post
Next Post