Porcelain Veneers Q&A
Porcelain dental veneers are quick procedures that can solve a number of problems you may be having with your teeth. Take a look at the answers to these frequently asked questions about porcelain veneers, and contact our practice for more information. Our cosmetic dentist, Kevin Sands, DDS, can give you beautiful, natural-looking porcelain veneers to improve the appearance of your smile for years to come!
They exceeded my expectations
What are porcelain veneers?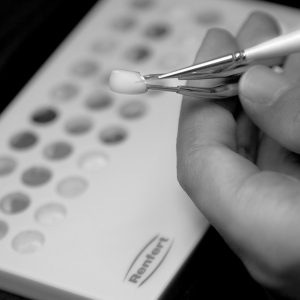 Porcelain veneers are thin, ceramic shells that are affixed to teeth to lengthen worn teeth, close gaps, and restore smile symmetry. Unlike dental crowns, they cover only the most visible portion of the affected tooth and are designed to look like your natural tooth.
Do they look like natural teeth?
Yes! Porcelain dental veneers are custom-designed to fit your tooth with the most comfortable, natural-looking results. Once a small amount of the existing tooth has been altered for the best fit, the veneer is color-tinted to match the surrounding teeth and firmly cemented in place for both functional and aesthetic benefits.
What about maintenance of porcelain veneers?
You can maintain your porcelain veneers with regular brushing and flossing, and overall good oral hygiene.
How long do they last?
Porcelain veneers can last for years, even decades. They do not change color and they are made with durable material designed for long-lasting results – lifetime results in many cases.
What should I look for in choosing a dentist for porcelain veneers?
When considering porcelain dental veneers, patients should look for a dentist with established credentials in cosmetic dentistry, ideally one who is a member of the American Academy of Cosmetic Dentistry. Dr. Kevin Sands is a member of the AACD and has been performing this procedure for years. He will be happy to answer any questions you may have.
Is the procedure painful?
No, this procedure is not considered painful. Patients can experience some sensitivity when the tooth is being prepared. Porcelain dental veneers can be applied with a local anesthetic or sedation dentistry techniques at our practice in Beverly Hills for a painless experience. Dr. Kevin Sands utilizes his considerable skill and experience to give patients the most relaxing, comfortable office visit possible.
For more information regarding this procedure contact our practice to schedule a consultation with Dr. Sands.