Can Custom Porcelain Veneers Give Me a Celebrity Smile?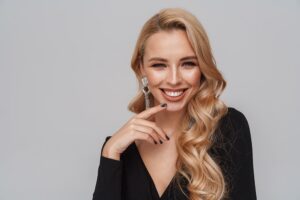 Porcelain veneers that are custom-designed and precision-crafted by a master ceramist can have the potential to give you a celebrity smile—especially when every phase of the process is conducted by an experienced, highly-trained cosmetic dentist like Dr. Kevin Sands. As one of the most versatile and conservative options for smile enhancement, porcelain veneers can conceal a variety of dental imperfections to give you a flawless smile. Dr. Sands frequently recommends veneers to close gaps between teeth, straighten the appearance of misalignment, lengthen short or worn teeth, reshape the appearance of irregular teeth, and whiten stained, aging, or otherwise discolored teeth. The meticulously designed, wafer-thin veneers are crafted to fit perfectly over the visible front side of each tooth to provide optimal shape and aesthetics and create a stunningly beautiful smile. Dr. Sands offers several types of dental veneers to help you achieve a smile that fits your goals and dental needs.
Most patients who seek Dr. Sands' expertise with porcelain veneers are interested in achieving a total smile makeover that looks natural, enhances their facial appearance, and suits their personal style. Through a comprehensive consultation process, Dr. Sands is able to assess each patient's unique needs, cosmetic challenges, and desired outcome so he can digitally design a new smile using state-of-the-art 3D imaging technology and advanced software. This new design is based on detailed measurements, facial analysis, Dr. Sands' artistry, and the patient's own smile preferences. Using the 3D smile design, porcelain veneers are crafted from high-quality materials that provide strength and durability, as well as natural-looking translucency, luster, and color variation. Dr. Sands works hand-in-hand with a master ceramist who fabricates veneers that satisfy the aesthetic requirements of even the most discerning celebrity patients.
For individuals looking for the ultimate smile makeover experience and results, we recommend scheduling an appointment with Dr. Sands. In as few as three visits to our office, you too can have the celebrity smile you've always wanted!
Previous Post
Next Post