How Many Dental Implants Will I Need for My Implant Denture?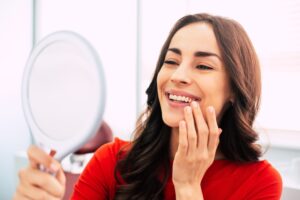 Patients around the world have celebrated the effects of implant dentures since they came onto the market. Having replaced traditional dentures as the gold standard for multiple teeth replacements in recent years, implant dentures hold several advantages over their removable counterparts, including a more secure fit and an aesthetically pleasing appearance. They are anchored directly to your jaw rather than attached with a sticky adhesive and can also last much longer than regular dentures.
Implant dentures are also highly versatile. Our world-renowned Beverly Hills cosmetic dentist, Kevin Sands, DDS, custom-tailors each restoration to meet your needs and bring out the best in your smile. Each set of implant dentures is anchored to the jawbone with dental implants, which are crafted to emulate your natural tooth root. In turn, the crowns placed on top are designed to fit comfortably within your mouth and match the unique shade of your teeth.
Implant dentures can be secured with two or more implants, depending primarily upon the density of your jawbone, although other factors will also be considered. At our practice, we offer the following options for implant dentures:
ALL-ON-4®
Generally the most sought-after type of implant denture, All-On-4 dentures traditionally feature two implants placed toward the front of the mouth and two at an angle near the back, though this can vary based on the patient's needs. Patients opt for All-On-4 because they are often very easy to care for, especially compared to traditional dentures, and because the four implants anchored into the jawbone can support healthy bone growth.
ALL-ON-6®
Those with less jawbone density may benefit from the All-On-6  technique, in which the prosthesis is supported by six implants. If the jawbone is especially weak, Dr. Sands may recommend more than six implants to support the restoration.
Full Mouth Restoration
This strategy is reserved for patients who need both an upper and lower implant denture. Like all of our implant denture options, our full mouth restorations are customized to suit each patient, and are never a one-size-fits-all solution.
If you're unsure about how many implants should be included in your implant dentures, don't worry – Dr. Sands will thoroughly examine your mouth and review your oral history during your consultation. This meeting provides a great opportunity to express your goals and concerns. Feel free to schedule your consultation today!
Previous Post
Next Post