Dr. Kevin Sands Reveals How to Find a Top Cosmetic Dentist in Beverly Hills, CA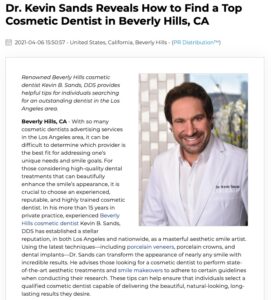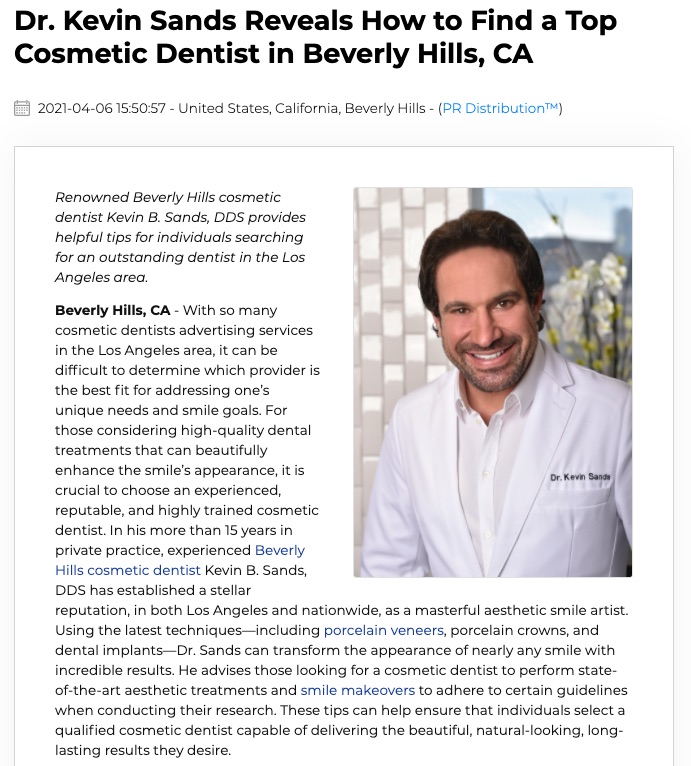 Renowned Beverly Hills cosmetic dentist Kevin B. Sands, DDS provides helpful tips for individuals searching for an outstanding dentist in the Los Angeles area.
Beverly Hills, CA – With so many cosmetic dentists advertising services in the Los Angeles area, it can be difficult to determine which provider is the best fit for addressing one's unique needs and smile goals. For those considering high-quality dental treatments that can beautifully enhance the smile's appearance, it is crucial to choose an experienced, reputable, and highly trained cosmetic dentist. In his more than 15 years in private practice, experienced Beverly Hills cosmetic dentist Kevin B. Sands, DDS has established a stellar reputation, in both Los Angeles and nationwide, as a masterful aesthetic smile artist. Using the latest techniques—including porcelain veneers, porcelain crowns, and dental implants—Dr. Sands can transform the appearance of nearly any smile with incredible results. He advises those looking for a cosmetic dentist to perform state-of-the-art aesthetic treatments and smile makeovers to adhere to certain guidelines when conducting their research. These tips can help ensure that individuals select a qualified cosmetic dentist capable of delivering the beautiful, natural-looking, long-lasting results they desire.
Review their background and credentials: Any dentist offering cosmetic dentistry should have a dental degree (DDS or DMD) as well as post-graduate training in aesthetic dentistry techniques. For example, Dr. Sands completed comprehensive training at the prestigious Las Vegas Institute for Advanced Dental Studies to further his proficiency in cosmetic dental treatments. Additionally, cosmetic dentists should keep current with the latest dental trends, technology, and advancements through continuing education coursework.
Check for professional memberships in prominent dental organizations: Memberships in prestigious dental organizations, such as the American Academy of Cosmetic Dentistry (AACD), likely indicate that a cosmetic dentist is considered to be among an elite group of practitioners. Such members are dedicated to continuing education and adhering to the highest standards of care and ethics.
Find patient ratings and reviews: One of the best ways to evaluate a dentist is to explore reviews, ratings, and testimonials provided by actual patients. Ratings and reviews can be found by doing a simple Google search, and they are also often incorporated into dentists' websites and social media accounts. First-hand stories about patients' experiences can provide valuable insight into the quality of a dentist's work, the dentist's approach to care, and even the overall vibe of the practice.
Check out patients' before-and-after photos: Get a sense for the type of results that are possible by reviewing dentists' before-and-after photos. Photos in online smile galleries are usually organized by treatment type, making it easy for curious individuals to find the most relevant images for the treatments they are considering. If these types of photos are not posted on a dentist's website, patients can typically request to see before-and-after photos during an in-office consultation.
Schedule a consultation: Once initial research is completed and the list of cosmetic dentists has narrowed, Dr. Sands suggests scheduling consultations with the top contenders. During this appointment, potential patients have the opportunity to ask questions, learn about treatments, and get a feel for both the dentist and practice.
At Dr. Sands' practice in Beverly Hills, he provides elite-level cosmetic dentistry to patients who demand the highest-quality results. Whether he is creating a smile makeover for an A-list celebrity or a discerning LA-area patient, his customized, patient-centered approach remains the same. Dr. Sands encourages anyone looking for a cosmetic dentist to ensure that advanced techniques, technology, and materials are used to produce elegant, long-lasting results. Ultimately, Dr. Sands hopes that individuals are able to make use of the guidelines he provided to find the perfect cosmetic dentist to create the smile of their dreams.
About Dr. Kevin B. Sands
Dr. Kevin B. Sands received his doctor of dental surgery (DDS) degree from the prestigious USC School of Dentistry and has completed advanced training in aesthetic and restorative dentistry techniques from the renowned Las Vegas Institute for Advanced Dental Studies. At his practice, Dr. Sands offers a wide array of cosmetic and restorative dentistry options, including porcelain veneers, dental implants, porcelain crowns, and smile makeovers.
Over the years, Dr. Sands has developed a reputation as one of the top cosmetic dentists in Beverly Hills. His clientele includes numerous celebrities and his practice caters to patients from throughout Los Angeles and around the world. Dr. Sands is also an active member of several notable professional organizations, such as the American Academy of Cosmetic Dentistry, the American Dental Association, and the California State Dental Association. Dr. Sands is available for interview upon request.
For more information about Dr. Sands, please visit beverlyhillscosmeticdentist.com, porcelainveneersinbeverlyhills.com, and facebook.com/cosmeticdentistbeverlyhills.
Contact:
Kevin B. Sands, DDS
414 North Camden Drive, Suite #940
Beverly Hills, CA 90210
(310) 273-0111
Rosemont Media
(800) 491-8623
www.rosemontmedia.com
Previous Post
Next Post