Veneers vs. Whitening: Beverly Hills Cosmetic Dentist on When to Consider Which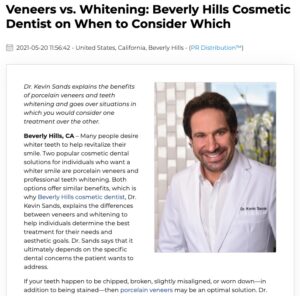 Dr. Kevin Sands explains the benefits of porcelain veneers and teeth whitening and goes over situations in which you would consider one treatment over the other.
Beverly Hills, CA – Many people desire whiter teeth to help revitalize their smile. Two popular cosmetic dental solutions for individuals who want a whiter smile are porcelain veneers and professional teeth whitening. Both options offer similar benefits, which is why Beverly Hills cosmetic dentist, Dr. Kevin Sands, explains the differences between veneers and whitening to help individuals determine the best treatment for their needs and aesthetic goals. Dr. Sands says that it ultimately depends on the specific dental concerns the patient wants to address.
If your teeth happen to be chipped, broken, slightly misaligned, or worn down—in addition to being stained—then porcelain veneers may be an optimal solution. Dr. Sands states that many celebrities and discerning patients benefit from choosing veneers because they can have a more complete smile rejuvenation. In addition, common dental staining agents, such as coffee and wine, do not affect veneers the same way as they do natural teeth. Dr. Sands says that with proper oral hygiene, the quality and whiteness of your stain-resistant porcelain veneers can last for ten years or more.
For patients who are more concerned about minor discoloration, Dr. Sands recommends looking into professional teeth whitening treatments. His practice offers ZOOM!® teeth whitening as a quick and convenient option for addressing unwanted teeth stains. In a single one-hour session, patients can achieve a smile that is up to eight shades lighter than before. Dr. Sands also says he provides at-home whitening gel and custom trays so that patients can touch-up their smile as needed. In some cases, certain types of deep stains and discoloration will not respond to teeth whitening treatments no matter how strong the whitening gel is. Dr. Sands usually suggests porcelain veneers as a more ideal solution for patients who have teeth that cannot be easily lightened.
Considering the many benefits of both porcelain veneers and professional teeth whitening, the decision to choose one over the other can be difficult. That is why Dr. Sands highly recommends scheduling a consultation with a qualified cosmetic dentist that can go over each treatment in more detail and help you determine the most optimal solution for your smile needs and goals.
About Kevin B. Sands, DDS
Dr. Kevin B. Sands attended the esteemed USC School of Dentistry where he received his doctor of dental surgery (DDS) degree. After graduating from USC, he studied at the Las Vegas Institute for Advanced Dental Studies where he learned state-of-the-art techniques in aesthetic and restorative dentistry. Dr. Sands is well-known in the Beverly Hills and Los Angeles area as one of the top cosmetic dentists for high-quality aesthetic dental treatments. He has earned the trust and respect of many patients, including famous celebrities. Dr. Sands offers a variety of popular dentistry options, including porcelain veneers, porcelain crowns, dental implants, and full smile makeovers. He is also an active member of established organizations, such as the American Dental Association (ADA), American Academy of Cosmetic Dentistry (AACD), and the California State Dental Association. Dr. Sands is available for interview upon request.
To learn more about Dr. Sands, please visit beverlyhillscosmeticdentist.com, porcelainveneersinbeverlyhills.com, and facebook.com/cosmeticdentistbeverlyhills.
Contact:
Kevin B. Sands, DDS
414 North Camden Drive
Suite 940
Beverly Hills, CA 90210
(310) 273-0111
Rosemont Media
(800) 491-8623
www.rosemontmedia.com
Previous Post
Next Post