Cosmetic Dentist in Beverly Hills on Minimal-Prep Porcelain Veneers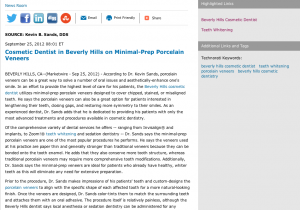 Beverly Hills, CA — According to Dr. Kevin Sands, porcelain veneers can be a great way to solve a number of oral issues and aesthetically-enhance one's smile. In an effort to provide the highest level of care for his patients, the Beverly Hills cosmetic dentist utilizes minimal-prep porcelain veneers designed to cover chipped, stained, or misaligned teeth. He says the porcelain veneers can also be a great option for patients interested in lengthening their teeth, closing gaps, and restoring more symmetry to their smiles. As an experienced dentist, Dr. Sands adds that he is dedicated to providing his patients with only the most advanced treatments and procedures available in cosmetic dentistry.
Of the comprehensive variety of dental services he offers – ranging from Invisalign® and implants, to Zoom!® teeth whitening and sedation dentistry – Dr. Sands says the minimal-prep porcelain veneers are one of the most popular procedures he performs. He says the veneers used at his practice are paper thin and generally stronger than traditional veneers because they can be bonded onto the tooth enamel. He adds that they also conserve more tooth structure, whereas traditional porcelain veneers may require more comprehensive tooth modifications. Additionally, Dr. Sands says the minimal-prep veneers are ideal for patients who already have healthy, whiter teeth as this will eliminate any need for extensive preparation.
Prior to the procedure, Dr. Sands makes impressions of his patients' teeth and custom-designs the porcelain veneers to align with the specific shape of each affected tooth for a more natural-looking finish. Once the veneers are designed, Dr. Sands color-tints them to match the surrounding teeth and attaches them with an oral adhesive. The procedure itself is relatively painless, although the Beverly Hills dentist says local anesthesia or sedation dentistry can be administered for any patients feeling uncomfortable with the process. He also adds that the veneers are virtually undetectable and typically feel natural inside a patient's mouth.
Whether patients are considering porcelain veneers or any other oral treatment, Dr. Sands says his Beverly Hills cosmetic dentistry practice is dedicated to helping the community achieve the most aesthetic smiles possible. When choosing a cosmetic dentist, he says one should always make certain to consult with a qualified and experienced dentist in order to ensure they will receive the safest, most ethical care. He adds that only qualified professionals have the training and expertise necessary to effectively address and achieve each patient's specific goals.
About Kevin Sands, D.D.S.
A graduate of both the USC School of Dentistry and the Las Vegas Institute for Advanced Dental Studies for Advanced Anterior Aesthetic Dentistry, Dr. Kevin Sands is considered a top professional in the field of cosmetic dentistry. He is popular among a number of celebrities and has made an appearance on many television shows including "10 Years Younger" and "Dr. 90210." Dr. Sands is a member of multiple dental organizations such as the California State Dental Association, the American Dental Association, and the prestigious Academy of Cosmetic Dentistry, and he is committed to helping all of his patients maintain optimal oral health.
Dr. Sands practice is located at 414 North Camden Dr., Suite 940, Beverly Hills, CA 90210 and can be reached at 310-707-1288. He and his staff can also be contacted online at beverlyhillscosmeticdentist.com and facebook.com/cosmeticdentistbeverlyhills.
Previous Post
Next Post