Beverly Hills Dentist Celebrates National Dental Hygiene Month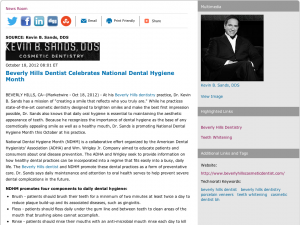 Beverly Hills, CA – At his Beverly Hills dentistry practice, Dr. Kevin B. Sands has a mission of "creating a smile that reflects who you truly are." While he practices state-of-the-art cosmetic dentistry designed to brighten smiles and make the best first impression possible, Dr. Sands also knows that daily oral hygiene is essential to maintaining the aesthetic appearance of teeth. Because he recognizes the importance of dental hygiene as the base of any cosmetically appealing smile as well as a healthy mouth, Dr. Sands is promoting National Dental Hygiene Month this October at his practice.
National Dental Hygiene Month (NDHM) is a collaborative effort organized by the American Dental Hygienists' Association (ADHA) and Wm. Wrigley Jr. Company aimed to educate patients and consumers about oral disease prevention. The ADHA and Wrigley seek to provide information on how healthy dental practices can be incorporated into a regime that fits easily into a busy, daily life. The Beverly Hills dentist and NDHM promote these dental practices as a form of preventative care. Dr. Sands says daily maintenance and attention to oral health serves to help prevent severe dental complications in the future.
NDHM promotes four components to daily dental hygiene:
Brush – patients should brush their teeth for a minimum of two minutes at least twice a day to reduce plaque build-up and its associated diseases, such as gingivitis.
Floss – patients should floss daily under the gum line and between teeth to clean areas of the mouth that brushing alone cannot accomplish.
Rinse – patients should rinse their mouths with an anti-microbial mouth rinse each day to kill germs that are not located around the teeth (the site of brushing and flossing).
Chew – patients should chew sugar-free gum after eating. The ADHA says that chewing sugar-free gum after eating "is clinically proven to be an important part of good oral health."
Dr. Sands advocates these steps at his own practice to support overall dental health and preserve the vibrancy of cosmetic procedures such as teeth whitening. He has worked with a variety of major television makeover programs and he is trusted by Hollywood stars to provide quality cosmetic dentistry. However, Dr. Sands also understands that a daily dental routine is essential to any long-lasting, healthy looking smile and supports the preventive measures National Dental Hygiene Month outlines. By taking care of the basics now, patients will reduce the need for future medical and cosmetic procedures.
About Kevin B. Sands, DDS
Dr. Kevin Sands is a graduate of the USC School of Dentistry and Las Vegas Institute for Advanced Dental Studies for Advanced Anterior Aesthetic Dentistry. He has been featured on The Learning Channel's 10 Years Younger, the Style Network's 2nd Look and E!'s Dr. 90210. Dr. Sands has performed cosmetic dentistry procedures on patients including Morris Chestnut, Britney Spears, Amy Smart, and Charlie Sheen. He is a member of the California State Dental Association, the Academy of Cosmetic Dentistry and American Dental Association. Dr. Sands offers a wide spectrum of dental treatments, ranging from routine cleanings to complete smile makeovers with porcelain veneers.
To contact Dr. Kevin Sands, visit his website at beverlyhillscosmeticdentist.com or call 310-707-1288. The center's office is located at 414 North Camden Drive, Suite 940, Beverly Hills, CA 90210. The center's Facebook page can be found at facebook.com/cosmeticdentistbeverlyhills.
Previous Post
Next Post