Beverly Hills Cosmetic Dentist Relieves Reality Star's Fears Using Sedation Dentistry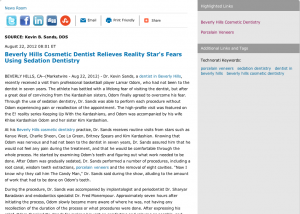 Beverly Hills, CA– Dr. Kevin Sands, a dentist in Beverly Hills, recently received a visit from professional basketball player Lamar Odom, who had not been to the dentist in seven years. The athlete has battled with a lifelong fear of visiting the dentist, but after a great deal of convincing from the Kardashian sisters, Odom finally agreed to overcome his fear. Through the use of sedation dentistry, Dr. Sands was able to perform each procedure without Odom experiencing pain or recollection of the appointment. The high-profile visit was featured on the E! reality series Keeping Up With the Kardashians, and Odom was accompanied by his wife Khloe Kardashian Odom and her sister Kim Kardashian.
At his Beverly Hills cosmetic dentistry practice, Dr. Sands receives routine visits from stars such as Kanye West, Charlie Sheen, Cee Lo Green, Britney Spears and Kim Kardashian. Knowing that Odom was nervous and had not been to the dentist in seven years, Dr. Sands assured him that he would not feel any pain during the treatment, and that he would be comfortable through the whole process. He started by examining Odom's teeth and figuring out what work needed to be done. After Odom was gradually sedated, Dr. Sands performed a number of procedures, including a root canal, wisdom teeth extractions, porcelain veneers and the removal of eight cavities. "Now I know why they call him The Candy Man," Dr. Sands said during the show, alluding to the amount of work that had to be done on Odom's teeth.
During the procedure, Dr. Sands was accompanied by implantologist and periodontist Dr. Sharyar Baradaran and endodontics specialist Dr. Fred Monempour. Approximately seven hours after initiating the process, Odom slowly became more aware of where he was, not having any recollection of the duration of the process or what procedures were done. After expressing his relief, Odom thanked Dr. Sands for making his visit as comforting and relaxing as possible, and then referred to him as his "BFF." Though Odom used to develop anxiety after hearing the word "dentist," his visit with Dr. Sands helped him conquer his preconceived fears. "I would have come to the dentist every day if I knew it was like this," says Odom during the show. "I won't let seven years pass before going to the dentist again. I'm definitely going to take care of my teeth."
Odom's positive and uplifting dental experience with Dr. Sands proves that even elite athletes can take advantage of sedation dentistry. Dr. Sands expresses his dedication to his patients by providing the highest quality patient care and employing the most advanced dental techniques available in the field. He also adds that patients can expect to see the best results from a dentist who has extensive experience and training. As Dr. Sands continues to become a popular dentist among celebrities, he reiterates that he dedicates the same amount of time to each patient and offers the most effective treatment options regardless of their social status. He is committed to helping improve his patients' smiles while accommodating them with the most comfortable environment possible.
About Kevin B. Sands, DDS
Dr. Kevin B. Sands attended USC School of Dentistry as well as the Las Vegas Institute for Advanced Dental Studies for Advanced Anterior Aesthetic Dentistry. He has experience training with some of the most talented and respected cosmetic dentists in the field. Dr. Sands has been featured on reality television shows such as The Learning Channel's 10 Years Younger, the Style Network's 2nd Look, E!'s Dr. 90210. Some of his professional memberships include the California State Dental Association, Academy of Cosmetic Dentistry and the American Dental Association.
Located at 414 North Camden Drive Suite 940 in Beverly Hills, CA, Dr. Sands' practice can be reached at (310) 707-1288. The practice can also be contacted online via the website beverlyhillscosmeticdentist.com or facebook.com/cosmeticdentistbeverlyhills.
Previous Post
Next Post