Beverly Hills Dentist Reveals How To Keep Teeth Looking Their Whitest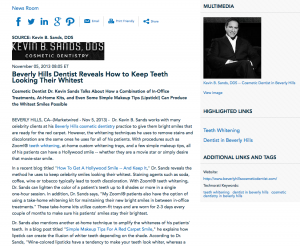 Cosmetic dentist Dr. Kevin Sands talks about how a combination of in-office treatments, at-home kits, and even some simple makeup tips (lipstick!) can produce the whitest smiles possible.
Beverly Hills, CA – Dr. Kevin B. Sands works with many celebrity clients at his Beverly Hills cosmetic dentistry practice to give them bright smiles that are ready for the red carpet. However, the whitening techniques he uses to remove stains and discoloration are the same ones he uses for all of his patients. With procedures such as Zoom!® teeth whitening, at-home custom whitening trays, and a few simple makeup tips, all of his patients can have a Hollywood smile–whether they are a movie star or simply desire that movie-star smile.
In a recent blog titled "How To Get A Hollywood Smile—And Keep It," Dr. Sands reveals the method he uses to keep celebrity smiles looking their whitest. Staining agents such as soda, coffee, wine or tobacco typically lead to tooth discoloration. With Zoom!® teeth whitening, Dr. Sands can lighten the color of a patient's teeth up to 8 shades or more in a single one-hour session. In addition, Dr. Sands says, "My Zoom!® patients also have the option of using a take-home whitening kit for maintaining their new bright smiles in between in-office treatments." These take-home kits utilize custom-fit trays and are worn for 2-3 days every couple of months to make sure his patients' smiles stay their brightest.
Dr. Sands also mentions another at-home technique to amplify the whiteness of his patients' teeth. In a blog post titled "Simple Makeup Tips For A Red Carpet Smile," he explains how lipstick can create the illusion of whiter teeth depending on the shade. According to Dr. Sands, "Wine-colored lipsticks have a tendency to make your teeth look whiter, whereas a lighter lipstick that contains orange pigment—such as coral—can highlight the yellow in your teeth instead." He says bright red lipsticks can produce the same effect as long as the red has a blue undertone rather than orange. Dr. Sands also points out that high-gloss lipsticks can reflect and amplify the luster of tooth enamel, especially when a nude color is selected.
The Beverly Hills dentist says he has the same goal for everyone who visits his practice: "I try to make sure my patients always have A-list smiles." With Zoom!® teeth whitening, custom at-home whitening trays, and the right color of lipstick, Dr. Sands says his patients' teeth can look their brightest and whitest.
About Kevin B. Sands, DDS
A graduate of the USC School of Dentistry, Dr. Kevin Sands also attended the Las Vegas Institute for Advanced Dental Studies for Advanced Anterior Aesthetic Dentistry. He is a member of the American Academy of Cosmetic Dentistry and many other dental organizations. Dr. Sands has worked with celebrity patients including Morris Chestnut, Britney Spears, Kanye West, Kim Kardashian, Amy Smart, and Charlie Sheen. Dr. Sands has also made appearances on national television programs such as The Learning Channel's 10 Years Younger, the Style Network's 2nd Look, and E!'s Dr. 90210. He is available for interview upon request.

For more information about Dr. Sands and his Beverly Hills dentistry practice, visit rosemontdev.com/beverlyhillscosmeticdentist or facebook.com/cosmeticdentistbeverlyhills.
Contact:
Dr. Kevin B. Sands
414 North Camden Drive
Suite 940
Beverly Hills, CA 90210
(310) 707-1288
Rosemont Media
[email protected]
858-200-0044
www.rosemontmedia.com
Previous Post
Next Post