Beverly Hills Cosmetic Dentist Uses Dental Care to Reverse Signs Of Aging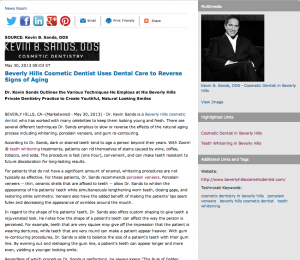 Dr. Kevin Sands outlines the various techniques he employs at his Beverly Hills private dentistry practice to create youthful, natural looking smiles.
Beverly Hills, CA – Dr. Kevin Sands is a Beverly Hills cosmetic dentist who has worked with many celebrities to keep them looking young and fresh. There are several different techniques Dr. Sands employs to slow or reverse the effects of the natural aging process including whitening, porcelain veneers, and gum re-contouring.
According to Dr. Sands, dark or stained teeth tend to age a person beyond their years. With Zoom!® teeth whitening treatments, patients can rid themselves of stains caused by wine, coffee, tobacco, and soda. The procedure is fast (one hour), convenient, and can make teeth resistant to future discoloration for long-lasting results.
For patients that do not have a significant amount of enamel, whitening procedures are not typically as effective. For these patients, Dr. Sands recommends porcelain veneers. Porcelain veneers – thin, ceramic shells that are affixed to teeth – allow Dr. Sands to whiten the appearance of his patients' teeth while simultaneously lengthening worn teeth, closing gaps, and restoring smile symmetry. Veneers also have the added benefit of making the patients' lips seem fuller and decreasing the appearance of wrinkles around the mouth.
In regard to the shape of his patients' teeth, Dr. Sands also offers custom shaping to give teeth a rejuvenated look. He notes how the shape of a patient's teeth can affect the way the person is perceived. For example, teeth that are very square may give off the impression that the patient is wearing dentures, while teeth that are very round can make a patient appear heavier. With gum re-contouring procedures, Dr. Sands is able to balance the size of a patient's teeth with their gum line. By evening out and reshaping the gum line, a patient's teeth can appear longer and more even, yielding a younger looking smile.
Regardless of which procedure Dr. Sands is performing, he always keeps "The Rule of Golden Proportion" in mind. According to the philosophy, natural beauty is based on proportion, symmetry, and balance. When working with his Beverly Hills cosmetic dentistry patients, he strives to create smiles that look both natural and beautiful so that all of his patients can have a Hollywood smile.
About Kevin B. Sands, DDS
Dr. Kevin Sands has performed cosmetic dental work on patients including Britney Spears, Kanye West, Morris Chestnut, Amy Smart, and Charlie Sheen. He is a graduate of the USC School of Dentistry and Las Vegas Institute for Advanced Dental Studies for Advanced Anterior Aesthetic Dentistry. Dr. Sands is frequently featured on national television programs, including The Learning Channel's 10 Years Younger, the Style Network's 2nd Look, E!'s Dr. 90210. He is available for interview upon request.
Previous Post
Next Post