Beverly Hills Cosmetic Dentist Focuses on Dental Health Over Appearance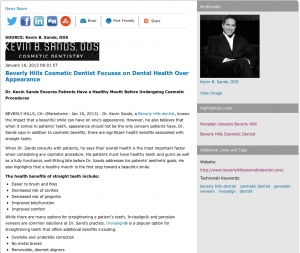 Dr. Kevin Sands ensures patients have a healthy mouth before undergoing cosmetic procedures

Beverly Hills, CA – Dr. Kevin Sands, a Beverly Hills dentist, knows the impact that a beautiful smile can have on one's appearance. However, he also believes that when it comes to patients' teeth, appearance should not be the only concern patients have. Dr. Sands says in addition to cosmetic benefits, there are significant health benefits associated with straight teeth.
When Dr. Sands consults with patients, he says their overall health is the most important factor when considering any cosmetic procedure. His patients must have healthy teeth and gums as well as a fully functional, well-fitting bite before Dr. Sands addresses his patients' aesthetic goals. He also highlights that a healthy mouth is the first step toward a beautiful smile.
The health benefits of straight teeth include:
Easier to brush and floss
Decreased risk of cavities
Decreased risk of gingivitis
Improved bite/function
Improved comfort
While there are many options for straightening a patient's teeth, Invisalign® and porcelain veneers are common solutions at Dr. Sand's practice. Invisalign® is a popular option for straightening teeth that offers additional benefits including:
Overbite and underbite correction
No metal braces
Removable, discrete aligners
Maintains natural tooth structure
According to Dr. Sands, patients tend to choose Invisalign® because the dental aligners are clear and virtually invisible. Since the Invisalign® aligners are also removable, he adds patients are able to practice normal brushing and flossing routines, which encourages proper oral hygiene.
Dr. Sands notes the length of time it takes for a patient to attain straighter teeth varies on a case-to-case basis. Patients who are concerned about the length of time often choose porcelain veneers because a natural-looking, "picture perfect" smile can be achieved in just a few visits.
Dr. Sands highlights that the combination of Invisalign® and teeth whitening will also achieve a beautiful smile makeover, but the process will likely take a little longer – typically around 9-15 months. Regardless of which treatment method is chosen, the cosmetic dentist says patients can achieve straighter teeth, a healthier mouth, and a more aesthetically pleasing smile.
About Kevin B. Sands, DDS
Dr. Kevin Sands is a graduate of the USC School of Dentistry and Las Vegas Institute for Advanced Dental Studies for Advanced Anterior Aesthetic Dentistry. He has been featured on The Learning Channel's 10 Years Younger, the Style Network's 2nd Look, and E!'s Dr. 90210. Dr. Sands is a member of the California State Dental Association, the American Academy of Cosmetic Dentistry, and the American Dental Association. He is available for interview upon request.
Previous Post
Next Post