Beverly Hills Cosmetic Dentist Remodels Office To Provide Patients With Anxiety-Free Experience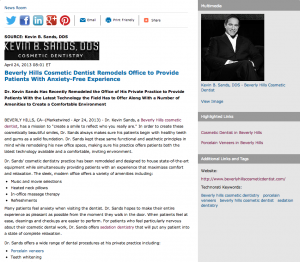 Dr. Kevin Sands has recently remodeled the office of his private practice to provide patients with the latest technology the field has to offer along with a number of amenities to create a comfortable environment.
Beverly Hills, CA – Dr. Kevin Sands, a Beverly Hills cosmetic dentist, has a mission to "create a smile to reflect who you really are." In order to create these cosmetically beautiful smiles, Dr. Sands always makes sure his patients begin with healthy teeth and gums as a solid foundation. Dr. Sands kept these same functional and aesthetic principles in mind while remodeling his new office space, making sure his practice offers patients both the latest technology available and a comfortable, inviting environment.
Dr. Sands' cosmetic dentistry practice has been remodeled and designed to house state-of-the-art equipment while simultaneously providing patients with an experience that maximizes comfort and relaxation. The sleek, modern office offers a variety of amenities including:
Music and movie selections
Heated neck pillows
In-office massage therapy
Refreshments
Many patients feel anxiety when visiting the dentist. Dr. Sands hopes to make their entire experience as pleasant as possible from the moment they walk in the door. When patients feel at ease, cleanings and checkups are easier to perform. For patients who feel particularly nervous about their cosmetic dental work, Dr. Sands offers sedation dentistry that will put any patient into a state of complete relaxation.
Dr. Sands offers a wide range of dental procedures at his private practice including:
Teeth whitening
Dental implants
Invisalign®
When patients first visit Dr. Sands, he builds a strong foundation of healthy teeth and gums, correcting any misalignment with orthodontics or replacing any missing teeth with permanent, comfortable, and natural-looking implants. After this foundation is created, Dr. Sands focuses his efforts on helping his Beverly Hills cosmetic dentistry patients to eliminate stains, chips, and gaps.
Dr. Sands' cosmetic dentistry practice strives to offer quality dental care in a comfortable environment. The practice has always had the goal of providing patients with beautiful results in an anxiety-free setting, and his newly remodeled office helps to support this goal. "Think of us as the Rolls Royce of cosmetic dentistry. The quality my patients get is of excellence," says Dr. Sands.
About Kevin B. Sands, DDS
Dr. Kevin Sands is a graduate of the USC School of Dentistry and Las Vegas Institute for Advanced Dental Studies for Advanced Anterior Aesthetic Dentistry. He has performed cosmetic dental work on patients including Morris Chestnut, Britney Spears, Kanye West, Amy Smart, and Charlie Sheen. In addition, Dr. Sands has frequently shared his expertise on national television programs, including The Learning Channel's 10 Years Younger, the Style Network's 2nd Look, E!'s Dr. 90210. He is a member of the California State Dental Association, the American Academy of Cosmetic Dentistry, and the American Dental Association. Dr. Sands is available for interview upon request.
Previous Post
Next Post