Beverly Hills Cosmetic Dentist Offers Movie Star Smiles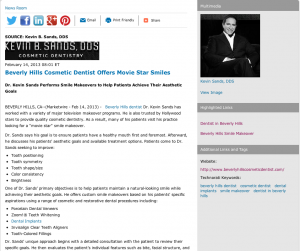 Dr. Kevin Sands performs smile makeovers to help patients achieve their aesthetic goals

Beverly Hills, CA – Beverly Hills dentist Dr. Kevin Sands has worked with a variety of major television makeover programs. He is also trusted by Hollywood stars to provide quality cosmetic dentistry. As a result, many of his patients visit his practice looking for a "movie star" smile makeover.
Dr. Sands says his goal is to ensure patients have a healthy mouth first and foremost. Afterward, he discusses his patients' aesthetic goals and available treatment options. Patients come to Dr. Sands seeking to improve:
Tooth positioning
Tooth symmetry
Tooth shape/size
Color consistency
Brightness
One of Dr. Sands' primary objectives is to help patients maintain a natural-looking smile while achieving their aesthetic goals. He offers custom smile makeovers based on his patients' specific aspirations using a range of cosmetic and restorative dental procedures including:
Porcelain Dental Veneers
Zoom!® Teeth Whitening
Invisalign Clear Teeth Aligners
Tooth-Colored Fillings
Dr. Sands' unique approach begins with a detailed consultation with the patient to review their specific goals. He then evaluates the patient's individual features such as bite, facial structure, and skin tone to determine their optimal tooth size and color.
When working with porcelain veneers, Dr. Sands says the size and color of each patient's teeth is important to create a natural-looking smile makeover. Throughout the entire process, patients can preview what their new smile will look like and Dr. Sands is able to make custom refinements before the final veneers are cemented to ensure patients are 100% satisfied.
"I tell my patients they only have one set of teeth and it is important that their smile makeover is done right the first time. Choosing the right dentist can make all the difference," says Dr. Sands.
Dr. Sands notes that any dentist can claim to be a cosmetic dentist, but adds that it is crucial to choose one that has the proper training and experience. At his practice, the cosmetic dentist often sees patients who have had a smile makeover they are unhappy with. Dr. Sands encourages anyone considering a smile makeover to carefully research the experience and credentials of each practitioner before choosing a dentist.
About Kevin B. Sands, DDS
Dr. Kevin Sands has performed cosmetic dentistry procedures on patients including Morris Chestnut, Britney Spears, Kanye West, Amy Smart, and Charlie Sheen. He is a graduate of the USC School of Dentistry and Las Vegas Institute for Advanced Dental Studies for Advanced Anterior Aesthetic Dentistry. Dr. Sands is a member of the California State Dental Association, the American Academy of Cosmetic Dentistry, and the American Dental Association. He is available for interview upon request.
Previous Post
Next Post