Beverly Hills Dentist Discusses Celebrity Smiles, New Trend of Natural-Looking Smile Makeovers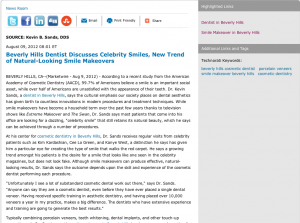 Beverly Hills, CA — According to a recent study from the American Academy of Cosmetic Dentistry (AACD), 99.7% of Americans believe a smile is an important social asset, while over half of Americans are unsatisfied with the appearance of their teeth. Dr. Kevin Sands, a dentist in Beverly Hills, says the cultural emphasis our society places on dental aesthetics has given birth to countless innovations in modern procedures and treatment techniques. While smile makeovers have become a household term over the past few years thanks to television shows like Extreme Makeover and The Swan, Dr. Sands says most patients that come into his office are looking for a dazzling, "celebrity smile" that still retains its natural beauty, which he says can be achieved through a number of procedures.
At his center for cosmetic dentistry in Beverly Hills, Dr. Sands receives regular visits from celebrity patients such as Kim Kardashian, Cee Lo Green, and Kanye West, a distinction he says has given him a particular eye for creating the type of smile that walks the red carpet. He says a growing trend amongst his patients is the desire for a smile that looks like one seen in the celebrity magazines, but does not look fake. Although smile makeovers can produce effective, natural-looking results, Dr. Sands says the outcome depends upon the skill and experience of the cosmetic dentist performing each procedure.
"Unfortunately I see a lot of substandard cosmetic dental work out there," says Dr. Sands. " Anyone can say they are a cosmetic dentist, even before they have ever placed a single dental veneer. Having received specific training in aesthetic dentistry, and having placed over 10,000 veneers a year in my practice, makes a big difference. The dentists who have extensive experience and training are going to generate the best results."
Typically combining porcelain veneers, teeth whitening, dental implants, and other touch-up cosmetic work, Dr. Sands says the smile makeover in Beverly Hills has become a popular option for patients who want to look and feel their best. He says in order to create a custom smile that fits the needs and goals of each patient, patients undergo a complete facial analysis, which takes into account their face structure, bone structure, lips, and nose. Dr. Sands says the procedure helps patients improve any chips, cracks, gaps, discoloration, and other imperfections that may be keeping them from smiling to the fullest.
Regardless of whether they are looking for the entire comprehensive smile design or a single procedure such as porcelain veneers, Dr. Sands reiterates the importance of choosing the right dentist. He says patients should only consult with cosmetic dentists who have completed extensive training and qualifications before undergoing any treatment. By taking the time to select the best practice, Dr. Sands says patients can enjoy the benefits of a radiant smile and enhanced self-esteem.
About Kevin B. Sands, DDS
Dr. Kevin Sands graduated from the University of Southern California School of Dentistry and completed a postgraduate training program at the Las Vegas Institute for Advanced Dental Studies for Advanced Anterior Aesthetic Dentistry. His expertise has been featured on a variety of network television shows including E!'s Dr. 90210 and the Style Network's 2nd Look. Dr. Sands is a member of the American Academy of Cosmetic Dentistry, the California State Dental Association, the American Dental Association, and several other professional organizations.
Located at 414 North Camden Drive Suite 940 in Beverly Hills, CA, Dr. Sands' practice can be reached at (310) 707-1288. It can also be contacted online via the website beverlyhillscosmeticdentist.com or facebook.com/cosmeticdentistbeverlyhills.
Previous Post
Next Post