Beverly Hills Cosmetic Dentist Discusses Costs and Benefits of Dental Implants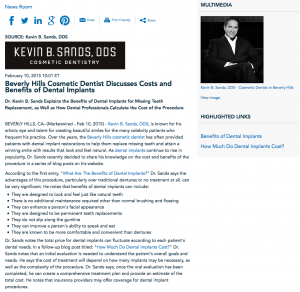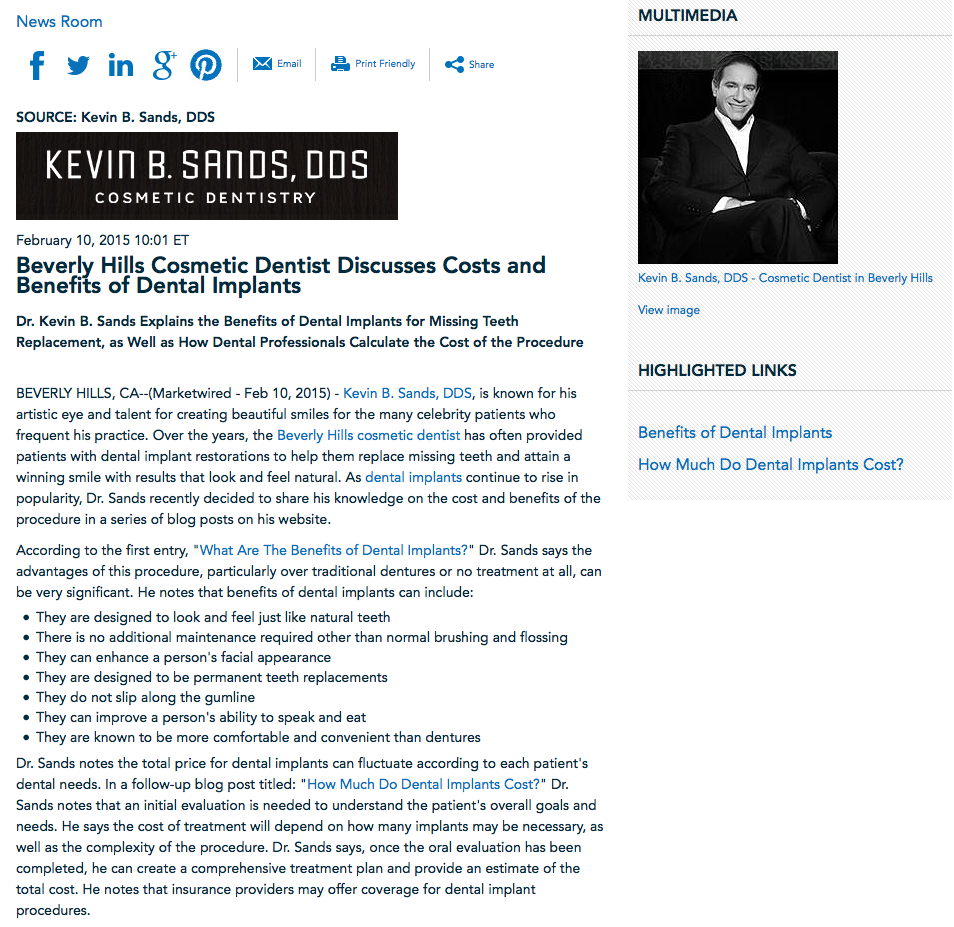 Dr. Kevin B. Sands explains the benefits of dental implants for missing teeth replacement, as well as how dental professionals calculate the cost of the procedure.
BEVERLY HILLS, CA — Kevin B. Sands, DDS, is known for his artistic eye and talent for creating beautiful smiles for the many celebrity patients who frequent his practice. Over the years, the Beverly Hills cosmetic dentist has often provided patients with dental implant restorations to help them replace missing teeth and attain a winning smile with results that look and feel natural. As dental implants continue to rise in popularity, Dr. Sands recently decided to share his knowledge on the cost and benefits of the procedure in a series of blog posts on his website.
According to the first entry, "What Are The Benefits of Dental Implants?", Dr. Sands says the advantages of this procedure, particularly over traditional dentures or no treatment at all, can be very significant. He notes that benefits of dental implants can include:
They are designed to look and feel just like natural teeth
There is no additional maintenance required other than normal brushing and flossing
They can enhance a person's facial appearance
They are designed to be permanent teeth replacements
They do not slip along the gumline
They can improve a person's ability to speak and eat
They are known to be more comfortable and convenient than dentures
Dr. Sands notes the total price for dental implants can fluctuate according to each patient's dental needs. In a follow-up blog post titled: "How Much Do Dental Implants Cost?," Dr. Sands notes that an initial evaluation is needed to understand the patient's overall goals and needs. He says the cost of treatment will depend on how many implants may be necessary, as well as the complexity of the procedure. Dr. Sands says, once the oral evaluation has been completed, he can create a comprehensive treatment plan and provide an estimate of the total cost. He notes that insurance providers may offer coverage for dental implant procedures.
Dr. Sands urges patients who are missing a single tooth or multiple teeth to consult an experienced dental professional and see if they are a potential candidate for dental implants. He says this procedure can dramatically improve a patient's smile, restoring both form and function to their teeth.
About Kevin B. Sands, DDS
Dr. Kevin Sands received his doctor of dental surgery degree from the University of Southern California School of Dentistry. He pursued additional post-graduate education in Advanced Anterior Aesthetic Dentistry at the Las Vegas Institute for Advanced Dental Studies. His Beverly Hills and Dubai practices provide a wide selection of cosmetic dentistry, general dentistry, and sedation dentistry options, in addition to dental implant restoration procedures. Dr. Sands is a member of the California State Dental Association, American Dental Association, and the American Academy of Cosmetic Dentistry. Dr. Sands is available for interview upon request.
For more information about Dr. Kevin Sands, visit beverlyhillscosmeticdentist.com and facebook.com/cosmeticdentistbeverlyhills.
Contact:
Dr. Kevin B. Sands
414 North Camden Drive
Suite 940
Beverly Hills, CA 90210
(310) 707-1288
Rosemont Media
858-200-0044
www.rosemontmedia.com
Previous Post
Next Post