What Are The Benefits of Dental Implants?
Dental implants can beautifully renew your smile and restore both form and function to your teeth, especially since they are designed to look and feel like your natural teeth. Our Beverly Hills cosmetic dentist, Dr. Kevin Sands, offers this advanced dental restoration procedure to patients with a single missing tooth or multiple missing teeth. Benefits of dental implants include:
No special maintenance is required other than normal brushing and flossing
You can regain a beautiful, vibrant smile with no gaps or misalignment due to missing teeth
They can improve your ability to speak and eat
They blend in with surrounding teeth
They are designed to become permanent fixtures in your mouth, similar to your natural teeth
They do not move or slip along the gumline
They are more comfortable and convenient than dentures since you don't have to worry about losing them or applying dental adhesives
They are custom-designed for the most natural fit and appearance
For more information about dental implants, or to schedule a consultation with Dr. Sands to see if you are a candidate, contact our office today. Also, keep an eye on our blog for the second part in our series discussing the benefits of dental implants.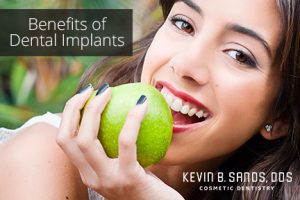 Previous Post
Next Post