Should I Switch to Implant-Supported Dentures?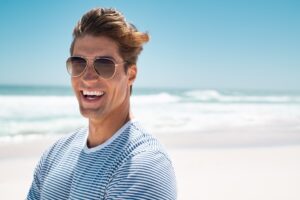 Traditional dentures have long been a popular solution for patients who are missing several or all of their teeth. But as you're probably aware, they can be uncomfortable and unstable, and they typically require frequent adjustments.  
If you're looking for a tooth replacement that can effectively restore functionality and aesthetics, our Beverly Hills cosmetic dentist – Kevin Sands, DDS – may recommend implant-supported dentures. Implant dentures consist of an overdenture that is connected to a set of dental implants, which are placed at carefully-chosen locations within the mouth to fuse with the jawbone. These customized restorations have become the gold standard for full-arch tooth replacement, and it's not hard to see why! 
Below, Dr. Sands has compiled a few of the reasons you should consider implant-supported dentures over their traditional counterparts:
Stability and comfort. One of the primary drawbacks of removable dentures is their tendency to slip or shift during speaking or eating, which can be both embarrassing and uncomfortable. Implant-supported dentures overcome this issue by anchoring the dentures securely in place with dental implants.
Improved ability to chew. With traditional dentures, the ability to bite and chew effectively can be compromised. Implant-supported dentures offer a significant advantage in this aspect, as they can provide a secure biting surface that closely resembles the strength and function of natural teeth.
Enhanced speech. The stability of implant-supported dentures can allow for better control of tongue movements and improved pronunciation than traditional dentures, which can sometimes contribute to speech impediments if they're ill-fitting or loose.
No glues or pastes. Removable dentures are attached with a dental adhesive – which many patients find inconvenient and needlessly messy. With implant-supported dentures, the restoration should be held securely in place, with no need for sticky substances. 
Preservation of jawbone health. When you lose teeth, the stimulation that tooth roots provide to the jawbone diminishes. Whereas traditional dentures rest on the gums and do not provide the necessary stimulation to prevent bone deterioration, titanium implants are meant to continuously stimulate the jawbone, which can preserve the jawbone's integrity and prevent bone loss.
Whether you want to switch from traditional dentures to implant-supported dentures or you're considering a tooth replacement option for the first time, Dr. Sands can help you make a decision. Schedule your consultation with Dr. Sands to learn more!
Previous Post
Next Post