What Is the Difference Between Lumineers® and Veneers?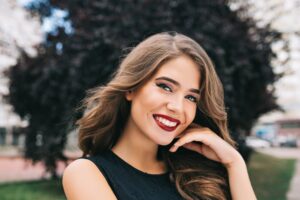 As you may know, dental veneers are ultra-thin, sturdy strips of material that are placed on the teeth to mask gaps, discoloration, chips, and other dental imperfections. Several types of dental veneers exist, including composite resin, zirconia, and porcelain. Porcelain is typically the preferred choice for many high-end cosmetic dental practices – not to mention their A-list patients! Beverly Hills cosmetic dentist Kevin Sands, DDS, is well-known for his beautifully-crafted porcelain veneers.
Meanwhile, Lumineers® are an alternative type of veneers that are designed to require less enamel removal than traditional veneers (or no removal at all). Because Lumineers® are made of an extremely thin ceramic material that is even thinner than porcelain, the enamel removal process is usually fairly easy. Lumineers® are also known to be a more economical option.
Does this make them a better option than porcelain veneers? Check out this blog on our sister site to find out for yourself!
Feel free to contact us with any questions about veneers, Lumineers®, or any other cosmetic dentistry-related issues.<
Previous Post
Next Post