What Are the Best Dental Veneers?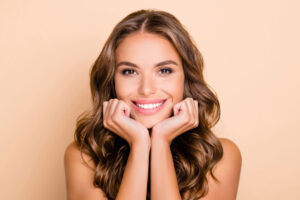 No treatment can transform smiles the way dental veneers do! Especially when the procedure is in the hands of an experienced cosmetic dentist, like our very own Kevin Sands, DDS, veneers can correct a number of aesthetic concerns with long-lasting results. At our Beverly Hills office, Dr. Sands designs each set of veneers to blend with your natural teeth using advanced technology and high-quality materials.
That said, you may be wondering what types of materials can be used to make veneers. Incidentally, a variety of ceramics and composites can be used to craft veneers, but certain types of veneers often produce sturdier, more aesthetically-pleasing restorations. For example, we offer the following materials for our veneers:
Porcelain. The most traditional material for veneers, porcelain not only tends to produce a lifelike shine, but these veneers often require significantly less tooth removal than other types.
CEREC®. Typically created in a single office visit with state-of-the-art CEREC® technology, these veneers are famous for both their convenience and natural appearance.
Lumineers®. Lumineers® are a brand of prepless veneers which are even thinner than porcelain veneers and often used for more minor aesthetic dental concerns.
Zirconia. Extra-sturdy zirconia veneers are generally best suited for more severely damaged teeth, particularly teeth in the back.
Composite resin. Our most economical option, composite resin veneers generally do not produce results that last as long as other types, but nonetheless are able to conceal imperfections and enhance the smile.
As explained above, these types of veneers are often used to target varying levels of damage and decay, as well as teeth in different areas of the mouth. According to Dr. Sands, the best type of veneers can only be determined on an individual basis; in other words, the best type is the one that can best address your unique concerns!
If you're still not sure which of these materials to choose from, don't worry. Dr. Sands can meet with you for a consultation to examine your mouth and weigh your aesthetic and functional goals. During this initial appointment, the two of you can decide upon a material that best meets your needs. Feel free to contact us today to schedule your consultation!
Previous Post
Next Post