Kendall Jenner Receives Invisalign® from Dr. Sands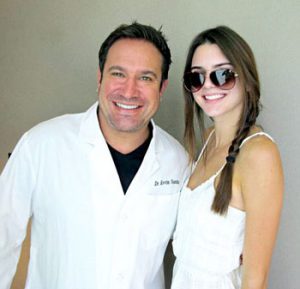 As a model and reality TV personality, Kendall Jenner spends a majority of her time in the spotlight and can't afford to endure the typically less-than-flattering appearance of traditional braces for an extended period of time. For this reason, Kendall – who happens to be a regular patient of ours – recently visited Dr. Kevin Sands to be custom-fitted for Invisalign® clear braces.
In a recent interview with US Weekly magazine, Dr. Sands was quoted saying, "Kendall only needed a minor tweak to her teeth. She has pretty teeth and Invisalign® is a great option. She's a model so Invisalign® is perfect for her because she can take them on and off for shoots and it is invisible when she does wear them."
According to a separate eonline.com article, Dr. Sands notes that Kendall will most likely only be wearing her Invisalign® aligners "for a few months," adding, "Afterward, she'll have even more perfect teeth."
Ultimately, Dr. Sands says this clear tooth-straightening technique can be an excellent option for almost anyone interested in discreetly aligning their teeth, whether you're a model or not. For more information about Invisalign® clear braces, please contact us today to schedule an appointment.
Previous Post
Next Post