Khloé Kardashian Thanks Dr. Sands for Her New Invisalign® Clear Braces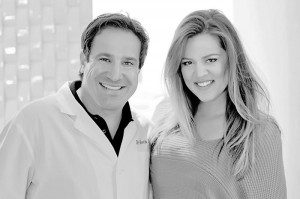 Although many adults require orthodontics, it is likely that they will avoid treatment because of the way braces might make them look. However, Khloé Kardashian Odom, one of our regular patients and star of the E! Network's hit reality show, "Keeping up with the Kardashians," was recently fitted for Invisalign® by Dr. Kevin Sands. The clear tooth-straightening aligners will allow Khloé, who is now 28 years old, to discreetly straighten her teeth while still remaining confident in the media spotlight. The reality star has been working towards a healthier lifestyle, and was excited about continuing to improve her overall look. After her visit to our Beverly Hills cosmetic dentistry practice, she tweeted Dr. Sands a thank you message on Twitter:
"Thank you @drkevinsands for being the best dentist ever! If only we could all be put to sleep like Lamar LOL maybe next time :)"
Dr. Sands was happy to help Khloé perfect her famous smile, and recently commented to RadarOnline.com, "Invisalign is just so easy and non-invasive that it's worth doing. When Khloé walked in last week I was like, 'Wow!' She looks better than ever. We fixed some fillings and took the molds for the Invisalign."
At our practice, Dr. Sands offers a variety of options to help adults correct crooked or misaligned teeth. If you are interested in achieving a smile fit for the red carpet, contact us today to schedule a consultation.
Previous Post
Next Post