Beverly Hills Dentist Shares Tips on Choosing a Cosmetic Dentist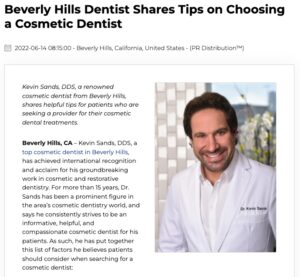 Kevin Sands, DDS, a renowned cosmetic dentist from Beverly Hills, shares helpful tips for patients who are seeking a provider for their cosmetic dental treatments.
Beverly Hills, CA – Kevin Sands, DDS, a top cosmetic dentist in Beverly Hills, has achieved international recognition and acclaim for his groundbreaking work in cosmetic and restorative dentistry. For more than 15 years, Dr. Sands has been a prominent figure in the area's cosmetic dentistry world, and says he consistently strives to be an informative, helpful, and compassionate cosmetic dentist for his patients. As such, he has put together this list of factors he believes patients should consider when searching for a cosmetic dentist:
Affiliations. First and foremost, says Dr. Sands, patients should ensure that their potential dentist is affiliated with, or a member of, distinguished dental boards and organizations. For instance, a top cosmetic dentist may be a member of the prestigious American Academy of Cosmetic Dentistry (AACD).
Experience. "A cosmetic dentist should have an extensive track record of successful surgeries," says Dr. Sands. He also adds that your cosmetic dentist should have years of experience in non-surgical and general dentistry treatments, noting, "It is important to find a dentist with broad knowledge of all areas of oral care."
Education and training. Dr. Sands highly recommends that patients thoroughly research their potential dentist's educational background to make sure they have studied at, held fellowships with, or otherwise been affiliated with accredited institutions.
Treatments offered. According to Dr. Sands, patients are more likely to see exceptional results if their dentist has sufficient experience in the treatment they desire. "It can also be wise to find a dentist who specializes in the procedure," Dr. Sands adds, "though this isn't always necessary."
Technology utilized. Dr. Sands states that the best-quality cosmetic dentists will only use the best-quality technology. Advanced milling and imaging systems can help dentists craft restorations, preview results, diagnose patients, and much more.
Testimonials and before-and-after photos. "It is a well-established fact that patients must be able to trust their doctor or dentist," says Dr. Sands. "Viewing a dentist's testimonials and before-and-after photos can be an excellent way to learn about their personality and chairside manner."
Choosing a dentist who meets these qualifications, Dr. Sands claims, can greatly increase a patient's chance of a positive experience with their cosmetic dentist. He also adds that experienced, well-educated, and respected dentists are also most likely to create beautiful results.
About Kevin Sands, DDS
At both his Beverly Hills and Dubai offices, Dr. Kevin Sands regularly combines his artistic eye with individualized patient care and superb knowledge of oral health. An alumnus of the USC School of Dentistry and the Las Vegas Institute for Advanced Dental Studies, two highly renowned institutions, Dr. Sands has improved the bite and enhanced the smiles of countless patients throughout his career. His clientele includes a number of A-list celebrities, for whom he has provided unmatchable results using porcelain veneers, Zoom!® teeth whitening, smile makeovers, and other advanced cosmetic treatments. He prioritizes his patients' satisfaction and comfort above all else.
For more information about Dr. Sands, please visit beverlyhillscosmeticdentist.com, porcelainveneersinbeverlyhills.com, and facebook.com/cosmeticdentistbeverlyhills. Dr. Sands is available for interview upon request.
Contact:
Kevin B. Sands, DDS
414 North Camden Drive, Suite #940
Beverly Hills, CA 90210
(310) 273-0111
Rosemont Media
(800) 491-8623
www.rosemontmedia.com
Previous Post
Next Post