Are Porcelain Veneers Right for Me?
Porcelain veneers are what people often refer to as "caps." These treatments have been utilized in cosmetic dentistry for many years, and offer patients a way to inconspicuously mask common dental imperfections with results that look natural. Dr. Kevin Sands has been performing porcelain veneer procedures for decades, and he believes they are one of the most effective options for helping patients enhance both the health and appearance of their teeth.
Once you meet with Dr. Sands for your initial consultation, he will evaluate your teeth and determine if porcelain dental veneers may be ideal for your needs. Candidates for porcelain veneers are typically those who would like to:
Improve the appearance of gaps or spaces between the teeth
Mask stains or discolorations on the teeth
Improve the look and function of teeth affected by chips and cracks
Improve mild teeth misalignment issues
Improve the appearance of teeth that have become worn down
One of the many benefits of porcelain veneers is that they are completely customized for the best possible fit and appearance. They cover only the visible portion of the tooth, and the results are known to last for several years with proper care. Check out our porcelain dental veneers photo gallery to see the renewed smiles many of our patients have achieved with this treatment.
Dr. Kevin Sands will be happy to meet with you to talk about your options and help you decide if porcelain veneers can achieve your goals. If you have questions, or if you would like to schedule a consultation, please contact Dr. Sands today.
Before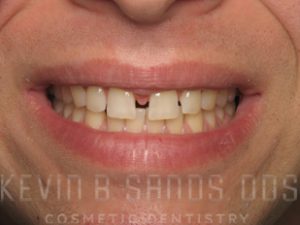 After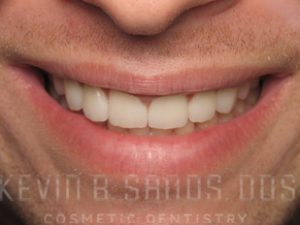 Previous Post
Next Post