Unique Celebrity Smiles: White Gold & Diamond Dental Crowns for Alexander "AE" Edwards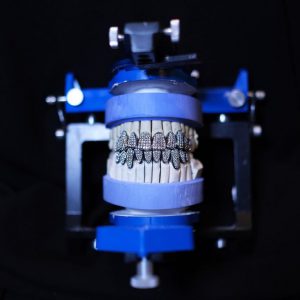 When celebrities want beautiful, one-of-a-kind smile makeovers, they trust their care to Beverly Hills cosmetic dentist Kevin Sands, DDS. Recently, Dr. Sands created a dazzling, jewel-encrusted smile for Def Jam A&R Executive Alexander "AE" Edwards. Unlike removable "grills"—which are a popular accessory worn over the teeth temporarily—AE wanted to take his smile to the next level and make his upgrades permanent! To make AE's wish a reality, Dr. Sands worked together with a jeweler who custom-designed 20 white gold and diamond crowns that met the precise dimensions of AE's teeth. When the dazzling adornments were ready, Dr. Sands firmly cemented the crowns onto 20 of AE's teeth. Because the crowns are designed to be permanently affixed to the teeth, AE is able to brush, floss, and eat normally—and, best of all, he never has to be without his bling. He does, however, need to apply a special polish to the gold and diamonds to keep the shine as bright as possible.
This incredible smile makeover was a tremendous success and AE couldn't be happier with the results! His new smile is unlike any other out there, and he thanks Dr. Sands for having the vision, skill, and creativity to make it happen.
Are you ready for your celebrity smile makeover? Contact our office today to schedule your consultation with Dr. Sands.
Previous Post
Next Post